The MSM Speedway Engine
(Photos courtesy of Neil Burston)
(Tech Sheets courtesy of Geoff Coglan)
A BRISBANE man's dream was to build and market an Australian speedway engine that would challenge the best in the world. To most of us, an impossible and foolhardy mission.
And yet he succeeded.
It began in 1963. Before then, Clarry Meirs and his son Allen had been successfully rebuilding and modifying English JAP speedway engines for riders. One night, at the Brisbane speedway, someone said to Clarry, "You could build a bloody engine yourself". That started the man thinking. He admits that he was a lot younger and sillier then, and set his sights on building a better engine than the all-conquering JAP.
Not having much money, Clarry "fossicked around" for pattern and die makers, and spent a year looking into the complexities of manufacturing a series of engines that would be distinctly Australian. The first engine was based on the JAP, using the same bore and stroke as that venerable 500 single. Speedway champion Nigel Boocock helped Clarry overcome the first pains of birth by importing JAP parts. Sheafs of plans were drawn up and patterns made for the first castings, heads, barrels and timing covers. Clarry and his son machined them into finished parts and carved out the flywheels and mainshafts, valves and guides, and all the other little bits that go to make up an engine.
The cylinder-head design was altered from that of the JAP the Meirs unit using a downdraught inlet port that was larger in diameter, with the valve and pushrod angles altered to accommodate larger valves. Camshaft timing was altered the cam-lobe profile reshaped by trial and error until a design was found that would rev hard to 7000 rpm without valve bounce. It had taken four years from that initial idea and engine number one raced in late 1967, claiming second spot first time out, although it was handled by a rider who hadn't raced for four years.

Next day, everyone wanted an engine, but Meirs and Son were not set up, yet, for large-scale manufacture. By working night and day they managed to build another four engines, ploughing the money back into more components for still more engines.
Pictured right are the early days with Clarry and son Allan and an early Mierson pushrod engine. (1)
Clarry is mindful of the initial criticism of his ideas and engine from people who couldn't believe that an Australian had made a successful worldclass engine, even though the thing was running and beating the best on their own. "Some ot the worst rubbishers had still ended up owning an engine" he commented wryly.
Still there were problems, if one of the Meirson engines blew up in racing, perhaps from a broken gudgeon pin or a dropped valve, back would come the bits in a box, with a note saying, "What are you going to do about this ?" You can't guarantee a racing engine that gets all hell revved out of it in three-minute bursts while swallowing heaps of dirt, yet the Meirs did just that, rebuilding each damaged engine to keep faith with the client, accepting all the costs to build a reputation for service. New pistons, new valves, new barrels, anything the engines needed. "If you bought a Jawa or a JAP," Clarry explained, "and it blew to pieces three months later, whoever sold it to you then would say, Here, this is what you need, there's the parts, where's your money ? We didn't get that kind of attitude."
Still they kept producing the engine, relying on other people to make some of the parts. Now they were building three different Meirsons, each with a different capacity. The original 500 cm version they called "The Maxim", then there was a de-stroked 350 cm unit for grasstrack or shortcircuit racing, aptly named "Mini Max", while a special 604 cm engine was built for sidecar work and called 'The Super Max". Meirsons won the Wide Bay Championships, the West Moreton Championships and set track records at the Maryborough and Ipswich circuits in the 350 and 500 classes. Clarry and Allen took the engine to Kempsey, Tamworth and Gunnedah, and won. And they had reports of the engine's successes from many parts of Australia.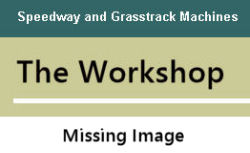 All things must come to an end, and the pushrod engine had just about reached the end of it's useful life. Although it was still punching out a solid 35kw (50hp) at 7,000 rpm, Clarry sat down and figured that a twin-cam engine was the logical way to go, so a new engine was built from the bones of the old design, using twin chain driven overhead camshafts operating on inverted buckets running directly on the valves. Bill McDonald, then Australian short-track champion, asked to: use the new engine and agreed to help develop the unit in competition.
Initially, timing chains snapped, pistons collapsed and almost everything went wrong, but finally it was right, and dyno-testing the engine several times in preparetion for the 1964 Australian titles at Griffith, the engine propduced a constant 45.5 k W (60 hp) at 8600 rpm. The Meirson went to the titles and worked solidly for two days, competing in 18 events. It ran second in the semi-finals and finished fifth in the final event, against the very best in the country. As Clarry said, "They were mighty glad we didn't come back the next year." He knew the engine needed further development, but Bill McDonald had seen enough of riding, and soon retired, although information since sent in would show that Bill did return to the saddle and was still riding in 1975.
The main problem with the new twin-cam was a lack of suitable pistons - the engine was running to 10,000 rpm and every piston available simply fell apart. Various brands were tried and some success was achieved with a piston designed by Clarry and cast in Brisbane. Fnally, though, forged pistons were ordered from Mahle in Germany and the new motor was set for production. Orders tor the new Magnum racing engine came to 33, with even more enquiries flooding in.
Then, disaster struck. Clarry Meirs, following years of overwork and strain in trying to achieve the almost impossible, became so sick that for almost two years he was unable to work. production halted and out of the initial order of 33, only 13 of the promising twin-cam engines were made.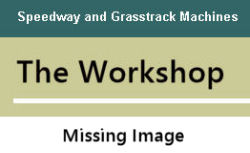 Specifications

(Link to see MSM Tech Sheet Info)
Bore/Stroke: 85mm x 88mm.
Capacity: 498cc.
Compress Ratio: 14:1
Carburrettor: 36mm AMAL
Ignition: Magneto SR I
RPM: 8,300. (Work rpm 7,800)
Oil Pump: Double acting Plunger
Fuel: Methanol
With his health regained, Clarry once again took up the challenge. This time, a four-valve layout was evaluated as the most promising design. Operated by twin belt-driven camshafts located in the base of the cylinder head, actuating the valves through short pushrods and rockers, it was a radical design, but in the early prototype stage retained the proven crankcase and cylinder design of the earlier engines. Using a new porting layout to give more usable power in the lower rev ranges, low and mid-range acceleration was vastly improved.
The new unit's single cylinder heart was a crankshaft machined from 60-tonne mild steel, running on Hoffman roller-bearings in a split, light-alloy crankcase heavily ribbed to prevent distortion. The massive L-section connecting-rod was cast from 30-tonne steel, machined all over and X-rayed before assembly.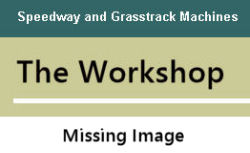 It ran on caged roller-bearings at the lower end and supported the piston pin on a "thin-walled bronze bush." The piston was a short, solid skirt unit designed for racing, with four valve recesses machined into the low crown. The generously-finned cylinder head had a normal pent-roof design dombustion chamber, porting following the "siamesed" layout common to most four-valve machines.
The cam-drive layout was unusual, with a toothed-belt driven by the crankshaft running up and around the two high-mounted camshafts supported either end by high-speed ball bearings. The three-piece camshafts were designed to facilitate cam-lobe changes in case of wear or damage, and also allowed the cam lobe, the cam spindle and drive gear to be made from different materials for maximum component life, while cam timing could be altered by offsets in the drive gears.
Fibreglass covers enclosed the cam drive-train and valve gear, while still providing a generous air flow around the massively finned light-alloy cylinder barrel with its integral cast-iron sleeve. Four long through-bolts anchor the head and barrel securely to the crankcase, screwing into large top-hat steel nuts set solidly in the crankcases. A hallmark of all the Meirson engines is the built-in ease of maintenance. The engine can be Stripped in about seven minutes for piston or ring replacement without removing it from the frame.
Engines are Clarry Meirs life. "It's a personal challenge. If you take something that you have done, it's something to be proud of," he says. "Some people fly aeroplanes until they can't breathe any more. My challenge was to produce, as an Australian, a racing speedwayengine."
He has done just that.
After visiting these Pages, Bob Kennedy mailed with a little additional information regarding the MSM and writes ......
My father used to race TQ speedcars in Queensland Australia in the 1960 when I was a boy and I remember meeting Clarry Meirs when my dad needed a new timing chest for his JAP. I remember the MSM letters stamped into the casing from clarrys castings. Don't ask my why a preteenage kid would remember something like that but I did. When I was 17, in 1974 (I'm 42 now) I used to ride a Hagon Ducati 250 in short circuit and a sponsorship agreement was organised by none other than Bill McDonald the legend (in my eyes).

I know for a fact that Bill McDonald was still racing in 1974 because I actually was in the same race with Bill and a guy who Bill didn't really like too much, a rival of his Tom Gibson. Those two reminded me of a snake and a mongoose. Not a very compatible duo. Bill told me--Son- get that Duke out of the gates and sit on my arse and ill show ya how to get around tivoli and don't be scared of old gibbo. Well I did my damned best to do what the boss asked and I was coming second to Bill on the Ducati. Bill was riding his Cole elstar. Lucky for me the track was small not allowing the 500 of his to use all its power. All of a sudden out came the black flag and Bill and I were disqualified for jumping the start. Amazes me still how we could jump the start with them using steel drop down gates. I don't think we jumped anything except Tom Gibsons pride that day.

Anyway I also rode in the wide bay championships and Bill rode there to and also in a 3 hours short circuit race they organised one year (Bill-Manager of Norm Frazer Motorcycles here in Newstead Brisbane) at the time won the race that year it was either 1974 or 1975. I also remember Bill riding the MSM Magnum engine at Caboolture Raceway in at least 1974. I can verify this as I was 17 and had a car licence and drove to that meeting myself. So you have in your story on the MSM that Bill gave up riding in 1964. I'd just like to let you know I physically saw Bill riding it in 1974. After Bill decided to give away riding the MSM he only rode for a little period after that and gave short circuit away. I can remember the Christian name of the guy who took over the riding of the MSM machine after Bill. His name was NOEL. I'm sorry I don't recall his last name but this might jog someone's memory to his last name. I am a good friend of Wayne Powell who submitted his 1949 Hynes JAP to you and I actually took those pictures for Wayne with my digital camera. I've loved speedway for a fair while now and used to ride a little myself and live just up the road from Wayne and am a good friend of Mick who rides for Glasgow. Wayne put me on to your site and I really love it. So if the info I've given you is of any use I'm glad to be of help. If you want to ask any other questions on Bill Mcdonald I knew the man reasonably well -he was a bit of a character and a damn fine rider with a lot talent in short circuit. Don't hesitate to ask.
Thanks again
Bob Kennedy.....
Notes
1. Images were missing from original archive.
---
Wed, 13 Sep 2017
Patrick at RoyalTRacing.com
MSM
Hi my name is Patrick Tilbury from New Orleans. I own a Meirs and Son engine and I just came across your archived article about MSM. All of the pictures on the article are expired and I need to see them in order to figure out what I have. This is the only thing on the internet I've found regarding MSM and I am extremely excited haha. If you still have those pictures and ANY contact info for someone who has knowledge of MSM engines I would be extremely grateful. I've attached a picture as proof. Thanks!
Patrick Tilbury
New Orleans, LA
MSM-Speedway-Head- PTi.jpg posted to comments, above.
About the Speedway Workshop Archive