Dot Motorcycles
Made in Britain from 1903 to 1932, and from c1949 to 1978
Founded by Harry Reed and built in Salford, Manchester, Dot motorcycles used Blackburne, JAP, Villiers and Bradshaw engines. The first Dot motorcycle was built in 1906. Production ceased in 1932, but the restructured company began building motorcycles again in 1949 using Villiers and later Minarelli and Sachs engines. Production included a variety of three wheelers (the Dot Motor Truck) up until the late 1950s, and some quite successful competition trials machines. After 1966 motorcycle production slowed, and the last machines were made in 1975.
In 1978 B.S. Wade showed his final creation to interested parties. It featured MP style forks, a restyled frame and smaller hubs, and a DMW-sourced 37A Villiers engine. DMW had bought the rights to the Villiers engine, and this one looked similar to the 37A but had "DMW" on the chain case, and the engine covers were finished in black.
More Dot Motorcycle History...
---
---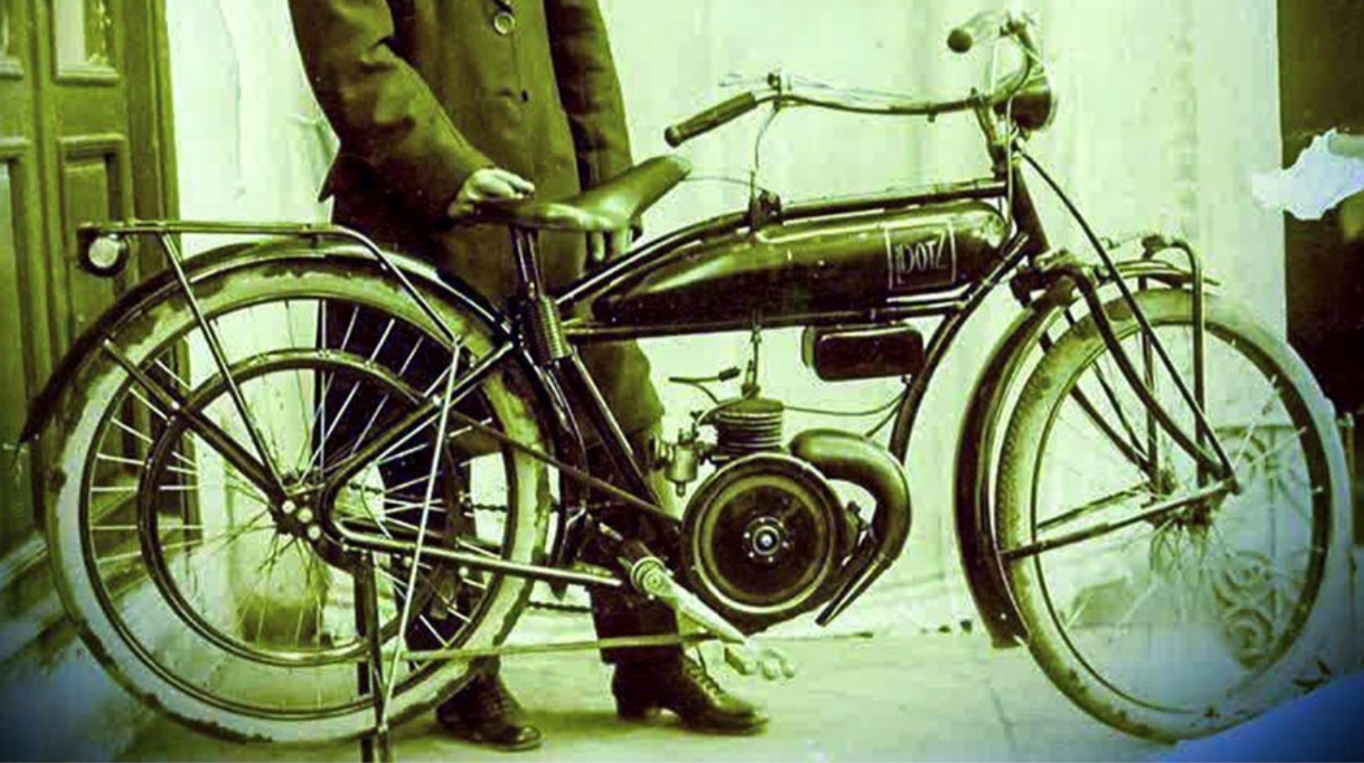 29-Apr-2021
motorbashi at gmail.com
DOT- Before 1912
Hi. Would you be able to identify a DOT bike which I believe belonged to a year before 1912?
Mehdi Shirzadi
Iran
Have found nothing at all about two-stroke DOT motorcycles from this period, despite extensive searches. Image posted to Comments
---
02-Mar-2021
stayl at hotmail.com
Dot Starmaker
You ask for more information on the starmaker engine, see attached link to an interesting article suggesting it was used in road racing close to 1963 and also that a 6 speed close ratio gearbox was also available for use!?
Steve
Uk
historywebsite.co.uk
---
27-Feb-2020
njbestimating at sky.con
Villiers
I have a 250cc Villiers Engine, Type 32A, Ser No. 114D 2173, in a DOT trials bike.
Please could you provide info on date of manufacture, sale etc.
Im also looking for a chain case outer cover, if you could help with that.
Regards,
Nick Butcher
United Kingdom
No information found on a Villiers 114D engine number. Please send photograph.
---
21-Apr-2019
Chris.wreford at btinternet.com
Dot, frame No H530 242
Good morning I have been given a Dot moter cycle frame, tank, back wheel, front forks ,telescopic, plus 2 engins, a Villers 250 seized! And a 197 that turns over, I understand the bike may have come from a Scottish isle as it was a posts man's bike? Any more information? Thank you .
Chris Wreford
Somerset
---
Sat, 25 Nov 2017
bunzle1 at hotmail.co.uk
Dot Scrambler 1962
Hi I'm trying to find a chain for my friends dot scrambler 1962 and was wondering where I could find one or even just what pitch and length the chain is on it? . Thanks
Barry stuchbury
Bicester United Kingdom

---
Sat Oct 31 2015
denkate at sky.com
Dot Frame
Frame Number H600137 Trials
Hi, Could you please tell me what year the frame is and could you tell me the model.
Thanks Dennis.
West Midlands
---
Mon Jan 02 2012
Joshangliafire<at>yahoo dot com
Dot
Dot White strength
Hi does anybody know who the man is, that is sitting on the dot White strength in the picture?? I have White strength 250 and am trying to get as much info pictures etc as I can . Also I m trying o track down an old rider called david longden from the uk . Many thanks Josh
London
---
Wed Aug 05 2009
sverre-helgesen at hotmail dot com
Photos
DOT White Strength
Have a few piccies of the DOT I bought in Australia in '69. The bike was sold in GB in about '72, down S.E. London way.
---
Sun Sep 21 2008
k.ross11 AT btinternet dot com
wishing to trace deceased friends DOT
DOT Trials Bike late 50's early 60's
I am trying to trace a DOT motorbike which belonged to a friend of mine who is now deceased. All the information that I have is the last known whereabouts, which was that it was sold to a collector in Chichester, West Sussex by a man in Arundel. The one defining thing about it was that it was fitted with AJS front forks and wheel. Also, the bike was sprayed pillar box red even the alloy tank and it was registered on the road. It had a 197cc engine. If that collector sees this message would you please contact me.
Devon
---
Sun May 21 2006
munsell64 at yahoo dot com
villiers motorcycle
I have a motorcycle with a villiers engine type 9E s# 455B/2452 and on the frame #H560339. Can you help me find out anything about this bike.
las vegas,nv

Sat Feb 09 2008
birchall87 AT yahoo.co.uk
Mysterybike-H560339
dot late fifties off road trials & scrambles
front forks and wheel are probably BSA c15, tank is obviously jap. look at dot-motorcycle-club.co.uk/gallery
manchester

---
Wed Sep 26 2007
hondo40 AT sbcglobal.net
dot motorcycle
race bike
I bought the engine from a class c racer at the end of the race season and put it in an excelsor frame with the help of some friends..great bike won several 250cc main with it..
---
Wed Aug 22 2007
bradbury115 AT btinternet dot com
Can you help
1953 Dot Trials 197cc Villiers 7E engine
Do you have any information for these bikes, history, pictures, values etc.
If you could supply any of this information it would be gratefully appreciated.
Many Thanks
leeds
---
Sun Feb 04 2007
chucksul at cwo dot com
Value of a DOT motorcycle
1954 DOT Scrambler, Earls front fork
This is a DOT I purchase new in 1954 and raced in California through the late 1950s. The bike is nearly complete but is missing the tool box, the original seat and chain guard. A vintage MX racer wants to purchase, restore and race the bike. What is the value of this bike? Thanks very much for your assistance. Best regards, Chuck Sullivan
Sacramento, California
See the page on Classic Motorcycle Prices
---
Sun Nov 26 2006
david at sailcatamarans dot com
DOT TRIALS
1954 197
my older brother had a new one in 54, with a factory tuned barrel(5 quid extra)
he did the trial and scramble bit and then put a 325 british anzani twin in it for road use.sold it to me for 45 quid and it was the most fun bike i ever owned.I had a 64 250 here in 68 and raced in the socal desert.handled beter than a greeves.my old riding mate is now 80 and still trail rides his 250 regularly.good times.
s.cal
---
Fri Jul 21 2006
willinbro.0417 at virgin.net
Grimeca Rear Hub
1963 Dot 250 Trials
I need a rear hub for the above Bike . Can't complete restoration without it.
---
Fri Mar 31 2006
dotclub at freenetname.co.uk
DOTs
Dots were still making machines up to 1975, granted after 1966 number were few, but still being made. Their zenith was the late 1950s, but their last new model came out in 1978
Mark (dot club)
In 1978 BS Wade showed his final creation to interested parties. It featured MP style forks, a DMW sourced Villiers copy of the 37A engine. Note DMW had bought the rights to the Villiers engine. Looked similar to the 37A, but had DMW on the cahin case and the outer cases were finished in BLACK. A restyled frame and smaller hubs. A little too late, if it had come out 10 years earlier it would have been the proverbial winner, but by 1978 the Spainish and Italian machines were much better.
See our web site, www.dot-motorcycle-club.co.uk go to HISTORY BOOK, the bottom picture on the front cover is B S Wade standing by his last design. I'll try and get a better quality image for you later.
mark
---
Thu Jan 12 2006
bjarne.holmstrom at aland.net
commercial 3-wheeler mc Dot of Manchester
Hallo, i have an 3-wheeler commercial Dot of Manchester from 1951 with a Villiers 2-stroke engine 198 cc. Do you know if or where i can get a speedometer for it?
---
Sun Oct 02 2005
dotclub at freenetname.co.uk
dot motorcycles
Hi
We at the www.dot-motorcycle-club.co.uk welcome any links.
Thank you for promoting DOT motorcycles, remember the factory is still there in Manchester, selling spares.
Mark
---
Tue Jul 26 2005
stephenwalch at t-online.de
DOT 197 villiers trials
know where i can get pics and info on this model?? age would guess around 1950's late
---
If you have a query or information about Dot Motorcycles please contact us