Manufacturer: Flottweg
Model: K35
Year: c. 1930
Engine: Single-cylinder JAP
Displacement: 197 cc
Type: 4-stroke ohv
Power: 8hp
Weight: 125 kg
Frame number: 1027
Engine number: 1027
In 1910 Gustav Otto (son of the inventor of the petrol engines) founded Otto-Flugzeugwerke (Gustav Otto Aircraft Machine Works) based in Munich, Germany. In 1918 Otto opened a new factory in Munich, and began in 1920 to produce motorized bicycles, a utility tricycle powered by a 119cc hilfsmotor mounted above the front wheel which were given the brand name "Flottweg" as the German words "flott" means "quick" and "weg" means "away". The next models had 183 and 246cc ohv engines of their own construction, and from 1928 to 1931 they included JAP 198cc and 346cc engines in the lineup. Production halted during the economic crisis. In 1932 Dr. Georg Bruckmayer acquired rights to the name and established Flottweg Motoren-Werke, building motorcycles and aviation components (including engines, possibly). In 1935 machines with their own 198cc engines were produced until the takeover of the company by nearby BMW in 1937.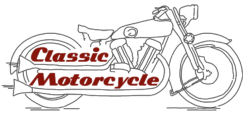 Classic Motorcycle, Austria
Classic Motorcycle specialises in high quality vintage machinery from Europe, the UK and the United States.
More information: Classic Motorcycle