Model: M23 Empire Star
Year: 1937
Displacement: 500 cc
Engine type: 4-stroke ohv single
Bore / Stroke: 82 x 94 mm
Frame number: HM19609
Engine number: JM23834
During the 1930s BSA concentrated on producing a range of dependable, well-made, competitively priced motorcycles.
The BSA single-cylinder range was redesigned by Val Page for 1937, the engines taking on many of the characteristics they would retain in the post-war era, most notably dry-sump lubrication, rear-mounted magneto and a distinctively shaped timing cover. There were two new overhead-valve offerings in the 500 class: the M22 Sports and M23 Empire Star. Their new engines were housed in a conventional chassis and drove via four-speed gearboxes, both of which benefited from the convenience of foot change.
This example of the Empire Star is equipped with a Smiths speedometer, ammeter, complete Lucas lighting set and Amal carburretor. The two-port head and the high level exhausts are special equipment not usually found on this model.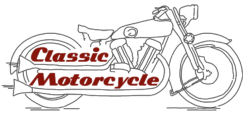 Classic Motorcycle, Austria
Classic Motorcycle specialises in high quality vintage machinery from Europe, the UK and the United States.
More information: Classic Motorcycle