Triumph's 3½hp model had first appeared in 1907. Originally of 453cc, its sidevalve engine was enlarged to 476cc in 1908 and finally to 499cc in 1910 before being superseded by the 550cc 4hp model in 1914. Equipped with three-speed Sturmey-Archer gearbox, it was this revised 4hp machine - designated the Model H - which performed such sterling service in WWI, some 30,000 'Trusty Triumphs' seeing action with British and Allied forces. Soon to be updated with chain final drive, it became known as the 'SD' (Spring Drive) because of its clutch-mounted, coil-spring shock absorber and formed the basis of the later four-valve Ricardo model.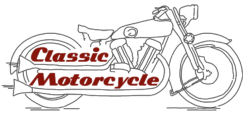 Classic Motorcycle, Austria
Classic Motorcycle specialises in high quality vintage machinery from Europe, the UK and the United States.
More information: Classic Motorcycle
Triumph 1920 Models