Manufacturer: BSA
Model: S32-8
Year: 1932
Displacement: 500 cc
Engine type: 4-stroke ohv single
Engine number: Z8.1116
Introduced for the 1927 season, the influential 'Sloper' started a trend which saw many of BSA's competitors adopt inclined motors. The Sloper featured a trend-setting saddle tank that afforded a low seating position, and for 1930 gained chromium-plated brightwork and a new frame with forged steel spine. Models with the 493cc overhead-valve engine came with twin-port cylinder heads. For 1930 the Birmingham firm offered no fewer than 18 models, six of which had inclined engines.
Although plated 1930, the vendor consistently refers to this machine as a 1932 S32-8.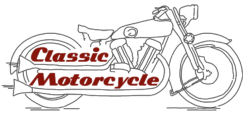 Classic Motorcycle, Austria
Classic Motorcycle specialises in high quality vintage machinery from Europe, the UK and the United States.
More information: Classic Motorcycle