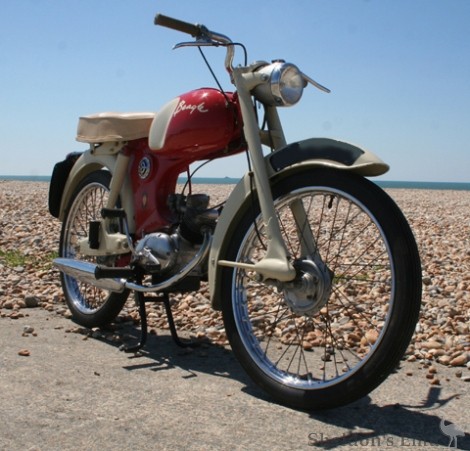 BSA Beagle 75
The BSA Beagle was produced for a very short period. Though influenced by Edward Turner (famed for his designs of the Ariel Square Four and Triumph Speed Twin), it had been prematurely launched by BSA in an attempt to compete with the NSU Quick, Italian lightweights and the new Japanese 50cc & 90cc machines.
Inadequately tested before release, the Beagle proved to have inherent engine problems and many ended up back in the shops that had sold them.
A forum post reads: "My mechanic worked on them when he first started as an apprentice. He told me that BSA refused to honour the guarantees, so shops had to bear the costs themselves."
BSA released around the same time the Ariel Three, the Ariel Pixie, and a few years earlier the 70cc BSA Dandy. None of these aroused the passions of the young audience at which they were aimed.
BSA BEAGLE Specification
Manufactured: 1963-1966
Engine: 75cc OHV single cylinder.
4hp - 40mph - 125mpg - weight 145lbs
The Beagle had roller main bearings, geared primary drive and a four speed gearbox, but a weak top end let it down, along with its many oil leaks. Handling was poor, and if worked hard the engines would often give up at well under 10,000 miles.
Sources: BuyVintage.com, et al
---