BSA 1933 W33-8 500cc OHV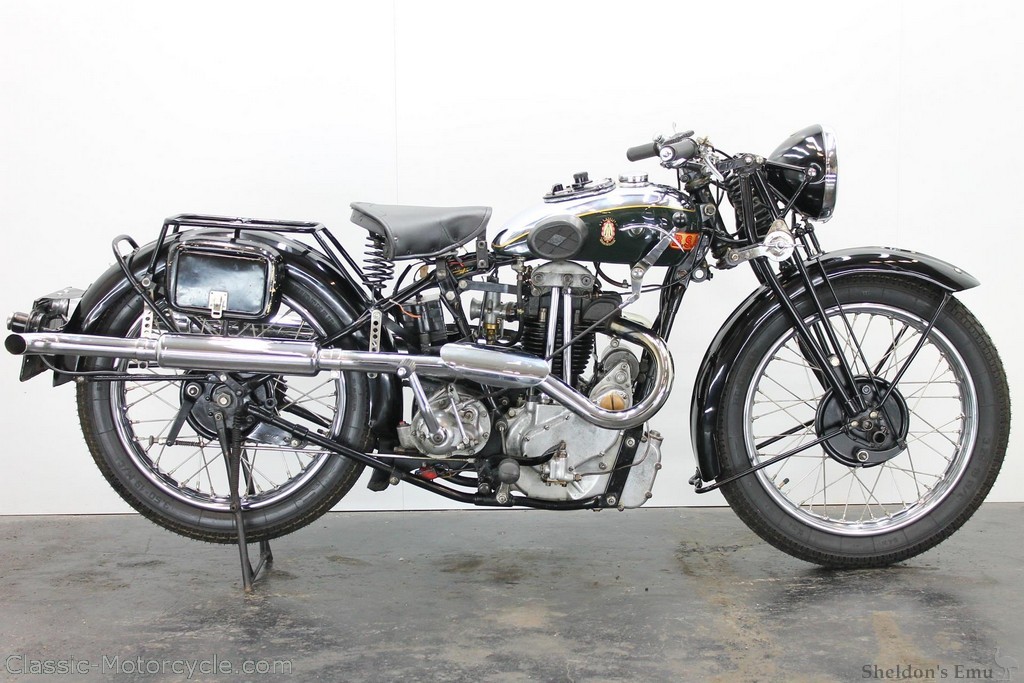 Specifications
Model: W33/8 / 4.99hp
Year: 1933
Displacement: 500 cc
Engine type: 4-stroke ohv single
Bore / Stroke: 85 x 88 mm
Power: 28hp @ 5200 rpm
Compression Ratio: 9.5:1
Weight: 162 kg
Very similar to the W33-7, the main difference being the upswept exhausts.
In the early 1930s BSA used the advertising slogan "One in Four is a BSA", which was no exageration given that they were the world's largest motorcycle manufacturer.
The first BSA slopermachines appeared in 1927, termed thus due to the inclined cylinder. This was a trend-setter, adopted by many other makes over the ensuing decade.
The onset of the Depression caused BSA to reduce their model range to ten for the 1932 season. These included three new 500cc models, one a sidevalve and two with overhead valves, all of which shared a common bottom end and the 85x88mm bore/stroke dimensions that would characterise all BSA's 500cc singles, including the Gold Star, up to the beginning of the unit-construction era in the 1960s.
The two new ohv 500s were typed W32-7, the sports version being given the name 'Blue Star', a title that was also applied to the equivalent 250 and 350 models. Both featured vertical engines fitted to rigid frames with girder front forks. The Blue Star had a more highly-tuned engine with a high-compression piston and performance camsshafts, and a twin-port cylinder head. Power output was a very healthy 28hp. Electric lighting became standard equipment in 1934. The W32-7 Blue Star was available with tank-mounted gear change or foot change.