Manufacturer: Rudge
Model: Multi
Year: 1919
Displacement: 499 cc
Engine type: 4-stroke ioe single
Bore/Stroke: 85 x 88 mm
Production years: 1911 - 1923
Frame number: 772424
Engine number: 23657
mxn
"Our readers will be able to examine the Rudge-Whitworth motor cycles at the Olympia Show next month, as well as a free engine machine complete with sidecar attachment."
The Motor Cycle
, October 6th 1910.
The success of the machine and its sound engineering can be judged by its victory in the 1914 Senior TT Race in the hands of Cyril Pullin at an average speed of 49.49 mph – the first single-cylinder machine to win a TT.

The Multi saw active service in World War I, the Italian Army ordered a batch at the end of hostilities and the Multi was the model selected for manufacture in 1918 to get production underway, to re-finance the Rudge operation. By 1921 Rudge production was running at 30 machines a day and riders such as Bob Dicker and Bill Lacey kept the Rudge name in the headlines with successes at Brooklands and other events.

This particular machine retains its patina and is fitted with a Lucas acetylene lighting set and Senspray carburettor.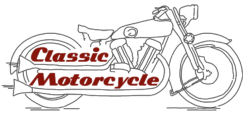 Classic Motorcycle, Austria
Classic Motorcycle specialises in high quality vintage machinery from Europe, the UK and the United States.
More information: Classic Motorcycle