Selective Action.

Top gear is obtained by bringing the left pair to the extreme left, and the main shaft wheel engages the dogs of the sprocket sleeve pinion, giving a solid drive. By sliding the pinions to the right the layshaft wheel engages splines on the layshaft, and the fixed wheel thereon drives the sprocket sleeve pinion through its fixed wheel ; this is the third speed.
When second speed is needed, the left pair of pinions return to their midway neutral position, and the second pair is brought to the extreme left, both pinions being on splines. Moved half-way to the right, the main shaft pinion comes on to a free portion of the spindle, and a pinion dogs engage those on the layshaft free pinion and the low gear drive is obtained from the main shaft fixed wheel to the layshaft fixed wheel and the sprocket sleeve.
The selectors are two segments in which are cut cam slots so arranged that one is in neutral while the other moves the gears, and vice versa. Each cam slot engages a pin and roller on the forks which move the striking plates inserted in the grooves between the teeth of the sliding pinions. By removing a cover plate the selector mechanism is readily accessible.
Carried in the hollow layshaft is the kick-starter shaft, which is well supported by roller bearings at one end and a plain steel bush at the other. All the kick-starter mechanism is enclosed.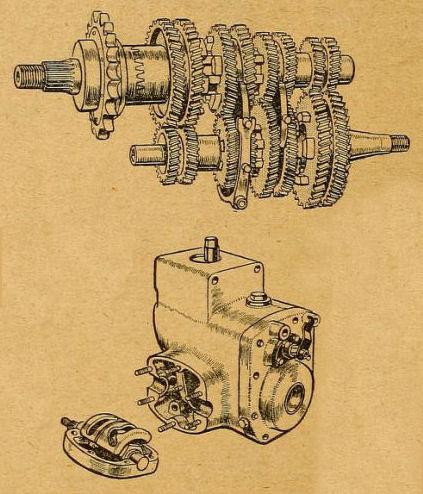 Main and layshafts of the Rudge four-speed gear ; the kick-starter mechanism and clutch are not shown. The use of double helical pinions is unusual in motor cycle practice; it should be conducive to extremely silent running.
On the Rudge four-speed gear box the selector mechanism may be removed with the inspection cover while the box is in position on the frame.