R. Walker & Sons of Tyseley, Birmingham began as makers of ships lamps but in 1919 had built a range of motorcycles under the Monarch name, to be sold by the London Department store Gamages. The company was re-registered as the Excelsior Motor Company Ltd, production moved to Birmingham and the Lower Ford Street factory in Coventry sold to Francis-Barnett. They made a range of motorcycles from 98 to 1,000 cc, mostly powered by JAP, Blackburne and Villiers engines, plus an 850 cc Condor engine. The new company put more effort in competition and racing. To avoid confusion with the American maker of the same name, they called themselves the "British Excelsior".
This machine is equipped with a 548cc Blackburne engine, heavy duty four-bolt Sturmey Archer three speed gearbox, Senspray carburetor and a massive flywheel ensure smooth power delivery. The engine features a three bolt detachable cylinder head.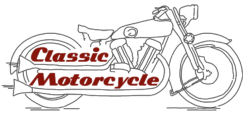 Classic Motorcycle, Austria
Classic Motorcycle specialises in high quality vintage machinery from Europe, the UK and the United States.
More information: Classic Motorcycle