Manufacturer: DKW
Model: NZ500
Year: 1941
Displacement: 489 cc
Engine type: 2-stroke twin
Bore / Stroke: 64 x 76 mm
Power: 18.5hp @ 4200 rpm
Top Speed: 115 km/h
Production: c.4600
Frame number: 553460
Engine number: 1121082
DKW was Europe's largest motorcycle builder in the 1930s, manufacturing a large range of machines - the NZ500 was one of their fastest and most powerful. An air-cooled twin of advanced design featuring swinging-arm rear suspension, the NZ500 employed engine dimensions of 64x76mm bore/stroke (for a capacity of 489cc) and produced 18.5bhp. Representing the pinnacle of pre-war DKW motorcycle design, approximately 4,200 of these rare and desirable models were constructed between 1939 and 1942, almost all of which were supplied to Hitler's SS.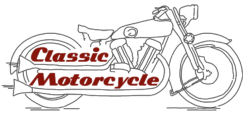 Classic Motorcycle, Austria
Classic Motorcycle specialises in high quality vintage machinery from Europe, the UK and the United States.
More information: Classic Motorcycle