DKW 1938 KS200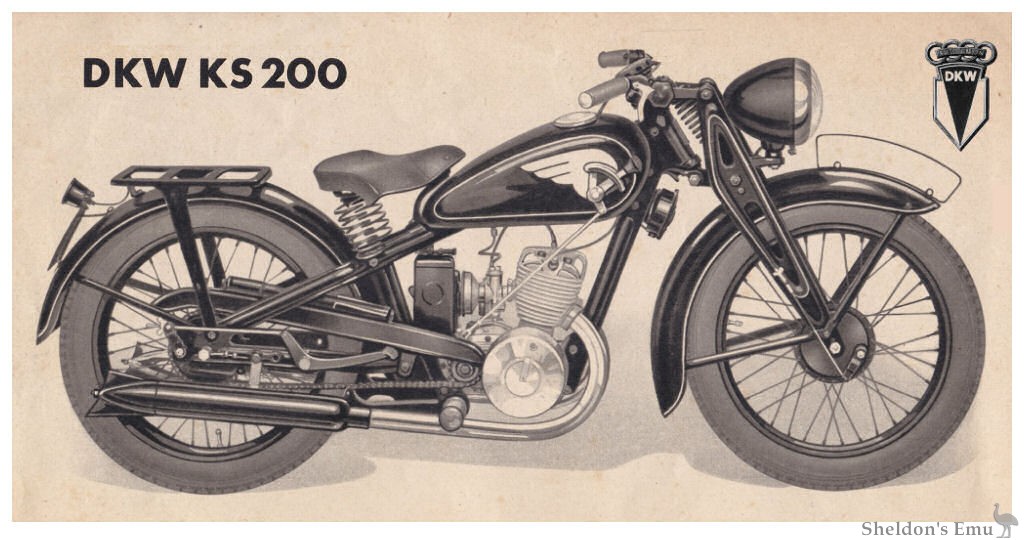 DKW 1938 KS200
The rugged, all-encased two-stroke engine is responsible for the amazing performance of the KS 200. The clutch is manually adjustable.
The KS 200 is one of the most popular machines in its class and is compactly designed in every detail. With a full quota of high grade specifications, such as chromium-plated tank, adjustable knee grips, 75 watt lighting system, up-to-date streamlined headlamp, wide mud guards, detachable double exhaust ports and a long wheelbase, this smart model is endowed with features which add considerably to the comfort and convenience of motorcycling.
Of course, shock absorber and steering damper are incorporated as well, as on the bigger DKW types. There is also provided a very popular device for fitting a safety lock on the steering head at a slight additional cost.

DKW 1938 KS200
On a two-stroke large detachable exhaust silencers are of special importance, since they render cleaning amazingly easy.
The KS200 can also be supplied with speedometer, the front wheel hub having been prepared to receive the speedometer drive.
All in all the KS200 model is a high grade utility machine for hard wear, in performance and appearance much superior to anything in its class.
A shock absorber and steering damper enhance the riding characteristics of the KS 200. A small diameter handle bar and handy controls assure restful riding.

Die preiswerte DKW, eine vollwertige Soziusmaschine, sparsam und schnell zugleich. 7 PS DKW- Zweitaktmotor, Dreiganggetriebe, Motor- und Getriebegehäuse ein Gußstück, Kupplung im Olbad, Tankschaltung, Drehgas, Lichtmaschine von 50/75 W Leistung, Batteriezündung, Anschluß für Ab- leuchtlampe, elektrisches Horn, verstellbare Fußrasten und Lenker, Stoß- und Steuerungsdämpfer, Doppelport, demontierbare Auspufftöpfe, Preßstahlrahmen und gabel. Eine handliche, strapa- zierfähigeMasch ine von außerordentlicher Zweckmößig keit und unÜbertroffenerWirtschaftlichkeit.
---
Sources: English and German factory catalogues.
---