Model: M23 Silverstar
Year: 1939
Displacement: 499 cc
Engine type: 4-stroke ohv single
Bore / Stroke: 82 x 94 mm
Frame number: KM23605
Engine number: KM23468
BSA's 500 heavyweight class was divided into three groups; the M22 was the 'cooking version'; the M23 Silver Star was the sports machine with a specially-tuned engine having a higher output than the M22; and the M24 Gold Star which was really a street-legal race bike. Val Page included several innovative and modern features in these new machines. The forged steel backbone of the previous models was replaced by a brazed steel tubular frame with a single backbone. The sump in the crankcase was discontinued in favour of a separate oil tank, and the mag-dyno was moved to the rear of the cylinder and driven by a chain from the right side. The engine has an air-hardened cylinder, a high-compression piston and 'hotter' cams. A major advance was full enclosure of the valve gear.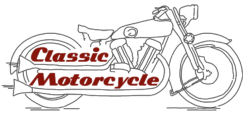 Classic Motorcycle, Austria
Classic Motorcycle specialises in high quality vintage machinery from Europe, the UK and the United States.
More information: Classic Motorcycle