Manufacturer: Standard
Model: BS 500
Year: 1929
Displacement: 496 cc
Cylinder: 1 - MAG
Engine type: MAG four-stroke ohv single
Bore / Stroke: 82 x 94 mm
Power: 22hp @ 3800-4100 rpm
Weight: 155 kg
Top Speed: 120 km/h
Frame number: 7915
Engine number: 1C9H8 502765
The chassis for the 1929 model was that used on the previous year's 500cc and 750cc models, and was fitted with Castle forks under Brough licence. They were handsome and very expensive motorcycles - the price exceded the annual wage for an average worker and was dearer by far than the most expensive DKW of the day. As Germany's second financial crisis began to bite, sales slowed.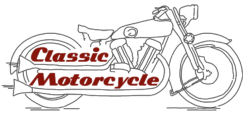 Classic Motorcycle, Austria
Classic Motorcycle specialises in high quality vintage machinery from Europe, the UK and the United States.
More information: Classic Motorcycle