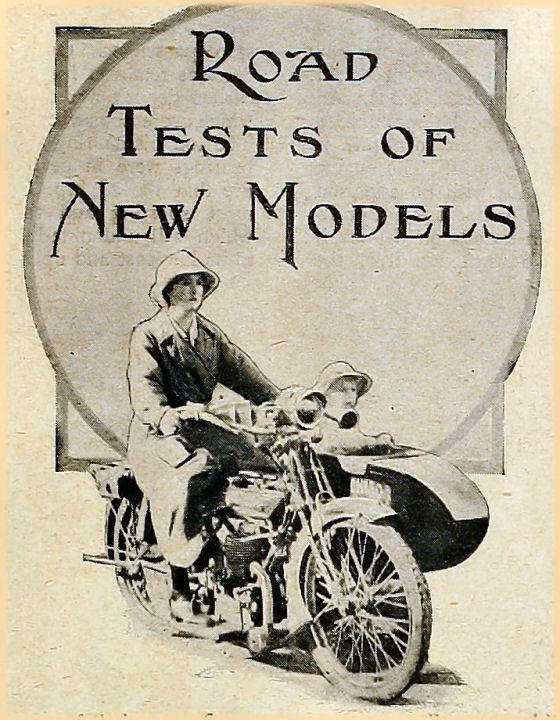 Sidecarring with a Small Two-stroke - the 2¾ h.p. Connaught on the Road.
The Possibilities of the Present-day £100 Touring Outfit for Two.
THIS is not a story of terrific gradients and hair-raising speeds, rather is it a tale of an ordinary every-day tour, such as, anyone might undertake at a moment's notice, and without undue preparation.
There is, however, a point to the yarn, in that two persons with a week's luggage enjoyed a very pleasant tour of 380 miles, stopping were they willed, and visiting many friends and relations, at the total expenditure of fuel and oil of 18s. 8d., a sum which certainly cannot be considered extravagant in these days of expensive railway fares. But, to begin at the beginning. A short time ago Messrs. The Bordesley Engineering Co., of New Bond Street, Birmingham, offered us one of their new £100 sidecar outfits for an extended trial. As we were due to take a holiday the week following the offer, suitable arrangements were made, and the little 2¾ Connaught, fitted with a two-speed Sturmey-Archer gear box with clutch and kick-starter, duly arrived, towing a coach-built sidecar of no mean proportions. Being enthusiastic as the rider of a fast -solo machine, it was with some misgivings that we contemplated the size of the engine (73x70 mm. bore and stroke=293 c.c.) and the load which it would have to carry. However, having summoned up the necessary courage, the engine was started, and in the six miles run home it became very apparent that the Connaught was no joke, but a serious touring proposition, and developed a power output quite surprising for so small an engine.
On the following morning, having carefully bestowed a wife and various packages in the sidecar, and two large parcels on the carrier, the serious business began, and we set out with the light heart and heavy load that betokens the first day of a motor cyclist's holiday. The run from Kenilworth to a spot not very far from St. Albans was accomplished at an average running speed of just under nineteen miles per hour and after a little practice it was found that the machine pulled well down to the last gasp, with the exception of Braunston all the London road hills being taken on top gear (5¾ - 1). It is quite possible that the long slope from Braunston village could also have been climbed on top gear, but the rider had not become quite accustomed to the wonderful slow pulling, and changed down unnecessarily early.
There followed a series of trips to Tring, to London, and to Shepperton, thence to Ascot to visit more friends, and then to Shillingford for a couple of days on the river, and finally a run home via Oxford, Banbury, and Stratford-on-Avon. On returning to the starting, point, the mileage worked out at 380, and the petrol consumption at just over four gallons, or well over 90 m.p.g. On this trip, it is true, no really severe hills were encountered, but the routes were never altered to avoid hills, and such as were met with were climbed with ease. This with an engine of under 300 c.c., gear ratios of 5¾ and 10½ to 1, and a total load of 700 lb.
A Smooth-running Engine.
And now to details and criticisms. The running of the engine was smooth and steady throughout, and the mechanical troubles were covered by a change from an unsuitable plug to a more suitable type and one shortening of the belt.
The engine four-stroked extremely little, and this probably is partly accounted for by the combined inlet and exhaust manifold, which warms up the mixture before reaching the crank case.
Petroil lubrication is used, and functioned admirably throughout. The advantage of a foolproof lubrication, combined with an automatic increase of oil supply to the engine governed by the throttle opening, easily outweighs the slight messiness inherent in the system. On the machine supplied to us no cover was arranged for the driving chain, but this omission has since been rectified on all standard machines by fitting a neat cast aluminium cover plate.
The sidecar springs were rather too stiff, the sidecar mudguard stays erring the other way and broke; both these troubles, however, have been since tackled and overcome. A slightly lower top gear, say 6 to I, would be an improvement for sidecar work, especially on heavy roads and against head winds. An average speed of over 20 m.p.h. can be maintained with a loaded sidecar on good roads, but 19 m.p.h. is a more suitable speed for this little outfit. The engine may be driven all out up long hills with no apparent detriment and no signs of drying up, but it is not desirable to attempt to maintain high speeds on the level. At the conclusion of the above-mentioned trip, the outfit was driven for a further fifty miles, including a comfortable ascent of Stoneleigh Hill with an eleven stone passenger.
On returning to the works the cylinder was removed for examination, and extremely little carbon deposit was found except in the exhaust ports, which were somewhat choked due to over-lubrication. The top piston ring was slightly gummed up, but all bearings were in perfect condition. Our conclusions are that the 2¾ h.p. Connaught and sidecar forms a most sporting and thoroughly reliable little outfit, which will undoubtedly attract a large clientele owing to its low cost and upkeep.
H.D.T.
The Motor Cycle September 16th, 1920. Page 327