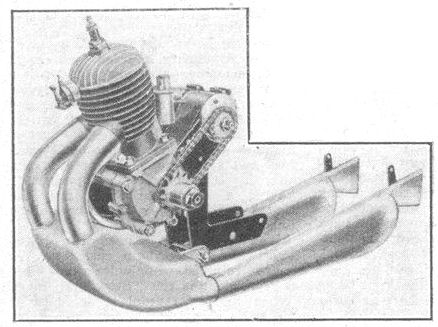 The new two-stroke with its exceedingly elaborate silencing system.
The New "Silent Superb" with 147 c.c. Engine of Coventry-Eagle Make, Luxuriously Equipped and Costing Only £23 10s.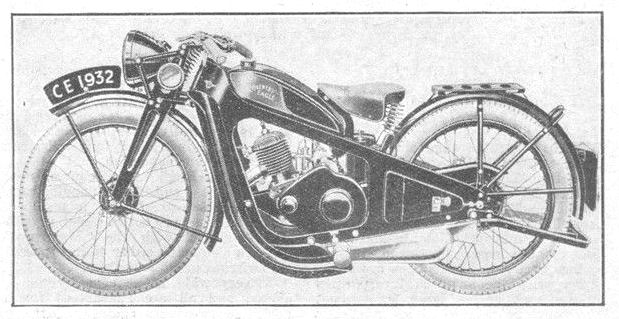 Nothing has been spared to make this 15s. tax Coventry-Eagle a luxury motorcycle in every respect. Dynamo lighting, coil ignition, and hinged rear mudguard are features of its comprehensive specification.
THE interesting and attractive new model introduced by the Coventry-Eagle concern will be marketed in two forms, known as the "Silent Superb" and the "Eclipse." Coming within the Jus. tax class both deserve a careful study, as, in many respects, they are unique, and, despite their extremely comprehensive equipment, sell at very low figures.
Nearly a year has been spent in perfecting them, and they have been subjected to very severe testing. They are therefore not new and untried productions.
Each employs an engine of Coventry-Eagle design and construction. It is a conventional two-stroke of 55 mm. by 02 mm. 147 c.c. The cast-iron piston has two rings and is attached to the connecting rod. which is made from a steel stamping, by a fully floating gudgeon pin.
High Efficiency.
The combustion chamber is machined all over and great attention has been paid to the port design, so that a high degree of efficiency is assured. The bigend is of the roller type and every component is made to the finest limits. Lubrication is on the petroil system. The outside flywheel is enclosed in a metal case, and Miller 6-volt coil ignition is employed. The dynamo, on the end of which is located the contact breaker, is driven by chain from the engine shaft. The. coil is disused beneath the saddle, where it is well out of harm's way.
The carburetter is a special Amal instrument and is provided with an air-strangler for easy starting purposes. Twist-grip throttle control is employed.
The frame is of channel pressed steel on the lines of those used in the past.
The name "Silent Superb" applied to the more expensive edition is no misnomer, for it is doubtful whether so small a machine has ever been so effectively silenced. The two exhaust pipes discharge into a large aluminium box within a very short distance of the cylinder, and thence the gases pass through two additional silencers which run almost the whole length of the machine and terminate in fishtails.
A three-speed Albion gearbox with clutch and kick-starter is used.
The forks have pressed-steel side members, and the wheels, which arc shod with 25-in. by 2.75-in. Firestone tyres, have 4-in. front and 5-in. rear internal-expanding brakes.
The large mudguards, the rear of which is hinged for wheel removal, give
---
COVENTRY-EAGLE PRICES.
" Marvel," model 11.16, 98 c.c. Villiers, with lighting, £16 16s.
" Eclipse," model 11.18. 147c.c., fully equipped, two-speed, £19 19s.
"Silent Superb" model H.19, 147 c.c. fully equipped, three-speed, £25 10s
" Wonder." model H.22, 196 c.c. Villiers, with lighting, £24 15s. .,
Model H40, 550 c.c. o.h.v. single-port J.A.P.. fully equipped, £44 15s.
Model H.45, 550 c.c.. s.-v., Sturmey-Archer, fully equipped, £59 15s.
Model H.44, 350 c.c.. o.h.v., Sturmey-Archer, fullv equipped. £48 15s.
Model H.55, 500 c.c., o.h.v., Magdyno, £52 15s.
---
excellent protection, and easily detachable legshields, which are built in so that they harmonize with the lines of the machines, make them genuine all-weather models in the fullest sense of the word.
The 12-gallon tank is finished in black with the distinctive scarlet nose peculiar to this marque. A reserve fuel supply is arranged, and the quick-release filler cap incorporates an oil measure.
The headlamp size is 7 ins. The switches and the ignition "tell tale" are mounted in the lamp, while the battery is securely located in the frame under the saddle. An electric horn is included in the specification.
The second edition of this model, the "Eclipse" which retails at £19 19s.. differs only in that it has a two-speed gear, a single-port engine with one silencer, and that the twist-grip and electric horn are omitted from the specification.
In addition to these two machines there are a couple of Villiers-engined models and four four-strokes listed. The smallest is the 90 c.c. "Marvel' which remains much as this year's production. This is a very fully equipped little mount, having lighting, legshield and undershield, adjustable handlebars and a carrier included in the price, which is only 16 guineas. The two-speed gearboxx has a kick-starter and the silencing system has been improved.
The other Villiers machine makes use of the single-port 391 c.c. engine and this, too, is fitted into a pressed-steel frame, being catalogued at £24 35s
The Four-strokes.
Two of the four-strokes come within the 30s. tax class; they employ 550 c.c. single-port o.h.v. J.A.P.s and side-valve Sturmey-Archer power units, costing £44 15s. and £39 15s. respectively. Their specifications arc similar and include Albion gearboxes, Druid forks, 25-in. by 3-in. tyres, and Miller coil ignition and lighting, together with an electric horn.
In a duplex cradle frame is mounted a 350 c.c. o.h.v. two-port Sturmcy-Archer model, and in this instance a four-speed Sturmcy gearbox and 26-in. by 3-in. tyres are employed.
A 500 c.c. o.h.v. double-port engine is vertically mounted, and this specification has larger section tyres and a Lucas Magdyno.