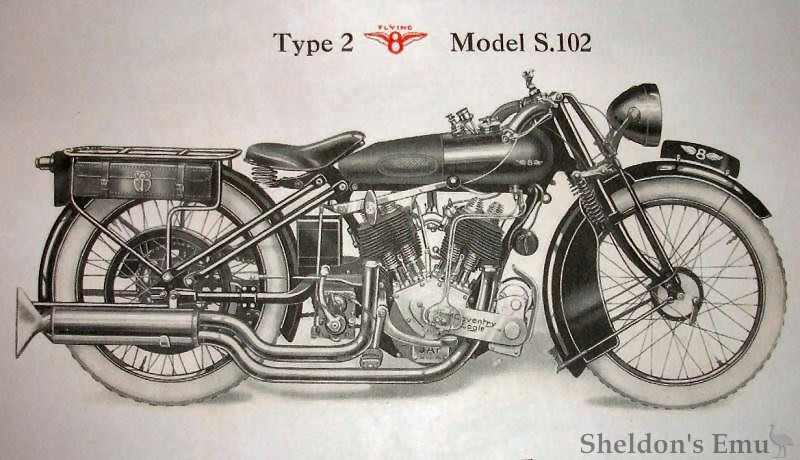 Coventry-Eagle Flying 8
Introduced at the Olympia Show of November 1922, the Flying-8 Model B120 was a development of Percy Mayo, grandson of the company's founder. It was fitted with a 976 c.c. sidevalve V-twin JAP engine with belt drive to the rear wheel. Chain drive versions arrived shortly thereafter, and in 1926 an OHV JAP 998cc KTOR was offered. The SV machine remained in production until 1931, the OHV until 1930.
Another model was the F150 Flying 8 Police which was powered by the JAP 8/30 sidevalve engine. Fitted with a Sturmey-Archer 3-speed gearbox and Webb forks, one of these was delivered to the Victorian Police Force in 1930. The Australian connection was quite strong, as the Webb forks were designed by A.N. Mapleston of Melbourne.
The Flying 8 and the Brough Superior SS80 and SS100 were similar in both looks and performance, and this was no coincidence. Mayo and George Brough became friends when they served together during WWI, and it is believed that Mayo designed the distinctive fuel tank used by Brough.
The Flying-8 name was derived from the horsepower rating of the engine, 8 h.p.
---