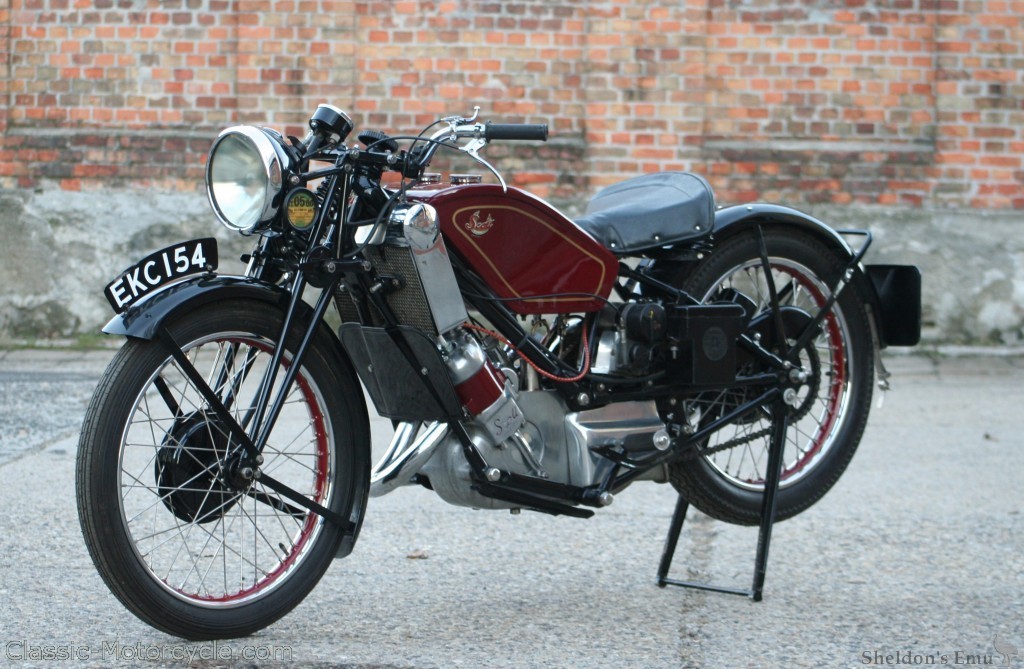 Scott Motorcycle History
Scott motorcycles were built from 1901 to 1982.
The Scott Motorcycle Company was owned by Scott Motors (Saltaire) Limited, Shipley, West Yorkshire and was a well known producer of motorcycles and light engines for industry. The company was founded by Alfred Angas Scott (1875 - 1923), born in Kirkcaldy, Scotland. He patented an early form of caliper brakes in 1897, a fully triangulated frame, rotary induction valves, unit construction, and more. He had started making engines for boats in 1900; in 1908 he made his first motorcycle with a 450 cc two-stroke twin cylinder engine and two speed gearbox mounted in a triangulated frame. He is credited with the invention of the kick start.
Scott left the company in 1915 and after World War One formed the Scott Autocar Co in nearby Bradford, to make a civilian version of his proposed military three-wheel motorcycle/car hybrid called the Sociable.
1901 Scott built his first engine. It was a twin-cylinder two-stroke, fitted to a Premier bicycle. It was mounted in front of the headstock and the front wheel was belt driven.

1902 Scott revised his design so that the engine was behind the headstock with a friction, belt driven countershaft to the rear wheel.

1904 Scott patented his design as a twin-cylinder two-stroke with a central flywheel, overhung crankshafts and round crankcase doors.

1906 For one year, a basic 2½ hp single was offered called the 'Scout'. It was a typical primitive with rigid forks and belt drive. Although the claim was made that they produced the engine themselves, it was probably bought in.

1908 By now, Scott had developed a complete machine with a 333cc, 3hp engine, air cooled cylinders and water cooled heads. This clever design remained unchanged for many years. He arranged for the design to be manufactured by the Jowett brothers, but they built only six machines before alternative arrangements were made in Bradford to create the Scott Engineering Co. During that year Scott raced successfully at several hill climbs. Due to its style and the fact that it was easy to start, the motorcycle attracted considerable attention.

1909 Production began in earnest. The machines had kickstart levers and larger capacity engines.
1910 Cycle and Motorcycle Exhibition
Scott Engineering Co., Ltd.
Mornington Works, Bradford. Stand No. 32.
Few motor-cycles have drawn no much attention - and respect - on their introduction as the Scott. The bore and stroke of the two-cycle two-cylinder engine are 70 mm and 64 mm respectively, and the rating is 3 1/2 horse power. The two-speed gear gives ratios of 4 to 1 and 7 to 1, and the transmission is by chain. The starting, by kick-down lever, is a specially good feature. Among other modifications introduced for 1911 are the entire water-jacketting of the cylinder, the fitting of 21in. Palmer Cord or Kempshall tyres to both wheels, and the provision of automatic lubrication. It is a unique machine and should command excellent business.
1911 There had been many improvements over the past couple of years. The engine became fully water-cooled and the capacity was enlarged to 486cc. A machine was entered in the TT with high hopes, but the engine had a lot of problems.

1912 After a much modification Scott entered the TT again and scored success when Frank Applebee won the Senior and set the fastest lap.

1913 Success was repeated the following year, this time by Tim Wood who won by just five seconds. It was one of the closest victories in the history of the TT. The two-speed Scott was further improved that year, as demand was greater.

1914 For the TT, the works machines had a revised engine, but the results were disappointing - they were leading the field until the Bosch four-spark magneto failed on the final lap. They had set the fastest lap at the TT again that year, as they did in 1912 and 1913. Production continued into the first couple of years of the Great War, and for the services they built a sidecar model that carried a machine gun. Scott's ideas continued to develop and he produced an array of models. One was a three-wheeled gun car. There was also the Scott Sociable, which looked like a small car with the front left wheel missing. These models were built on a triangular tubular chassis.
SCOTT.
Engine
- 3¾ h. p. two-stroke, water-cooled, 532.5 c.c.
Ignition
- Bosch magneto, chain-driven.
Carburetter
- Scott semi-automatic. Counter-shaft two-speed, gears and 7.6 to 1.
Transmission
- Chain.
Dimensions
- Height of saddle from ground, 29½ in. Ground clearance, 5in. Wheelbase, 53in.
Lubrication
- Best and Lloyd sight-feed lubricator.
Other Features
Open frame. Palmer cord 26x2½ tyres. Scott spring forks and footboards.
Price
- £68 5s
Scott Engineering Co., Ltd., Saltaire, Shipley, Yorks.
1918 By now Scott had little involvement with motorcycles, so he sold out and formed a new company.

1923 In August that year, and aged only forty-eight, Alfred Scott died of pneumonia. Without his vision and ability, the firm had little to take it forward.

1922 The original motorcycles had returned after the war and the 498cc, two-speed Squirrel was listed.

1925-1929 The Super Squirrel was produced with several sizes and variations available. There was also the Flying Squirrel, which was more conventional in style. For a short time, a dirt-track model was added.

1930 An air-cooled Scott single appeared. The machine was conventional in style, and by making the engine themselves, it was intended to appeal to the lower end of the market. However, due to lack of success, it was soon dropped. By now the design appeared dated and cumbersome, but without the talent and financial backing of Alfred Scott the company fell on hard times. For much of the decade they continued as best they could with a few modifications and replacements.

1934 The company announced a water-cooled in-line three-cylinder model, which was exhibited at Olympia that year, but few were built and by the end of 1937 it was no longer listed.
Scott Models for 1936 at the Olympia Show
SCOTT enthusiasts are visiting the private show of these machines, which is being held at the company's showrooms, 78, Charlotte Street, Tottenham Court Road, London, W.l.
There are two models, both "Flying Squirrels," of 498 c.c. and 596 c.c. capacity. They employ the well-known twin-cylinder water-cooled two-stroke engines, with light-alloy cylinder heads. Three-speed gear boxes are fitted in both cases.
With electric lighting, speedometer, and horn the 498 c.c. model costs £80 and the 596 c.c. model £83 10s.
Although the three-cylinder model (which was introduced last year) is not shown, it can be made to special order, each model being quoted for when ordered.
The 1935 Olympia Show reported in The Motor Cycle, December 5th, 1935.
World War II. The Scott machines were expensive and highly specialised, so output was low. Lack of sales forced them into voluntary liquidation and so the firm was sold to Aerco Jig and Tool Co of Birmingham, a company owned by Matt Holder who was a Scott fan.

1956 After several years Matt Holder managed to get the Scott back into production. A couple of models were produced in small numbers. He produced the Scott Swift using an engine with flat-top pistons.

1960s A racing Scott twin made an appearance, but with little impact, and those motorcycles manufactured were built to order.

1970s-1980s Following on from the Swift, Holder produced the Silk, but by this time production was down to even smaller numbers.

1982 The production of Scott motorcycles came to an end.

Note: The Scott Owners' Club may be found at scottownersclub.org
Sources: Graces Guide, The Motor Cycle

If you have further information or a query related to this page, please contact us