The Seventies Gallery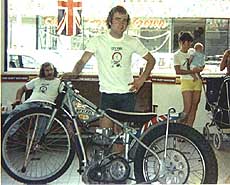 Peter Collins
Peter Collins (England) poses at Maroubra, Sydney, in December 1975. He is pictured here with one of the first Weslake machines and went on to win the 1976 world championship. Collins and his family emigrated to Australia in 2002.
Photo by Steve Magro.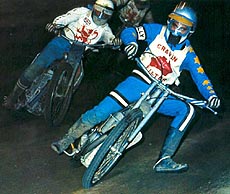 Billy Sanders
Teenage tearaway Billy Sanders heads Englishman Reg Wilson at the Sydney Showground during 1974.
Photo by Bill Meyer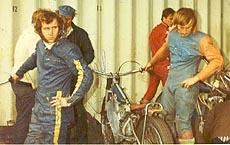 Chris Pusey and Alan Wilkinson
Chris Pusey (left) and Alan Wilkinson in 1972, warming their bikes before the off at Belle Vue, Manchester, England.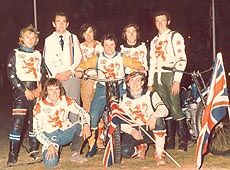 British Lions, 1974-75
The victorious British Lions, 1974-75: Reg Wilson, Reg Fearman, George Hunter, captain Nigel Boocock, Doug Wyer and Eric Broadbelt. In front: Peter Collins and Scotsman Jimmy McMillan.
Photo by Bill Meyer.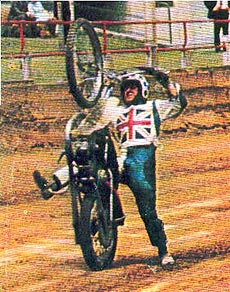 Chris Pusey
Chris Pusey on British Lions duty late in 1972, during practise at the Sydney Showground.
Photo by Geoff Davis.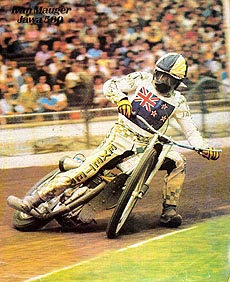 Ivan Mauger
Ivan Mauger in a rare picture, aboard a Jawa 4 valve conversion at Wembley Stadium, London during 1976.
Photo by Mike Patrick
Alexander Pavlov
A touch of continental flavour, with Russian Rider Alexander Pavlov (1972) showing good style on home soil.
Photo by Motocross magazine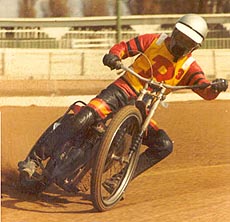 Phil Herne
Phil Herne, at full slide for Birmingham in 1973.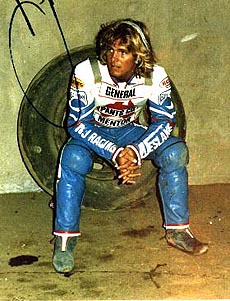 Bruce Penhall
Late 1979 saw the first appearance in Australia of American show man and pin-up boy, Bruce Penhall. He is shown here in the Sydney Showground pits, preparing for a race the local hero Billy Sanders. Penhall ran Sanders close, losing 2-1, but Bruce carried on to win two world championships, in 1981 and 82.
Photo by Steve Magro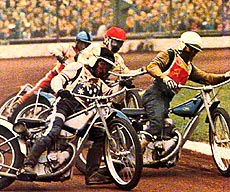 1973 World Final
The 1973 world final will remain the day speedway got its biggest ever attendance. On that day a largely partisan Polish crowd of (reportedly) 120,000 fans saw rank outsider Jerzy Szczakiel win Poland's first title under controversial circumstances. This photo shows a glimpse of the action, with the Russian Grigori Chlynovski and John Boulger (Australia) out in front of Ivan Mauger (NZ) and another local rider Edward Jancarz.
Photo by Mike Patrick
Ole Olsen
Wolverhampton and 1971 World Champion Ole Olsen in pensive mood.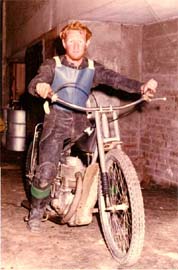 Bluey Valentine
Ex-Sheffield and Cradley Heath rider Bob 'Bluey' Valentine, pictured here in the Sydney Showground pits ready to hit the track.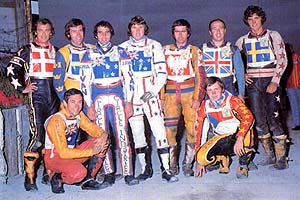 Host of Champions
What a host of champions this is!
Ole Olsen, Anders Michanek, Ivan Mauger, Barry Briggs, Edward Jancarz, Roy Trigg, Tommy Jansson, Jim Airey and Jiri Stancl mark the occasion at Jerliderie Park Speedway, Newcastle Australia in 1974-75.
Photo by Bill Meyer.