Speedway Sidecars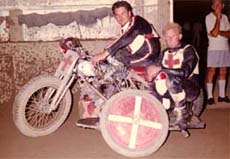 Doug Robson and Des Howell
This picture shows three-time Australian champion Doug Robson and his passenger Des Howell outside the Sydney Showground pit gates aboard his HRD Vincent. Robson, throughout his long and illustrious career, always featured a red cross on his bike and his leathers.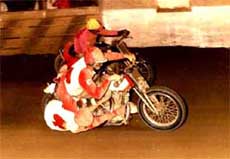 Graham Young
Graham Young hugs the inside through the pits corner at the Sydney Showground while fellow Australian title-holder Bob Levy looks for grip high on the outside during the 1967-68 season.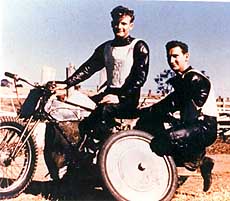 Jack Bissakar
Jack Bissakar was a Sydney backmarker with loads of potential during the early 1960s. He moved on to four wheels and unfortunately lost his life in 1965, at the wheel of a speedcar.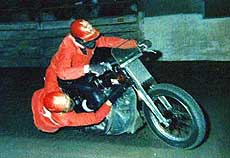 Bob Levy
Bob Levy, former National title holder, fights his Vincent sidecar around the Sydney Showgrond during the late sixties.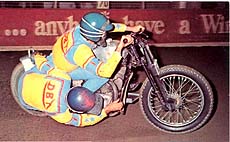 Doug Tyerman
Doug Tyerman during the early 70s (with a blue 'T' on the front of his Truimph - which he still owns) blasts his way around the Sydney Showground with his swinger Jeff Henderson nearly touching the track surface. Note that Tyerman is wearing no gloves here.
Photo by Bill Meyer.