The Olden Golden Days
Max Grosskreutz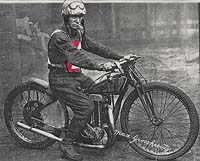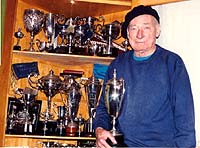 Max Grosskreutz, born in 1906, was one of the very first Australian Speedway champions (1927). He remains among a rare breed of leg-trailing heroes, during the sport's 'dirt track' infancy in the 1920's. Although his best years were before WWII (when he rated among the very best in the world), he returned to the track after the war, finally retiring due to injury in 1948. He was 42. Max passed on in 1994, aged 88. I feel privileged to not only have met the man, but to have written a final story about his exciting and unique career in speedway. They don't make them like Max anymore - a true legend if there ever was one.
Vic Duggan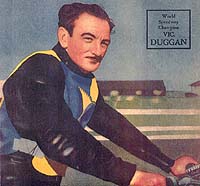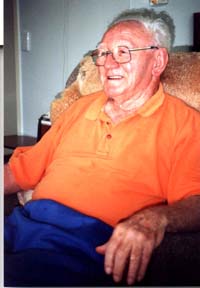 The legend says: 'World Speedway Champion, Vic Duggan'. Though Vic - magnificent as he was - never took speedway's supreme title, he was a five-times Australian champion in a period when engine and distance categories varied. His career, which began at Sydney's Speedway Royale in 1937, was promising from the start. After a short pre-war apprenticeship in England with Hackney, Bristol and Wimbledon, he returned to Britain to ride for Harringay (whose colours he is wearing in this picture) in 1947, sweeping all before him and proving to be sensationally near-unbeatable. The following year he won the equivalent of the world crown by taking the Speedway Riders Championship against the world's best at London's Wembley Stadium. Revered still by those enthusiasts fortunate enough to have seen him ride, he is now in his mid-eighties and lives in quiet retirement in Queensland.
Jack Parker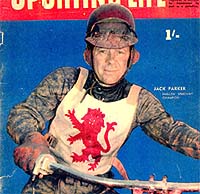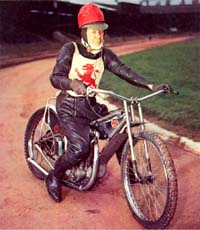 Once described as the 'champion of champions', Jack Parker was certainly the most charismatic English speedway rider in the history of the sport. He began riding at High Beech, the birthplace of British speedway, at the beginning in 1928 and was one of the first Englishmen to challenge the supremacy of the visiting Australian experts. The quintessential team captain, for England - he rode in 96 tests for his country - and his clubs, Coventry, Southampton, Clapton, Harringay and Belle Vue. He led numerous international tours to Australia and was renowned for his dominance in match races, holding the British Match Race Championship Golden Helmet for so long in the late 1940s that it became known as 'Parker's Pension'. Another outstanding performer never to have won a world title, he was the Star Champion in 1934 and the 1947 British Champion. Parker's name also appears four times on the Australian individual championships roll of honour.