The 70's...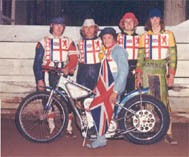 From left: Alan Wilkinson, Reg Wilson, Nigel Boocock, John Davis, Michael Lee.
(click photo to enlarge)
Seven tests were held in the 1970-71 season and the trend continued right up until 1975-76. But costs became prohibitive and the following year saw a five man team (including 17 year old Michael Lee) come to Australia in what was an unofficial tour.
In 1978-79 a seven-man squad, led by world champion Peter Collins, narrowly trounced an Australian side led by Billy Sanders. At the time the Kangaroos sorely missed the services of Mildura/Swindon star Phil Crump (Crump was also missing in 1978-79, which proved to be the last tour as the Kangaroos went down in each of the seven tests).

In 1978-79 the Lions ripped through Australia in one of the most convincing performances for many a year. From the start the they steamrollered the Aussies to win the first four tests: 69-39 (Perth), 63-45 (Adelaide), 60-47 (Liverpool, Sydney) and 58-50 at Newcastle.

The demolition continued at the Sydney Showground (56.5-51.5) before the final two Tests in Brisbane (58-50 and 56-43). In the 7th test Crump made his lone appearance, but for the Aussies it was all too little, too late.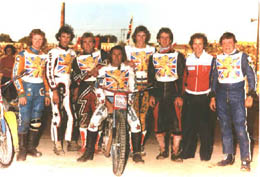 From left: Alan Grahame, Steve Bastable, Phil Collins, Doug Wyer, Michael Lee, Gordon Kennett, Phil Mountford (manager), Nigel Boocock
(click photo to enlarge)



The results could have been far worse had it not been for the consistent double-figure scores of skipper John Titman and Australian champion Billy Sanders. For the Lions, world champion elect Michael Lee, Captain Doug Wyer and the reigning world number two Gordon Kennett spearheaded their attack.

Throughout the Lions team there was talent to burn - so comprehensive was their defeat that Australian promoters responded by canning the traditional test series, for a next decade at least.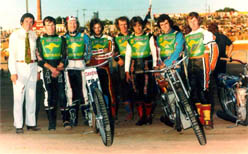 Australia at Rowley Park, Adelaide. From left, manager Jim Airey, John Titman, Robert Maxfield, Kym Amundsen, Steve Koppe, Phil Herne, Billy Sanders and John Boulger.
(click photo to enlarge)



Said manager Phil Mountford: "We wanted lads who could not only score the points, but maintain their bikes and be a credit as ambassadors for their country. Nigel Boocock agreed: "In the past we've had to carry riders on tours, but these lads have done their job well. They're all hard, clean and aggressive riders and they did everything I've expected them to do".

Billy Sanders summed up the Australian view when he wrote: "From one to seven it was a power-packed, don't we know it, and an extremely well drilled squad. Team spirit was obviously very high and really, I've never seen a team more determined to beat Australia. From our point of view I'm disappointed that we could not have given them a tougher run and field a full-strength team. Replacing a rider like Phil Crump is no easy task. We do lack depth in our ranks, but that does not mean we can't improve".


The following season saw a five match "Tri-Nations" series held between Australia, England and USA. After that (and throughout the 80's and early 90's) there were more unofficial matches between the two nations, but official encounters disappeared from the Australian speedway scene until 1994.

That year the touring Englishmen were led by Joe Screen, but failed to win a match and as a consequence
Australian promoters have not invited a Lions team back since.

Still, a positive aspect from the tour was that one final test was able to be staged at the old Sydney Showground. which first held a test match in 1934. This time it was New Years night and a full house returned to the famous arena. After 60 years the tests had returned for a grand farewell (see photos)
BAZILBRUSH/SPEEDWAY88-94.html