1967 - The Rebirth...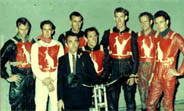 1967 Kangaroos, first test: from left Bill Bryden, Trevor Harding, the late Lionel Levy (manager), Kevin Torpie, Jim Airey, the late Gordon Guasco, Jack White, Greg Kentwell.
(click photo to enlarge)

The year was 1967: Australia's number one, Jim Airey, was in England when he received a phone call from Empire Speedway's promoter, John Sherwood. Australia's huge speedcar boom of the sixties had begun to wane and Sherwood saw the need for something different.

Sherwood asked Airey if he would captain Australia in a series of five tests against England, running between Sydney, Brisbane and Adelaide. Airey agreed, the rest is history and the tests played to packed houses around the nation.

England had mustered a powerhouse squad including Nigel Boocock (Coventry), Eric Boocock (Halifax), Ray Wilson (Long Eaton), Terry Betts (Kings Lynn) and veteran Scotsman Ken McKinlay (West Ham). Backing up Jim Airey were a host of Aussies including his Wolverhampton teammate Gordon Gausco, John Boulger (Long Eaton), Greg Kentwell and Queenslander Jack White.

Media hype assured that the series was a success - newspaper and television reporters flocked to the Sydney Showground for the Lions' first look at the 'Royale', while Nigel Boocock was an invited guest on the prime time 'Tonight Show' which beamed live into millions of Australian homes. Afterwards the entire match was broadcast in a delayed telecast. All records of this have sadly been lost!

The official attendance was 35,000. Some fierce racing, particularly between Airey and Eric Boocock (one win each) highlighted the drama-packed test. The lead swapped throughout the match - it was all square after heat 10...with one race to go the 'Roos led by a solitary point. In the previous race Gausco had fallen, then was excluded for receiving assistance in picking up his bike in an attempt to push over the line for one point. England gained a 4-2 in the last race to seal victory, 54-53.

Alas the drama had not ended. As the victors lined up for their victory parade in front of the Sinclair Stand, a spectator threw a bottle which struck Terry Betts and knocked him from his bike. With Betts bleeding from the head his team-mates immediately leapt the fence in order to 'apprehend' the villain (for some time in fact) until police arrived at the scene.

The Lions won the fabled "Ashes" 3-2, and this sparked a major revival. In following years the series expanded to include Melbourne and Perth, while in England three tests were held in 1969 (Poole, Sheffield and Wolverhampton). One more test was held at Cradley Heath in 1970, but the Australians were deemed uncompetitive and the series was canned.