Speedway Test Matches 1968-1969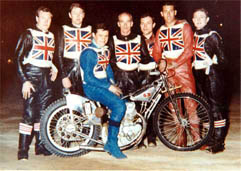 From left: Eric Boocock, Dave Younghusband, Nigel Boocock, Ken McKinlay, Bob Kilby, Jim McMillan.
(click photo to enlarge)
The 1968-69 test series blooded three new faces in Dave Younghusband (Halifax), Bob Kilby (Swindon) and exciting young Scotsman Jim McMillan. Coventry's Nigel Boocock replaced Ken McKinlay as captain, while brother Eric made his final tour of Australia along with veteran Mike Broadbank. For Australia John Langfield made his test debut, as did Bert Kingston and Reading 'Racers' Geoff Mudge and Geoff Curtis.
England drew first blood in Melbourne before the second test was held in Adelaide (Rowley Park) on 6th December 1968. The Kangaroos were fired up to level the series and they did so in fine style, winning 61-47.
Adelaide favourite Charlie Monk led the way with a superb 18 point maximum, while captain Jim Airey helped secure victory with 16 (paid 17, lost to N.Boocock). For the Lions, McKinlay was best with 13, followed by Eric Boocock (11) and his brother Nigel, on 9.

Two weeks later the Aussie's won 68-40 at the Sydney Showground, despite a sterling 17 points from the stylish McKinlay. Fellow Scot McMillan was next best with 9. For Australia Airey (beaten once each by McKinlay and N.Boocock) set the standard with 16, while local expert Langfield excelled with 15 points and the fastest time of the night.
Almost a month later the British Lions levelled the series again with a 57-51 win at the 400metre Brisbane Exhibition Ground. It was a team effort with Nigel Boocock notching up 16 points (paid 17, beaten once by Jack White), while McKinlay scored 12 and Broadbank 10, in his only decent score of the tour. Eric Boocock had a disastrous night and scored a meagre 2 points.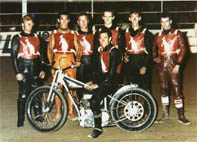 From left: John Boulger, John Langfield, Geoff Mudge, Jim Airey,
Charlie Monk, Gordon Guasco, Greg Kentwell at Rowley Park, Adelaide.
(click photo to enlarge)

On to the 5th and deciding final test at the Sydney Showground - which was held virtually two months after first match. Once again Airey was the star, beaten only once by Nigel Boocock (13). Eric scored 11 along with McMillan and McKinlay 12. The disappointing trio of Kilby, Broadbank and Younghusband could manage only one point between them.
Thirty years had passed but John Langfield remembered: "We were all so proud to race in the tests - it really meant a lot to us. We believed that the English were the best riders in the world and although that wasn't really the case at places like the Showground, the crowds that supported us were just amazing....we'd almost fill the place."

1968-69 series top scorers:

	Jim Airey (77)
	Nigel Boocock (68)
	Ken McKinlay (62)
	Charlie Monk (60)
	Eric Boocock (46)
	Jim McMillan (42)
	John Langfield (38)
	Jack White (38)