Phoenix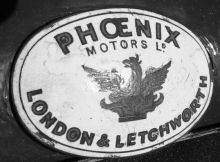 Phoenix
tricar built in London from 1900 by J.Van Hooydonk, native of Brussels. In 1903, the managing directors were Hooydonk and A.F. Ilsley, company address Blundell St, Caledonian Road, King's Cross, London N.
Phoenix Trimo Forecar 1906
Displacement: 636 cc
Engine: water-cooled Velox engine
Production numbers unknown. Two are known to exist.
Joseph Van Hooydonk was a Belgian living in England who built his first Minerva-powered motorcycles in 1900 at his small factory in Holloway Road, north London.
The Trimo Phoenix forecar emerged in 1903, a tricycle fitted with a Velox engine which had a passenger seat located between the two front wheels and a two-speed gearbox, designed and patented by Joseph Van Hooydonk.

Phoenix Motors

Phoenix were motorcycles produced from 1900 to 1908, by J. Van Hooydonk, firstly in Holloway Road, then in Caledonian Road, London.
General
1900 This was one of a number of firms that bought in Belgian Minerva engines to attach to its bicycles.
1902 After the move to Caledonian Road, a forecar attachment was offered. This replaced the single front wheel by two that carried a seat between them. Removal was said to take only a few minutes. The attachment was sold as the Trimo and could be fitted to most other makes. It was therefore very popular.
1904 The model remained unchanged but with variations of transmission available. Later in the year a ladies' version of the Trimo was added, with a drop frame and upright engine.

1905 The range of solos continued, with the option of either belt or chain drive, either with one or two speeds, plus the forecars. A solo ladies' model was also added, this with a 2hp engine fitted to an open frame.

1906 The open frame became available for general use, fitted with a 2hp or 2¾ hp engine and two-speed gearing. The Trimo became more car-like in appearance.

1908 The solo, known as the Cob, had a 3½ hp Fafnir engine. Although all the Phoenix machines were well-made and widely advertised, production had always been small-scale so they were not competitive enough to remain in the trade.

1911 Around this date they moved the business to Letchworth

1919 January. Advertised a 11.9 hp car seating three abreast. J. Van Hooydonk and A. F. Ilsley are listed as Joint Managing Directors.

By 1928 the last Phoenix was made, and the works were probably taken over by the Ascot Motor and Manufacturing Co.
Source:
Graces Guide
---
Thu Nov 15 2012
szuster.paul<at>gmail.con
Phoenix Tricar
to whom it may concern
In 1970 I restored a 1904(?) Phoenix tricar. It belonged to a Mr Charles Wynall, Stoneyfell, South Australia.'
I drove it to a couple of events arranged by the Sporting car Club of South Australia.
Mr Wynall was always concerned about validating the date of manufacture as it was his ambition to enter it in a London to Brighton run.
Though he died about 35 years ago, I personally would like to secure a date of manufacture.
For most of the cars life it was located in Milang South of Adelaide, and owned by a woman who occasionally drove it the 60 or so miles to Adelaide.
Can you help?
regards
paul Szuster
---
See also
Phoenix
c.1910 (Worcestershire)
---
If you have further information or a query related to this page, please contact us