The bike is a twin port two stroke model fitted with the separate aluminium cylinder head type motor, held on by only three bolts, two exhaust stubs and petroil lubrication.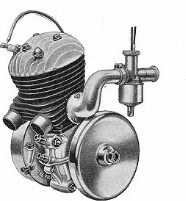 Villiers XIV A Engine
Villiers XIV A Engine
The Villiers XIV A was a 249cc engine with a bore and stroke of 63mm x 80mm giving a long stroke engine which was claimed to reach 60mph, and had strong pulling power at low speeds. It was available as an air cooled unit with petroloil (BYP), air cooled with autolube (BY), and water cooled with autolube or petroloil (RY).
All had detachable heads, a deflector topped piston fitted with inertia ring and either fixed or variable ignition. An outside flywheel was fitted to some models. They were made from 1934 to 1940.
Data courtesy Malcolm Cox & Jason Cini

Image: kevachard, Australia