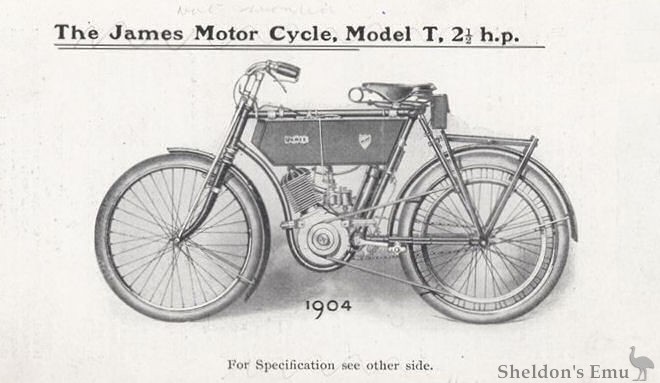 Model T. 2½ h.p. Motor.
NOTE.—A Motor Book is supplied with each Machine.
FRAME—Best Weldless Steel Tubing, 11/8in. and l¼in. main tubes.
CHAIN STAYS—Bridged oval.
FORKS—Specia11y reinforced, witb outside plated stays.
WHEELS—28in. equal x 2in.
BRAKES—James patent concealed, and hub brake.
M0T0R—2½ h.p.
HUBS—James patent tangent.
SPOKES—High tension motor,
CHAIN—Hans Renold, 3/16in., 5/8in. pitch roller.
HANDLE BAR—Raised on forward lug, with switch handle.
MUD-GUARDS—Detachable motor, with front wheel extension.
SADDLE—Brooks' motor.
PEDALS—Motor rubber.
TYRES—Palmer motor.
DRIVE—V belt.
FINISH—Black enamel, red lines, all bright parts heavily plated on copper.
Derived from a James catalogue posted to Early Motorcycle Literature