Walwin Competition Motorcycles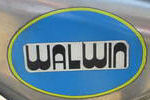 Walwin was a motorcycle produced from 1968 to 1975* by Ray Winwood who is believed to have been associated with the aviation industry.
His workshop produced bespoke trials machines using engines from BSA, Ossa and others, and the majority of the motorcycles were typical of the era. They had a duplex frame built of either aluminium alloy or steel and conventional cycle parts - some were fitted with a trials sidecar. Other components included drum brakes, alloy mudguards, pivoted-fork rear suspension and telescopic front forks. All in all, it was an attractive machine.
The alloy frames were most unusual, being of "Dural" sheet rather than tubular, and the components were pop-riveted together - a practice very common in the aircraft industry at the time.
Scramblers were also built, some based on the BSA Victor, and also grass track and speedway machines.
* There are records of Walwin machines dated later than '75, some giving "late seventies" as the production date.
---
08-Oct-2018
spitfire44 at btinternet.com
bsa victor
Interested in your walwin story, used to work with mike winwood at bsa in the planning office remember going to corwall for a weeks scrambling when he had a 500 velo & a 500 ariel.
Would love to make contact again to go over old times regards Ed Wright
Ed Wright
knutsford cheshire wa16 9an
---
Sun Jun 19 2016
boriscross at btinternet.com
Walwin Victor Scrambler
Walwin also made a scrambler mainly based, as far as I am aware, on BSA Victor engines. I had one of these. My father knew Ray Winwood who made them and I know Mike and Ross, Ray's sons who both rode scrambles and trials. I also worked at BSA with Mike Winwood.
The model I had had a duplex tube frame similar to a Cheney but used a standard BSA swinging arm. There were still (are) some about in classic scrambles now as far as I know.
Boris Cross
Worcester

PS FYI our family is the same as the owners of the TDC brand of bicycle component / motorcycle.
Sources: Graces Guide, bsaotter.com

---
If you have further information or a query related to this page, please contact us
---