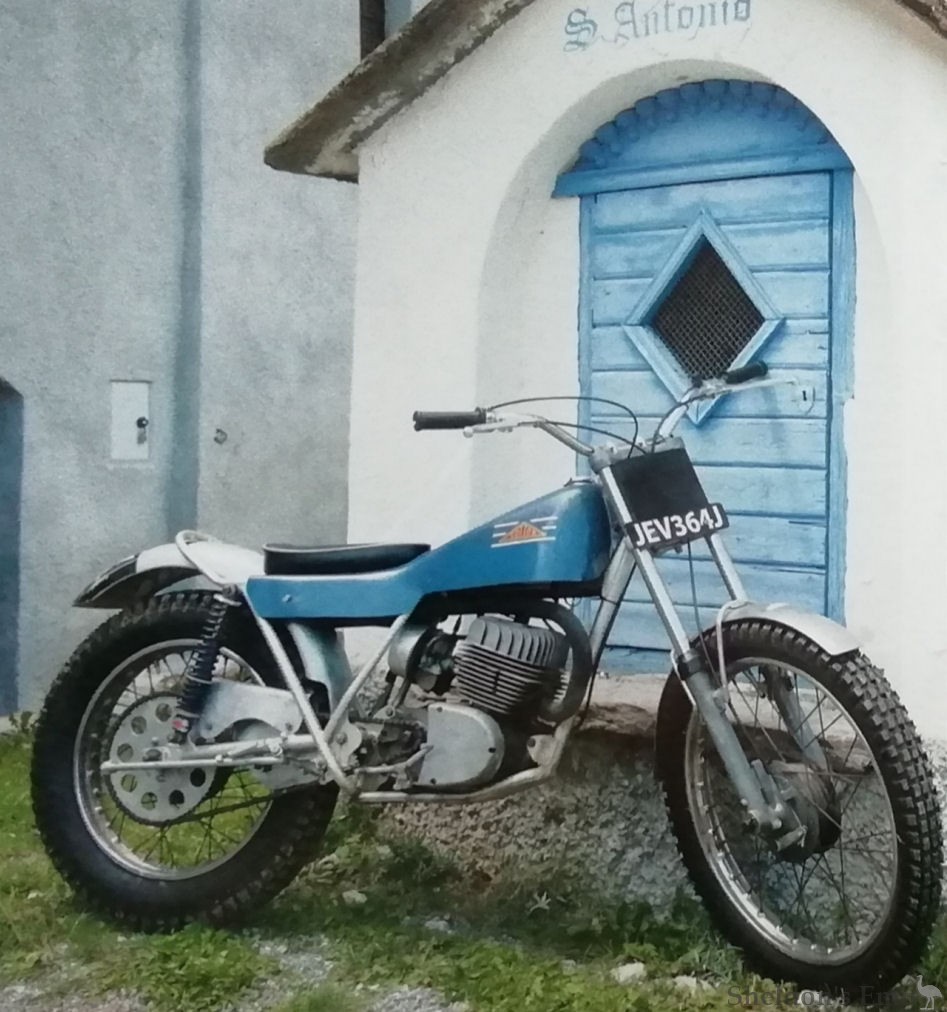 Cotton 175T Cavalier 1972
In the summer of 2010 I found a Cotton T170 Minarelli trials bike for sale online in the UK. The marque is rare in Italy, and the fact that it was fitted with an Italian engine made it attractive to me. When I contacted the seller he was initially hesitant to send it to Italy due to the problems asscociated with paperwork, packaging and shipping, and quite possibly as he did not trust me. I expleained that I'd previously bought a trials machine from the UK and that I would arrange everything - all he had to do was mount it on a wooden pallet and protect it with pluriball sheets (bubblewrap), and I would do the rest. I explained that I am a keen collector and that I would pay in advance. He agreed to the deal, I paid up front, and a short time later he let me know the bike was ready. It arrived in my garage a week later.
The machine was in less than perfect condition, but included was a second engine, dismantled, for spares. With the help of my old friend Pippo Bartorilla we searched for and eventually found a new piston (no easy task), rebuilt the engine and assembled the motorcycle, doing some restoration along the way giving it fresh paint and new decals.
When it was finally ready to ride it started after just a few kicks, Pippo tweaked the carb, and I rode it around the yard, as did Pippo. We both liked it - easy to manage in turns and altogether very good fun. We were both well satisfied with the new acquisition.
Three years ago I rode it at a classic trials bikes meeting in Campo Canavese and it was the only Cotton Trial among 200 plus machines! So this is my story, and now my friend Justyn Jr will ride it and give his opinion.
As narrated by its current owner, Carlo Ramella
---
Riding impressions of COTTON T170
by Justyn Norek Jr.
It is August and we traditionally have a Trials Meeting with our long time trial-riding friends Carlo Ramella and Pippo Bartorilla who you must know very well if you've had a chance to read our past trials tests - and for those who are reading anew I invite to you to dig out some old copies of this magazine as they might be interesting to understand our passion for CLASSIC TRIALS BIKES.
Briefly Carlo is a well-known trials motorcycle collector, whilst Pippo is a renowned Italian trials rider of the 1970s.
We are curious which bike from his collection he will propose for the forthcoming test. It turns out to be the Cotton, not a marque I was familiar with so a visit to my father's motorcycle library was required, which gave me a good idea of the machine - the lightweight Cotton Trials bike is equipped with Italian Minarelli 170cc engine, and it was sold as a kit to avoid VAT in the UK - rather like like IKEA furniture "assemble it yourself" and have some fun, while saving money at the same time.
One thing which surprised me was to find that 7 times World Trials Champion Dougie Lampkin's uncle Arthur Lampkin was for some time a Cottons works rider, riding beautiful Cotton-Triumph 500 MX in motocross and Cotton-Villiers Starmaker 250 in trials. What a coincidence! I have scratched around in our archives and found photos of both Cottons ridden by the great Arthur Lampkin. [1]
The test location in Puy, a was charming village in the Italian alps. We began with a photo session using the village scenery as background for photos of the motorcycle, and then I gave camera to my mother, Bogdana. After donning my riding gear I checked the tyre pressures, adjusted controls and booted the wee beastie into life. It started without any hesitation, having been tuned earlier by Pippo, and after a warmup I took it to the first section, a fairly rocky one.
I immediately found myself at home on the bike, which proved light and predictable. As I warmed to it, I attempted more difficult pathways, and the machine actually felt lighter than the catalogue weight.
Lifting the front wheel over obstacles was very easy and it did no complain about my heavy use of the clutch. However, long steep climbs proved a bit tricky with its engine of just 170cc. Certainly more engine capacity and bottom end power would be welcomed. I could also complain about the brakes, but I often forget my everyday ride has disc brakes....
Where it was winning was in tight turns and twisty sections. Overall it was a very good machine from a maker little-known in Italy.
At the end of the afternoon we headed in for some typical local fare - red wine with ham, beef and cheese. We discussed and argued what if Cotton could have made modern trials bike today.... and my father came up with a sketch of such a machine.
So final question is: how long shall we have to wait before modern trials bike will come from England? Perhaps TRIUMPH could do it ? We await news....
Notes.
1. Images not published here, but possibly published with the original magazine article.
All action photos were taken by Bogdana Norek, while all static photographs have been taken by Justyn Norek Jr.
---
Cotton Minarelli T170 Trial Specifications
Engine: Minarelli Type T170 Single cylinder, two stroke, air cooled,
Capacity: 170cc Bore/Stroke: 60mm x 60mm
Compression ratio: 7.9 : 1
Gearbox: 4 gears with ratio 33.03, 22.05, 15.01, 11.06 : 1.
Chassis: single down tube cradle frame.
Dimensions:
Wheelbase: 51 in.
Seat height: 30.05 in. Ground clearance. 11.25 in.
Foot pegs height: 12 in.
Suspension:
Front: MP (Metal Profile) Telescopic hydraulic forks, 6 in. travel,
Rear: Girling Twin shocks, 3.2 in. travel. Brakes:
Wheels & Tyres:
Front: Steel rim 2.75 x 21"
Rear: Steel rim 4.00 x 18"
Fuel tank: capacity: 1.7 US gallon,
Dry weight: 185 lb,
Price at time of manufacture: £210, available in Kit Form
Address: E. COTTON (Motor Cycles) Ltd., Vulcan Works, Quay Street, Gloucester, Great Britain.
Notes.
1. Observed Trials is referred to by some as the ballet of motorcycle sport. Cavalier is a term from ballet which means leading male dancer.
2. A manual for the Cotton 175 Bogwheeler is available at https://www.facebook.com/pg/CottonMotorcyclePictures/photos/
---