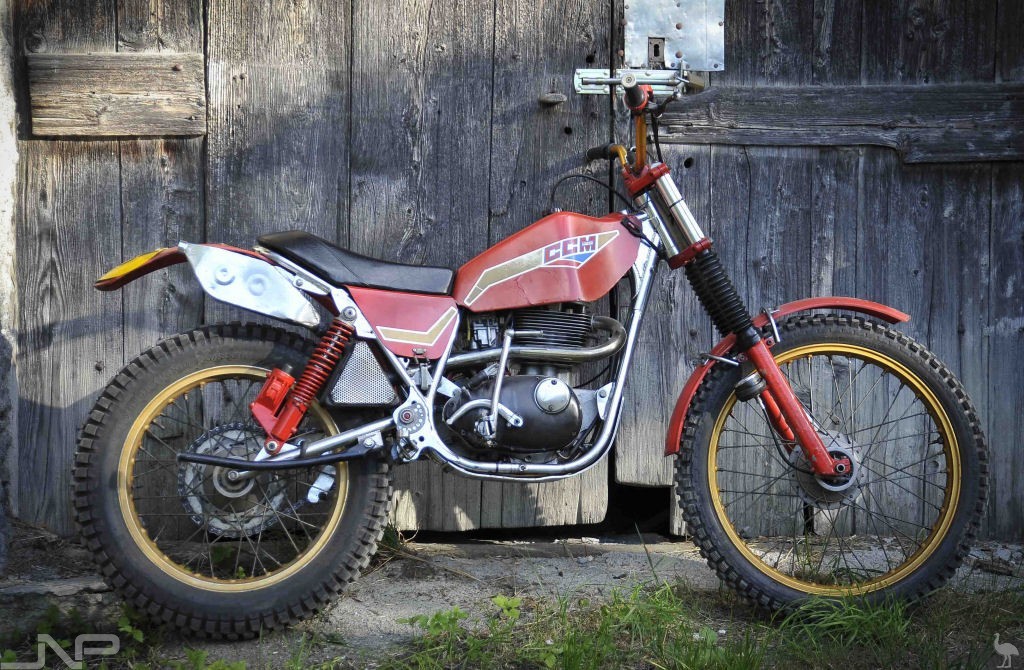 CCM TR350 Trials Four-stroke

At the time of the test the CCM was owned by Carlo Ramella
Some history of the CCM Trials 350 4-stroke.
Having "killed" large four-stroke trials bikes with his revolutionary Bultaco twostroke project, and then relaunching them again with his Honda project, Sammy Miller lifted the hopes of all fourstroke trials bikes fans; Then Sammy parted company with Honda.
He wanted to continue with four-strokes and asked CCM boss Alan Clews to supply him BSA engines. Unfortunately Alan turned the request down as he was thinking about making four-stroke trials machines himself. So we will probably never know how Miller's BSA/CCM would have looked as Sammy turned his creativity to build a Hiro-engined twostroke "Miller" trials mount.
In the meantime Clews began his CCM trials project with the help of Nick Jefferies, a man experienced with the Honda machines. Nick's Honda was both the inspiration and the starting point for the new mount.
News about the machine excited four stroke enthusiasts so much that Clews announced 100 bikes to be built, and of course Nick Jefferies would compete on it and develop it.
When Nick has got his first prototype in February of 1978 he was rather disappointed; the handling was not satisfactory and despite fourstroke power it had problems with traction. A number of modifications were carried out at the factory including a change of dimensions to the steering head angle and swing-arm proportions. The bike was again tested by Nick, then back to the factory for further refinement. Experiments with varying engine capacities were undertaken, but the original 350 layout proved the best.
A production run of 105 units was completed and it sold so quickly, despite the hefty £1300 price tag, that Alan Clews contemplated building another batch of 100. However, with CCM motocrossers enjoying great success, he finally decided to save the parts for the more profitable motocross production. A factor in this decision was the new CCM trials project running an Italian Hiro engine which was already well underway, so the end was nigh for the fourstoke CCM making it the very desirable collectors item it is today.
But one cannot stop dreaming what would Miller's bike would look like had the CCM engines been available. Perhaps one day I shall make drawing of such a fantastic machine.
Sources: CCM Motorcycles by Peter Henshaw, and various magazines.
---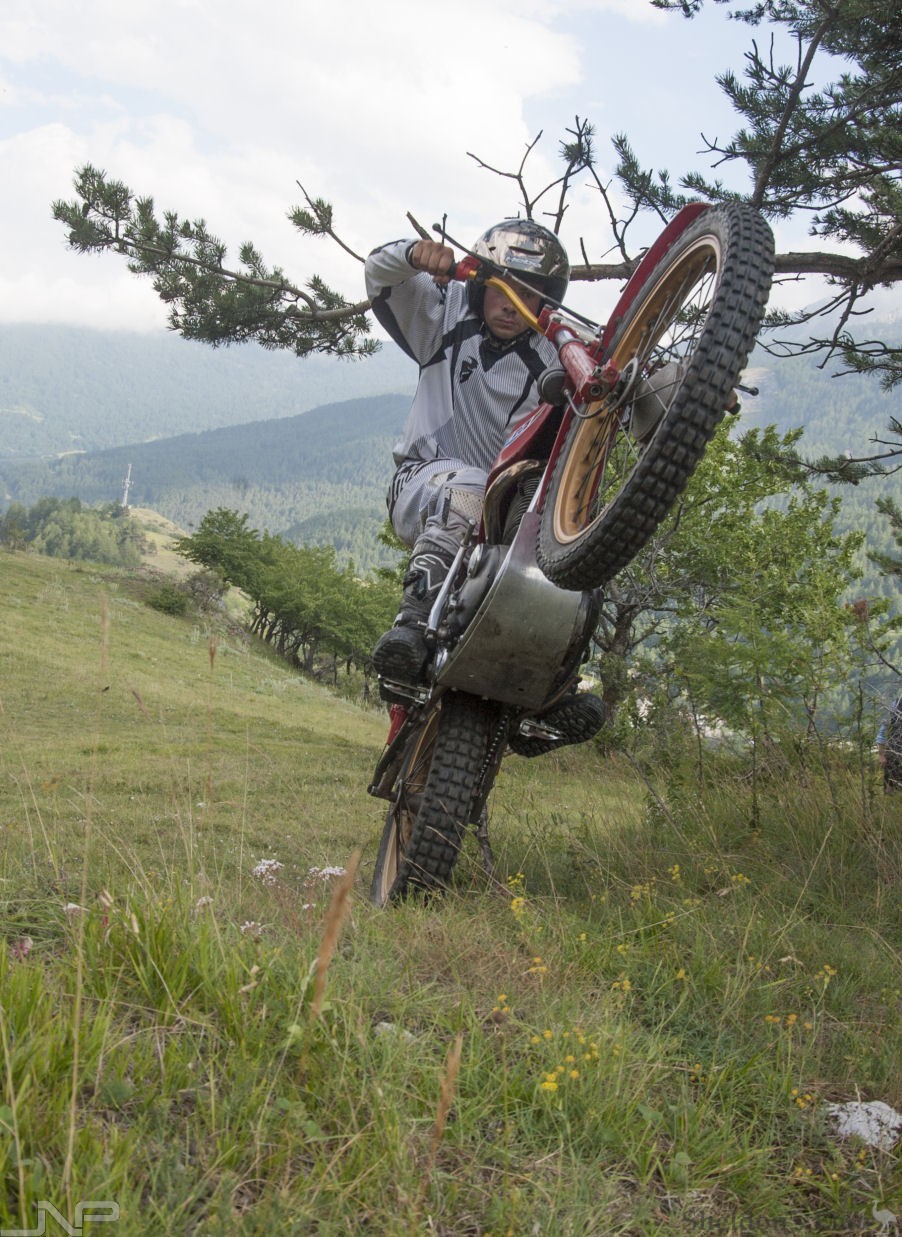 Riding Impressions of the CCM Trials
The CCM 350 trials bike is very compact, giving the impression that the engine is comparatively large.
This example changed hands quite recently - last year it was in the stable of Carlo Ramella (whose Ariel we tested), and recently it was acquired by Pippo Bartorilla who is a great four-stroke fan and builder of the Moto Guzzi "Bartorilla" Special, also tested earlier.
As Bartorilla is a perfectionist in everything I expected the bike to start with the first prod, and indeed it did. A few minutes to warm it up, and then Pippo did some rounds with his jewel before handing it to me.
I did several careful rounds of the course getting the feel of the machine as it was fairly different to my usual mount, a Montesa 4RT.
The machine was very different compared to the Ariel, due to the short wheelbase - it was quite maneuverable, well balanced, and good in tight sections. But this was on easy terrain - from there we moved to a rocky riverbed.
I made a fairly tentative descent to put it through a stony stream, a section I knew - but it had changed after recent rain so I soon found difficulty with some larger rocks, and when the bike stopped it was a bit tricky to get it underway again as it's definitely heavy and tall by today's standards.
Slowly I got used to machine, working more with throttle than clutch... the engine is very mellow and gets you out of trouble with its low-rpm torque. After some early hiccups I began to enjoy riding it over various obstacles, although I did put feet to ground more often than I'd like - as I said, it's not an easy motorcycle to ride over the rocks due to its weight.
Then we changed location, riding a steep slope - with the engine's strong torque, long wheelies are a sheer delight.
I returned to the village quite exhausted and hungry to a delicious barbeque prepared by Carlo. Perhaps I understand why Carlo has sold it, but he has plans to get another works bike and I do hope he will let me ride that one too.
It was very enjoyable Sunday as always on motorcycles in the woods, together with good friends and I have learned something new about vintage trials bikes... however it was hard work, much harder than the test of the Bartorilla Moto Guzzi 250. In conclusion, it is a very desirable trials machine and Bartorilla is a lucky man.
Justyn Norek Jr.
---
CCM 350 TRIALS DESIGN HIGHLIGHTS:
The CCM is beautiful machine and it has several interesting design solutions which I would like to mention.
Engine: BSA has the right cover of crankcase has a CCM logo in relief, fuel tank in aluminium particular squarish shape may be inspired by Pete Jerred Hondas, partially covering engines head making bike look lower; handcrafted frame in chromed Reynolds 531 tubing; chain adjustment eccentric type at the swingarm spindle (who has done it first ?), nicely styled and comfortable seat perfectly matching the rear frame loop, with seat base in fiberglass; interesting silencer working very well with antivibration ribs; magnesium front forks; plastic unbreakable Preston Petty mudguards.
Due to its rarity, it is very much sought after and consequently quite expensive, with something of a cult following despite a lack of competition success.
(Editor's note: In 2014 one was offered for $630.00 in the United States. In 2018 another went at auction in the UK for over £10,000.)
---
Specifications
CCM 350 TR. MK II Sept 1978 Specification
ENGINE: Single cylinder OHV BSA-derived unit construction
CAPACITY: 345cc
BORE AND STROKE: 79.25mm X 70mm
COMPRESSION RATIO 6.2 : 1
CARBURETTOR : AMAL 24mm
IGNITION : Electronic
CLUTCH: Wet 5 plate, cush drive
GEARBOX RATIOS: 3.6 2.67 1.9 1
SUSPENSION:
FRONT: Telescopic Magnesium Marzocchi
REAR: Marzocchi Oleopneumatic Shocks
FRAME: Reynolds 531 tubing, argon and bronze welded, taper roller steering head, swing arm needle roller.
WHEELS: Akront shoulderless gold rims.
BRAKES: Drum 125mm
TYRES: Front 2.75 x 21, Rear 4.00 x 18 Dunlop
WHEELBASE: 131 cm (51½ inch)
GROUND CLEARANCE: 31.75 cm (12½ inch)
WEIGHT: 95kg dry (209 lbs)
OIL IN THE FRAME: 3 pints (Castrol G.T.X 20/50 W)
GEARBOX: 1/2 pint 90 E.P.
CLUTCH: G.T.X self level

---
If you have further information or a query related to this page, please contact us