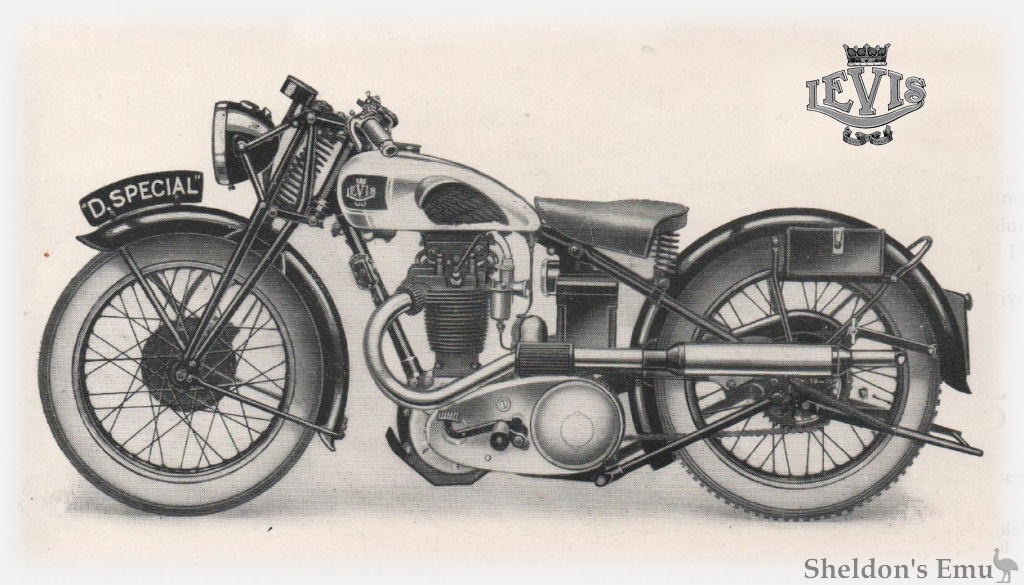 Model "D Special"
Full electric equipment. 8in. head lamp.
4-speed Gear with totally enclosed POSITIVE STOP foot change and neutral indicator.
Cast aluminium OIL-BATH primary chain-case.
Cush drive rear hub.
External Racing Twist Grip.
£65.0.0
ENGINE. " Levis " single-cylinder O.H.V. 80 m.m. bore, 99 m.m. stroke, 498 c.c. Detachable non-detonating turbulent head, single or two-port. Enclosed rocker gear. Rocker bearings and valve stems lubricated from crankcase.
COMPRESSION RATIOS. Standard 6.5 to 1, High 8 to 1. High lift cams optional, also high compression piston for sprint work.
GEAR RATIOS. Standard : 4.5, 6.7, 8.4 and 14.3 to 1. Close ratio : 4.5, 5-7, 7-1 and 12 to 1.
TRANSMISSION, ½in. x .305 Primary Chain totally enclosed in aluminium oil-bath chaincase. 5/8in. x .380 rear chain. Cush drive rear hub.
FRONT FORKS. Improved steering damper and shock absorbers.
TYRES. 26m. x 3.25 Dunlop. For alternative tyres see EQUIPMENT.
Ribbed or Studded optional on front wheel.
BRAKES. 7in. diameter front, 8in. diameter rear.
CAPACITY OF TANKS. Petrol 3 gallons, Oil 4 pints.
PETROL AND OIL CONSUMPTION. Petrol 90 m.p.g. Oil 1,800-2,000 m.p.g. min.
SPEED. 80 m.p.h. (85 m.p.h. with H.L. cams, 88-90 m.p.h. with H.L. cams and H.C. piston).
GROUND CLEARANCE. 4|in. WHEEL BASE. 54½in.
SADDLE HEIGHT. 28in.
WEIGHT. 345 lbs.
FINISH. Chromium-plating throughout. For colour schemes see EQUIPMENT.