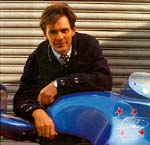 John Britten, creator of the Cardinal Britten superbike is competing against the multimillion dollar clout of the international bike designers - and winning.
ENTREPRENEUR

Bike supremo throttles up
Creating the fastest four-stroke motorcycle in the world sounds like a smart thing to do. But for Christchurch entrepreneur, John Britten, creator of the Cardinal Britten V1000, the road to fame and fortune through bike building and racing, hasn't been an easy one.
Not that Britten, aged 42, is complaining. This year he and two employees are building 10 replica Cardinal Brittens - each priced at $140,000 - as a limited production run. Six of these bikes are pre-sold to overseas collectors already.
Like many entrepreneurs, Britten, is a "Renaissance man" with wide spread interests and activities. As a property developer, he made his name in Christchurch for developing the upmarket apartments called Heatherlea, now home to the likes of PDL chairman, Sir Robertson Stewart.
His interests in design is evident in the way he made his office boardroom table or in the way he converted his family home from old stables near the historic Mona Vale homestead to something revealing an architectural flair.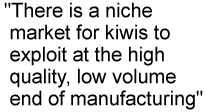 He is currently evaluating three building developments. With payback periods of up to seven years, the one he chooses has to be the right one and there is no room for analytical mistakes especially with property investments in the doldrums and only premium projects likely to attract buyers.
But his passion is motorbikes and the Cardinal Britten V1000 is the expression of that passion. With the initial spectacular success he has achieved on the race track and on the design board, he now finds he must seek a delicate balance between the pressure of people's expectations and prudent financial judgement.
He has been wined and dined by various bike makers in the last year - both European and Japanese - but always at crunch time he's been disapointed at the price they've offered for his expertise, or their own design team has stepped in and knee-capped the deal with the kiwi. But not all is lost. When Britten spoke with NZ Business a design skills contract with a famous overseas company was looking promising.
While Britten retains a starry-eyed love of motorbikes and racing, he has no illusions about the mass-produced side of manufacturing.
"The whole motorcycle/automobile industry is bankrupt world-wide. Most of it is propped up by governments of these countries and you can get really disillusioned when you find out that one large Italian automobile company made most of its money from a briefcase catch patent, not its vehicles."
"New Zealand is too far away from most major markets to succeed in mass-production. But I strongly believe there is a niche market for kiwis to exploit at the high-quality, low volume end of manufacturing. It has to be top shelf."
Securing orders to build 10 of the superbikes has taken the pressure off him to some extent. The orders give him some certainty of future income and once the bikes are built they become a marketing force in themselves, saving him time and energy promoting the bikes himself.
"I've been lucky to have had the pleasure in racing my own motorbike and making friends along the way. I've just had an Italian man and his wife over here and he loves motorcycles and is buying one of the Cardinal Brittens. But more than that, he's now a friend for life. That relationship is something I've earned through niche marketing rather than mass-production."
Britten's achievement is quite remarkable. European and American motorcycle magazine writers waxed lyrical on the Britten V1100 bike after it won the International Battle of the Twins (two-cylinder bikes) at Assen, Holland, last year. Just before this the Britten bike crashed while leading on the Italian Monza track and had led the prestigious Daytona (US) open event until the second-last lap when a cross-wired battery forced the rider to pull out. Without sponsorship from Christchurch's Cardinal Network computer services company Britten would not have made it back to Europe after the Daytona anticlimax.
The American event was all the more heart-wrenching for Britten in view of the fact an earlier Britten bike came second in 1991 at Daytona and 1992 saw the race's finale. The Daytona race provided one high-profile chance for bikes with small production runs (under 100) to race against the world superbike - currently Ducati's Feracci.
However, Britten is ever on the lookout for new opportunities to beat the biggies and is hopeful the picturesque Isle of man track in June may have an open race with criteria similar to Daytona. Getting sponsorship to cover the costs of getting to this event was his prime concern when he spoke to NZ Business.
Because of sponsor Cardinal Network's help last year, Britten renamed his bike the Cardinal Britten and down-sized the engine slightly from 1100cc to 1000, which increased its race eligibility without affecting its track performance.
In January the Cardinal Britten become the first New Zealand built bike to win the national Formula One title at Christchurch's Ruapuna grand event. Since then he has created a second replica Cardinal Britten and the two machines were at the Easter Australian TT event at Bathurst, New South Wales. Britten's rider, Jason McEwen of Palmerston North, put on a good show there. he won the race Britten was keenest to win, the British European American Race (BEARS race). He also came second overall in the other open races.
As with all motorbike racing, it was not without cost. There were technical problems that could not be completely eliminated in the time between races. But in spite of the glitches the bike out performed other contenders on the track giving Britten plenty of reason to be pleased with the result.
Cardinal and Mobil came to the party to help with the Bathurst race and gave additional sponsorship support, allowing him to continue on to Italy to compete in the second most important significant international battle of the twins (twin cylinder bikes) Club Infamezia.
At the time NZ Business went to print, Britten was still in Italy where travel stress had begun to take its toll and he was suffering a bout of flu as his team prepared for their next races.
Britten is the first to admit there's not a lot of money to be made up-front in bike racing or building. Any money his bikes win goes to the rider and even big events like Daytona only pay about $US6000 to the winner.
I got the Cardinal sponsorship through approaching Gil Simpson (chief executive and owner of Cardinal Network's Christchurch based parent company, Aoraki Corporation). He dealt with it personally. I showed him a television documentary about the bike. He's very supportive of local Canterbury ventures."
"Designing bikes started for me as a hobby and in a funny way I just like to prove there's room for the individual to compete against the multimillion dollar factory jobs. In practice you can't, because you're continually undercapitalised, but essentially, on a competitive basis, the Cardinal Britten has been recognised as the fastest four-stroke bike in the world."
Britten himself was a late entrant to bike racing, only starting in his late 20s - mainly on Ducatis. At the time he was an engineer, fast tiring of working for wages and designing things he wasn't particularly interested in. He then spent ten years as an artist working with glass, but with wife and family commitments creeping up on him, he switched to property management in 1987 and this still provides his bread and butter, nine-to-five commitment.
"I still had an interest in engineering but I wanted to choose the item of engineering myself. You're more likely to succeed if you can choose what you want to design." His first bike he built in 1986 because, he says, he wasn't happy with the way the bikes he was racing were designed.
Over the next four years he literally burned the midnight oil in the workshop (in those days at his Riccarton home) perfecting the bike that got second at Daytona in 1991. "I realised I couldn't do any better than second with that bike so I completely redesigned the 1992 Daytona model."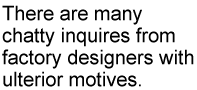 When Britten says design he means everything, bar the tyres. And he builds the bike himself too. Carbon fibre is used for most of the bike, bar engine and tyres, because of its lightness and strength. And his bike looks different. There are no telescopic front forks, but flat girder forks.
Britten describes it as "girder parallelogram, semi-intelligent front suspension, which is much more sophisticated than a conventional motorbike in that it can differentiate between a brake or a bump force."
The computer engine management system has also created a lot of foreign interest and made the factory designers sit up and look again, he says. Motorcycle writer Kevin Cameron described the V1100 as the "world's most advanced motorcycle" in the American Cycle World magazine last year and Britten's bike received Pet of the Month treatment with 10 pages of coverage in the European Motociclismo last October.
"As soon as you wheel your bike onto the track the design is evident and will be borrowed to some degree," says Britten, but it never ceases to amaze him how many chatty designers with ulterior motives. "They'd like to milk all your ideas for nothing in return."
Despite the dog-eat-dog backdrop, Britten's love of motorbikes - particularly the ones he's built - is untarnished. The first time you actually ride one of your own, untested creations, feel it fire up and take off, is little short of miraculous, he says. "It's a bit like making something live." Dr Frankenstein would undoubtedly know the feeling.
He has other ideas on the drawing board - like extending the use of carbon fibre technology into engine design, pursuing some original design work in two-stroke technology, designing a prototype energy-efficient commuter car...and a couple of other motorcycles.
Designing anything, says Britten, is (like bike-racing) a gamble. "You pit all your skills and in the end if something goes wrong, you try not to let it stop you moving forward...I still fundamentally believe that people who care and do good things will survive."
In the meantime, he's still officially a property manager by day and harnesses his creative energies in the small hours in his Sydenham workshop. And there are some things that defy value in cash terms. Wife and former international top model Kirsteen Price has always been an active supporter at bike races, but she's probably happy to hear him acknowledge that their three children are growing up and need more of their father's time these days.
Britten is unlikely to be lured out of New Zealand for long, whatever the outcome of his talks with overseas bikemakers. "There are fewer distractions in New Zealand for a designer. Travelling times are shorter. You can find more hours in a day to concentrate."

Chris Hutching is a Christchurch based business writer.
NZ BUSINESS/MAY 1993, Copyright Minty's Media
---
About this archive..