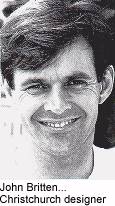 THE KIWI WONDERBIKE
It's not too hard to imagine the chief executives at motorcycle companies in Japan and Italy marching down the hallway to ask their designers how one man, working in a shed in an out-of-the-way little South Pacific island, could have outsmarted their entire engineering departments. For after just two international forays and an unbeaten string of wins at home, a Kiwi-made motorcycle is stirring up the industry.
"It's the world's most advanced motorcycle, and it's not from Japan, Germany, Italy or America." shouted the cover of American motorcycle magazine Cycle World. The glossy cover screamed "Stunner! - Britten V - 1100."
All the commotion, coinciding with the bikes first birthday, was the invention of Christchurch man John Britten - a handmade superbike prototype. "I made everything but the tyres." claims Britten.
The forty two-year-old design engineer is testament to Kiwi ingenuity. he has created a motorcycle to rival the best the Japanese can produce, or anyone else for that matter.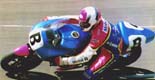 JASON McEWEN and
the New Zealand-built
Britten V-1000 thunders
around Manfield.
The 1100cc Britten had its New Zealand debut at Manfeild, in support-class action at the 1992 world superbike championship final round on October 25, although it had already been raced overseas with outstanding success - hence the cycle world clamour.

With Aucklander Andrew Stroud in the saddle, the Britten won its first ever race at Assen (Netherlands) in March last year and followed a few weeks later with another impressive performance at the Daytona Supertwins race in Florida. At that second outing, however, Stroud and the Britten were robbed. An electrical fault (water in the voltage regulator) allowed Ferracci Ducati rider Pascal Picotte to win instead. "Serves me right for using a Ducati part." Britten wryly remarked.
Up to that point, it looked if Stroud was simply playing with Picotte, giving the Frenchman plenty of space then calmly hauling him back in again. The international press and the factories alike sat up and took notice. Flat battery or not, the Britten had arrived.
State-of-the-art, avant-garde, novel, revolutionary, innovative, unique and exotic - all have been used to describe the Britten. The bike has aerodynamics unequalled by other motorcycles. With the radiators tucked away beneath the seat, conventional fairing removed from the lower part of the engine and a rapidly-tapering tail fairing, it has a sleekness that takes your breath away. At tits widest point, the Britten's engine is no fatter than the rear slick tyre.
The hidden radiators breathe through two nostrils in the shark-nosed fairing. Except for connecting rods (American-made titanium), pistons (British-made Omegas, originally designed for the v - 10 Judd Formula 1 engine) and gearbox (from a Suzuki GS1100ET), the V-twin engine is entirely Britten's own design and manufacture - casting patterns, castings, matching matching and assembly. High-tech materials like carbon fibre and titanium are incorporated in the startling pink and blue bike, which weighs a mere 145kg. the engine produces 170bhp at 9500rpm, delivered through a five-speed gearbox.
It has taken five years of development for the Britten to reach this stage and John Britten says he's ready to go into limited production.. He acknowledges a motorcycle factory is showing interest but won't elaborate. "I've had strong interest from overseas but it's reasonably confidential," he says. But Britten reveals he has pre-sold seven of his wonderbikes, for $150,000 each, to overseas buyers and has promised to deliver "within 18 months or so". He won't name names and he's "turned down deposits because I don't want to feel legally obligated to anyone".
Britten says the $150,000 package includes a die-cast, one-twelfth scale replica of the bike and a 30-minute video showing its development and construction.
Britten's engineering workshop is in no danger of liquidation but more cash is needed. In the meantime, New Zealand computer hardware company, the Cardinal Network, is offering support. Britten beams with gratitude when the name Cardinal Network is mentioned.
"They've been fantastic. Few people probably realise just how significant their support has been. Apart from companies directly related to the motorcycle industry, nobody else has chucked any money into it at all. This New Zealand company is investing in a New Zealand product, investing in motorcycling. If I can do a good job for them, then hopefully they'll remain interested in the field for the next twenty years.

Britten is modest in his expectations for the bikes future. "I don't really expect it will rival the Japanese companies for production numbers. It will probably always be a hand-built motorcycle. Quality is what I'm all about, not necessarily quantity. I have no aspirations to get into mass production as such.
"Beside, not everybody will want one. The bike takes a bit of getting used to. Not everyone will adapt. The power can be a bit unsettling. I'm frightened by it. I give it a handful and 'whoa', I think to myself, and grab somebody else to take over the test riding."
"I built it for myself originally as a BEARS [non Japanese motorcycle] race bike but that was a long time ago and things have developed since then."
While an Italian-made machine, the awesome blood-red Ducati 888, wrapped up the world superbike title for the third year running, Britten was content merely to compare lap times. He noted the times set by his motorcycle, making its New Zealand debut, alongside those set by the leading internationals at Manfeild.
Palmerston North's Jason McEwen, who was racing a Ducati 900cc in Australia's Superstreet series last season, piloted the Britten at Manfeild over the superbike weekend. his lap times were good enough for the Britten to finish among the top ten of the international superbikers. "I'm quite pleased with how the bike went," he said. And so he should have been, the Britten/McEwen combination easily won the two support races for twins.
Britten, too, is pleased with the bikes staying power. "We haven't had the engine apart for three races - Holland, Daytona and here. It hasn't been looked at. We never usually do that. We normally strip it down and crack test it. We haven't even changed the oil - just topped it up. I guess you could say I'm giving it an endurance test."
The Britten is not yet eligible for official superbike racing, with not enough of the bikes in existence to meet homologation rules. But its maker has plans to change all that. "I've reached the point now where I'm stuck unless I can get through this homologation business."
The story of the Britten reads like a chapter out of a Boys Own Annual. In little more than a garden shed John Britten, a design engineer, toiled during the evenings, "instead of watching television", to develop the Britten. As an engineer-cum-artist, he explains his radical concepts: "I guess I'm simply free of any constraints. I can take a fresh look at things, unlike a designer working for, say, the Jaguar company, who is obliged to continue the Jaguar look."
He says he's spent "quite a lot of money, but actually less than you might think. True, I'm reasonably well off but I don't believe lack of finance should stop people bringing their imagination to life."
Britten describes himself as a "former racer who was never much good. A bit like a violinist who's no maestro but makes his own Stradivarius".
With McEwen again in the saddle, a 1000cc version of the Britten in February finished runner-up to Russell Josiah (Taumarunui) in the hunt for New Zealand formula one honours. The Britten struck teething problems at the opening two rounds in December last year but since, the Britten/McEwen combo has gone 19 races unbeaten. That grim spell early in the seven-round Kiwi series ultimately cost the McEwen/Britten team any chance of the F1 title.
Britten now has two editions up and running, and these bikes have been even more dominant, taking both first and second in their races at the Sound of Thunder meeting at Ruapuna (Christchurch) at the end of February.
McEwen and Stroud scored first and second places respectively on the Brittens, the pair cheekily popping wheelies in tandem, as they toyed with their opposition. Bet your bottom dollar that this isn't the last you've heard of John Britten and his wonderbike.


The Britten V-1000
being attended to
---
New Zealand Sport Monthly, May 1993. Copyright 1993.
---
---