Tributes flow for 'shy genius' Britten
Glowing tributes such as "a shy genius" and "miracle worker" were paid to designer and engineer John Kenton Britten at his funeral in the Christchurch Cathedral yesterday.

A congregation of more than 1000, hundreds standing, packed the Cathedral. Another 500 were outside.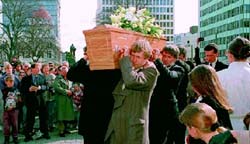 Mourners included the Mayor, Vicki Buck, and members of motorcycle clubs in black leathers.
Some were seated an hour before the service began for Mr Britten, 44, whose motorcycle bearing his name won him world renown.
The Prime Minister, Jim Bolger, said in a letter that Mr Britten generated tremendous goodwill around the world. "He will long be remembered as one of this country's greatest inventors ... he took on the world with sheer dogged determination."
The Associate Dean, Canon Brian Thomas, said Mr Britten, who died on September 5, was hardly in his prime, yet the shy family man was struck down with the world at his feet. He gave just a glimpse of pure genius.
Motorcycle racer Andrew Stroud said Mr Britten had been overwhelmed by expressions of love recently, and he was happy that his motorcycle had given joy and excitement to millions.
Ms Buck described Mr Britten as an incredible man who touched many lives. "He was a real hero," she said, "a visionary, an artist, a creator, an engineer, and a mechanic, whose real desire was for perfection". She pictured him arriving at the Pearly Gates -- and suggesting they should be hung in a different way.
---
---