Norton purchased the jigs and plans for the W2000 Wankel from Hercules and in 1978 developed a prototype rotary, the P42 Aurora. It used an air-cooled, twin-rotor 588cc engine driving via a 5-speed Triumph Trident gearbox. The newly designed frame had Marzocchi front suspension, Girling rear, Radaelli wheels with Brembo brakes. The Aurora did not enter production.
Credit:
Michael Zacher
Licence:
CC BY-NC-SA 2.0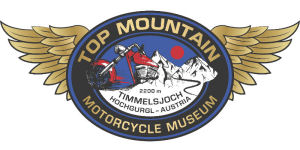 Top Mountain Motorcycle Museum
In April 2016 lifelong motorcycle enthusiasts Alban and Attila Scheiber opened the spectacularly located museum on Timmelsjoch High Alpine Road in the European Alps.
Tragedy struck on the 18th of January 2021 when fire destroyed the museum and its contents. More information...