Motorcycles Built in Italy (F)
Notes on some of the rarer Italian marques
This page lists brands for which limited information is available. For a more complete listing visit the Italian Index.
See also Obscure Italian Marques.
---
Falchetto
Manufactured around 1954-1956, it was fitted with a conventional piston-port 125 or 160cc two-stroke in a modern frame with telescopic forks and rear suspension, possibly both from Testi. It is thought to have been built in Bologna.
Source: Museo del Patrimonio Industriale, Bologna
---
Favari
Manufactured in Treviso in the 1920s using Train engines. An advertisement reads:
"Favari-Train - Filli Favari - Fuori Por'a Manzoni, Treviso."
---
FiM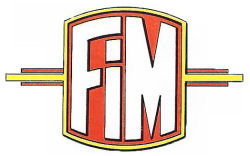 FIM Chihuahua 50cc Modello 50, Salon Torino 1976
Information about this machine is sparse.
---
Fini and Ballant - Eredi Fini
Married couple Angelo Fini and Enrica Mazzetti established the Casa del Ciclo - Eredi Fini business in 1940. Both died in September 1946 and their children, still minors, took over with help of a tutor. In 1949 Anna Maria Mazzetti (3), with her husband Bruno Ballanti, assumed control. They built bicycles, and sold Atala accessories. From 1955 they also marketed mopeds with modified suspension powered by F.B. Minarelli engines (and probably others) under the brand name Ballant, and possibly also used the Fini marque.
From 1959 the company was managed solely by Anna Maria Fini (Casa del Ciclo e Sport) with headquarters in Via Indipendenza in Bologna and many branches in the area (Calderara, Funo di Argelato). The firm remained active in the cycle-motor sector until 1977, when construction of mopeds and motorcycles ceased.
N.B.
1. A machine by G.B. of Bologna powered by a Veggetti 75 engine is associated with Casa del Ciclo, so it is possible that this was built by Eridi Fini and marketed by G.B., of whom very little is known.
2. There is another marque named Ballanti
3. Her name is also given as Anna Maria Fini.
Sources: Museo del Patrimonio Industriale, Bologna; collezioni.genusbononiae.it, digital.fondazionecarisbo.it.
---
Fit
1950-1954. Built 123c and 147cc lightweights using their own frames and JLO engines. It is believed that they supplied frames to Franco Chinelli
Sources: Tragatsch p 135, et al.
---
Rarer Italian Marques

---