Motorcycles Built in Italy (M)
Notes on some of the rarer Italian marques
This page lists brands for which limited information is available. For a more complete listing visit the Italian Index.
See also Obscure Italian Marques.
---
Maer
Manufactured in Italy c1977~1983
In 1980 they produced a 125mx in two versions, air-cooled and liquid-cooled. Other models included a 250 Hiro and a 380cc MX500.
Claudio Bissaro was a dealer for Maer 1978-80.
The marque is somehow related to Verona, perhaps from the same area.
FB group: https://www.facebook.com/Italcross-Registro-Storico-Moto-Maer-Verona-640680879338192/
---
Magnoni Del Vecchio
The Leonardo da Vinci Museum provides the following:
"Transcription
KENI MOTOREN-WERKE / KEMPFF & NIMBS / CHARLOTTENBURG 1 EOSANDERSTR. 31 / MOTOR NO. 1691 PS 06/1,6 / FAHRGES ELL NO. / GEW KG."
This, and the general appearance, indicate that the machine started life as a Keni.
Mauro Colombo dates it as 1920, from Milano.
---
Marinella
Marinavia Farina SRL was founded in 1946 by industrial designer Domenico Farina with headquarters in Milan. He designed and built several sailplanes and a twin-engine aeroplane powered by de Havilland, first flown 1947, in which year it won the Coppa dell'Aria at Milan.
A 125cc scooter was displayed at the 26th Fiera di Milano, in 1948.
"The aeronautical firms which in the past built gliders and sailplanes are chiefly represented by Messrs. Ambrosini A.S.I of Passignanon sul Trasmeno, and Messrs. Marinavia Farina, of Milan. The latter, however, suspended all activities in consequence of bankruptcy." Sailplane and Glider magazine, May 1950.
Sources: secretprojects.co.uk, et al
---
Mazzilli
Manufactured by Giorgio Mazzili 1970-1975
Off-road machines of 49cc to 248cc were built, models included the RSC 125 using a Sachs engine and in 1976 the LHS125 enduro.
Prior to producing machines for general sale, in 1956 Giorgio Mazzilli of Milan built a batch of five off-road machines using an Aldbert 175cc 4 stroke engine. Mazzilli rode this motorcycle in many off-road racing competitions and also at the Valli Bergamasche.
Sources: wikipedia.nl, Moto di Lombardia
---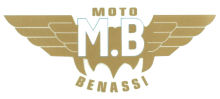 MB
Meccanica Benassi, founded in 1953, built mopeds, light motorcycles and road racers from the 1950s to the 1970s. Models include a 1958 125cc two-stroke with rear suspension. Examples of their road racing machine are featured in the Poggi Collection
The company remains actively involved in light agricultural equipment, cultivators and motor mowers. See www.benassi.it
N.B. Unrelated to Binassi
---
Mead Flyer
After the death of their father, Maurizio, Secondo, Giacomo and Mary Temperino returned to Italy from the United States where they had been born and in 1907 set up an automotive workshop in Principe Oddone 44, Turino, named Officina F.lli Temperino.
In 1908 they began building their own motorcycle, perhaps under license, which they marketed under the Mead Flyer brand. A subsequent and different model, still with the same brand, was presented at the 1911 Turin international exhibition.
"In the midst of the chaos [of the 1908 Turin Show], he noticed some "Mead Flyer" brand motorcycles, elegant, solid and equipped with a gearbox (a rare device on motorcycles of that time), optionally combinable with the sidecar. The exotic name (recalling a "Mead Cycle Company" of Illinois, active between 1897 and 1898, of which Maurizio may known) suggests that they were built under license, or even imported, unlike the second type of motorcycle, commercialized a couple of years later." ~ Donatella Biffignandi, museoauto.it.
Subsequently the firm became Società Anonima Vetturette Temperino which built automobiles under the Temperino brand. Manufacture continued until 1924, and an English branch was active until 1940.
Sources: it.wikipedia.org, et al
---
Meldi
Manufactured by Officine Meccaniche Giuseppe Meldi, Torino, 1921-1953
Limited production of racing motorcycles using 248, 348 and 498cc engines from JAP and Rudge Python.
The firm produced sidecars, and also built twelve cyclecars using Della Ferrara and other engines. Production of these ended in 1933.
In conjunction with Antonio Baudo the firm produced BM motorcycles between 1928 and 1931. These are not to be confused with Moto BM of Bologna.
Sources: wikipedia.nl, wikipedia.de, et al.
---
Mercury Engines
Tomaselli motorcycles of 1934 used Mercury. Vaschetto motorcycles were powered by 250 and 500cc Mercury engines. FB, Mello and Moto Columbo fitted Mercury.
---
Merli
Manufactured by Medardo Merli Motocicli, Parma, 1929-1931
Built lightweights with 173cc Train two-stoke engines.
Source: wikipedia.nl, Tragatsch p209.
---
Metrakit
Located at Castel di Sette, Mozzagrogna, the firm built a variety of junior competition off-road and road racing machines, and a large range of performance products. They sponsored many races at national and international level, and developed a Mini GP School for which they built 50cc road-racers. The firm had a strong Spanish influence.
Their website's last updates were for 2014.
Sources: civ.tv, metrakititalia.com (archive).
---
Michelini Engines
Manufactured by Mario Michelini of Bologna, much of the factory's output was absorbed by Mondial who suffered considerably when Michelini production ceased following Mario's death in an accident in 1961. Michelini, who had established a good working relationship with Giuseppe Boselli of Mondial, supplied all of their of four-stroke 125 and 175cc engines.
Source: Nunzia Manicardi, Moto di Lombardia.
---
Moretti (Primo Moretti)
Manufactured 1925-1932 [1]
Primo Moretti rode with Frera and Moto Guzzi before building his own motorcycles using Rudge Python engines and his own frames. Forks were from FIT of Milan (Fabbrica Italiana Telai) and the wheels, hubs, brakes and other components were also locally sourced.
Around 10 or 15 machines were built.
Primo served as a motorcyclist during the first war, he raced with Frera from 1920 until late 1924, and then with Guzzi from 1925 to 1940 (by which time he was considered an "old man" by his compatriots). He was a close friend of Nuvolari, and also raced with the likes of Varzi, Bandini, Ruggeri and Bordino. The laurels he received during his racing career would have sunk a ship - the list was very long. During this time he managed a motorcycle dealership.
Immediately after the end of the second war he rode to Mandello to renew his relationship with Moto Guzzi. On the return trip he had a collision with a truck.
Notes. 1. Moretti motorcycles may have been built earlier than 1925 and later than 1932, but they are recorded as being raced in those years. The primomoretti.it website mentions only a 175cc Moretti, but the Benelli Museum site speaks of Rudge Python engines being fitted.
Sources: Benelli Museum, primomoretti.it
---
Monterosa
1954-1958
Manufactured 49cc lightweight motorcycles using Itom engines.
Source: wikipedia.nl, Tragatsch
---
Moto Arnaldi 1930s
---
Motoplast
Manufactured by Virginio Stanga in the 1970s and perhaps early 80s, these were frame and bodywork kits which transformed a variety of machines into high-performance roadsters.
Stanga was a competition rider who competed in the 1979/80 Tourist Trophy, 1975/76 Le Mans, and the 1978 Bol D'or, among others.
---
Murnigotti
Giuseppe Murnigotti (Martinengo, 1834 – 1903)
"Over the course of his life, Murnigotti filed patent applications for five inventions. Of these, the third, filed in 1879, described the design of a motorcycle running on gaseous combustion (suggesting the use of hydrogen) and a tricycle with the same engine and the ability to carry two passengers. Murnigotti never built a prototype, but a model can be found in the Museum of Science and Technology in Milan."
Source: it.wikipedia.org,
---
MVB
Manufactured by Moto Valla Bologna in the 1950s
Address: Vicolo Alemagna 1 Bologna
Founders: Filippo and Gaetano Valla
Production was limited and only one survives, a Sport model.
Source: Museo del Patrimonio Industriale, Bologna
Another marque with the same name in Milano: MVB 1954-58
---
MZV
Manufactured in Bologna c.1965-c1990
Via Edoardo Ferravilla 10, Bologna (via brochure)
Built 50cc mopeds named Cobra (a tubone), Cambridge, Safari and Montreal. 4, 5 and 6 speed engines were from Minarelli and Franco Morini, frames from Verlicchi. Many of these were imported to the United States by MBI of Pennsauken, New Jersey.
Source: icenicam.org.uk - a very informative and well-written article, with a chuckle or two for good measure.
---
Rarer Italian Marques

---