Motorcycles Built in Italy
Notes on some of the rarer Italian marques
This page lists brands for which we currently have only an historical precis. For a more complete listing visit the Italian Index.
See also Obscure Italian Marques.
A
Abarth 1930s
---
Accumolli
Manufactured in Turin in 1950, this was powered by a Piaggio engine, alloy bodywork, 12 x 3.00 wheels.
Source: woiweb.com
---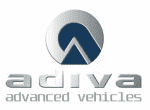 Adiva
Nicola Pozio established Adiva in July of 1996. He formed an agreement with Benelli, and the first Adiva was displayed at the Milan motorcycle show in 2000 as the Benelli Adiva. A new range was introduced in 2007 under the Adiva brand brand.
The adiva-world.com site has more information.
Sources: bike.net, Wikipedia, et al
---
Adriatica
1973-89
Giuliano and Alvaro Vernocchi ran a GP race team under the name of their agricultural equipment firm Adriatica. They commissioned Dutch engineer Jan Witteveen to build a 250cc tandem twin engine and housed this in a chassis created by Alessandro Strada and Dervis Macrelli.
A later version with a Yamaha engine was ridden by Randy Mamola with considerable success in the 1979 season, limited largely by the lack of adequate brakes for Randy's riding style. This and other issues with Team Adriatica caused him to leave, as discussed in Cycle World, January 1980.
Walter Villa joined the team for the 1980 season.
Sources: ozebook.com, eurospares.com, Cycle World
---
Albertazzi
Manufactured by Luigi Albertazzi, 1945-1967
Address: Via Savenella 40, later Via degli Angeli 14 (from 1950 ca.) Bologna
Prior to WWII Luigi Albertazzi was well-known as a rider in all forms of the sport, often riding Rudge and Moto Guzzi. In 1945 he ran a bicycle and motorcycle workshop in Via Savenella whilst continuing his sporting activity, obtaining excellent placings also in scrambles at Imola in 1948.
Albertazzi, a dealer for Alpino, created sprung frames for Alpino lightweights. Around 1950 he moved the company to Via degli Angeli, and that year he won on a Triumph 350 at Imola, obtaining the National Motocross Trophy.
His racing and motorcycle dealing activities began to take second place to new interests and in 1960 he assumed management of a metalwork factory in Via L. Valeriani.
Source: Museo del Patrimonio Industriale, Bologna
---
All Cars 1974~1989
---
Ambrosini
Situated in Passignano, Trasimeno, the firm was best known as an aircraft manufacturer. They built the Freccia AZ 150cc from 1951 to 1953, one of which is displayed in the Sciarpetti collection.
See Freccia-Azzurra
---
Aquila (Rome)
The Aquila name was used by Luigi Monteverdi & C. of Rome Between 1953 and 1955 (1) they built motorcycles with SOHC engines of 175 cc and 160 cc in Turismo, Sport Lusso and Gran Sport versions.
The project engineer Ferruccio Fortina Piacenza worked for some years with Count Boselli at Mondial,
Moto Aquila participated in endurance races including the Motogiro of Italy and the Milan-Taranto race.
Notes 1. Possibly 1954-1958. 2. See also Aquila Marques
Source: motodilombardia.it
---
Arcellis & Tarditi
Company formed in 1952 in Borgomanero, 60 km northwest of Milan.
Their 125cc two-stroke engines were employed by Aldbert in 1954
Sources: Moto di Lombardia, dati.acs.beniculturali.it
---
Arciero
The chassis for these were manufactured by Italtelai, engines were Franco Morini.
Models included Arciero Eagle, Hawk II, 1978/78 Sea Gull
Sources: myronsmopeds.com, et al.
---
Augusto Bonori
Manufactured in Bologna, in Via Gastone Rossi 13 (formerly Via Rodi), in the Cirenaica district.
A manufacturer of motorcycle tanks, it appears he also assembled motorcycles. Photographs show a mid-fifties style light motorcycle with a Sterzi engine.
Source: collezioni.genusbononiae.it/products/dettaglio/29259
---
Automirage
Built in Bologna 1976 to 1987
The firm initially built dune buggies before swapping to three-wheeled microcars in 1976. The first of these, the Mirage 3, was powered by a Franco Morini 50cc engine which drove the single rear wheel. It had a fibreglass body shell and seats for 2 people - the passenger needed to be quite petite.
In 1982 they released the S3R with a larger body sporting a Minarelli 125cc engine, and the BCB A52 with a 252cc or 325cc twin-cylinder Lombardini diesel.
Sources: 3-wheelers.com, smallcarsclub.com
---
Autozodiaco 1968-1981
---
Rarer Italian Marques

---