Motorcycles Built in Italy
Notes on some of the rarer Italian marques
This page lists brands for which we currently have only an historical precis. For a more complete listing visit the Italian Index.
A
Abarth
In the mid-1920s Carlo Abarth worked with Castagna designing motorcycle frames before becoming a professional motorcycle racer, winning the European Championship five times. He was also a keen sidecar rider, and famously raced and beat the Orient Express over a 1300km route from Vienna to Ostend. He was associated with Tazio Nuvolari and Ferdinand Porsche.
Abarth built at least one motorcycle with his own name on the tank.
Later he formed a company which provided performance exhausts for all manner of sports cars, and the Abarth name became widely known internationally. The company was sold to Fiat in the early 70s and Carlo moved back to Austria, where he died in 1979.
There is an Abarth Museum in Belgium, and several books have been written about him.
Source: Italian Resources
---
Accumolli
Manufactured in Turin in 1950, this was powered by a Piaggio engine, alloy bodywork, 12 x 3.00 wheels.
Source: woiweb.com
---
Adriatica
1973-89
Giuliano and Alvaro Vernocchi ran a GP race team under the name of their agricultural equipment firm Adriatica. They commissioned Dutch engineer Jan Witteveen to build a 250cc tandem twin engine and housed this in a chassis created by Alessandro Strada and Dervis Macrelli.
A later version with a Yamaha engine was ridden by Randy Mamola with considerable success in the 1979 season, limited largely by the lack of adequate brakes for Randy's riding style. This and other issues with Team Adriatica caused him to leave, as discussed in Cycle World, January 1980.
Walter Villa joined the team for the 1980 season.
Sources: ozebook.com, eurospares.com, Cycle World
---
Ambrosini
Situated in Passignano, Trasimeno, the firm was best known as an aircraft manufacturer. They built the Freccia AZ 150cc from 1951 to 1953, one of which is displayed in the Sciarpetti collection.
See Freccia-Azzurra
---
Arcellis & Tarditi
Company formed in 1952 in Borgomanero, 60 km northwest of Milan.
Their 125cc two-stroke engines were employed by Aldbert in 1954
Sources: Moto di Lombardia, dati.acs.beniculturali.it
---
Arciero
The chassis for these were manufactured by Italtelai, engines were Franco Morini.
Models included Arciero Eagle, Hawk II, 1978/78 Sea Gull
Sources: myronsmopeds.com, et al.
---
B
Ballanti
The Ballanti brothers of Bologna were involved with Moto Gori, for whom they built fibreglass components. It is not known if they were responsible for the 1958 Minarelli-powered 50cc moped sold at auction in the Netherlands in 2007. These may also have been marketed as Ballant, with no i. The stylised swallow logo is very similar to that of Bruno Muller who was also based in Bologna at that time.
There was a moped powered by FB Minarelli in 1962.
There is a Roberto Ballanti associated with Ducati in the 1970s, a road racer.
Sources: motogori.it motoclub-tingavert.it et al.
---
Barbiero
---
Binassi
Built in Bologna in 1970s, these were 125cc Grand Prix motorcycles. Luigi Rinaudo raced these when a member of the NCR team.
They were highly regarded, and two examples reside in the Poggi Collection.
(Not to be confused with MB, Moto Benassi)
---
BM
1928-1931, a collaboration between Antonio Baudo and sidecar maker Meldi using JAP OHV 500cc engines. See also Meldi, below.
N.B. Not to be confused with Moto BM, (BM Bonvinci)
Sources: Tragatsch p89, et al.
---
C
Cariani Gimk
Manufactured in Reno Centenese (10 kilometers from both Bondeno and S. Agostino) in the province of Ferrara.
1960s to the early 1980s. Built a variety of models, mostly mopeds with single and 3-speed gearboxes, almost all with the GIMK marque (for gimkana, most likely) and Minarelli engines. Some were very sporty indeed.
Sources: passione50cc.forumfree.it, motoclub-tingavert.it
---
Carpio
Manufactured 1930-1935
Used 98cc and 124cc Aubier-Dunne and Stainless engines
Source: Tragatsch p101
---
CCE Design
Trials machines designed and built by Emilio Carra
These were mostly unique machines hand-crafted using a variety of engines from Ossa, Gilera, and Moto Guzzi, and frames using specialist tubing from Mechanical Steel and Columbus.
---
Cerbiatto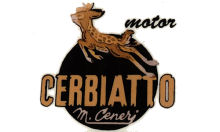 Manufactured in Bolgna by M. Ceneri
Late 1940s to early 1950s, these were cyclemotors using Mosquito engines.
Cerbiatto = fawn
Sources: BuyVintage.com
---
Cieffe
10-Jan-2021
colin at handyhalfpenny.co.uk
Cieffe early 1970s
Hi I have an late sixties early 1970s moped that doesn't appear to be on your website. So I thought you might want to know about it. It runs a Motori Minarelli engine:)
I hope this is of use to you. Eli
Elizabeth Halfpenny
Cornwall England
(Image included)
---
COM
Manufactured by Carbonero & Schoch, Torino, 1926-1928
Built lightweights using 123 and 173 cc single-cylinder engines.
Sources: Tragatsch p106, wikipedia.nl
---
CR&S
Based in Milan, CR&S was founded by Roberto Crepaldi, a close friend of John Britten. The CRS Vun is powered by a 652cc Rotax similar to that fitted to the BMW F650.
It was imported to the UK by Flitwick Motorcycles of Bedfordshire.
Crepaldi formed a new company in 2016, Record Motorcycles.
Sources: Britten Motorcycle Company, et al
---
D
DE-CA
From 1954 to 1957 the firm built 98cc ohv singles and also a 123cc vertical twin, along with a 49cc bicycle clipon engine.
Source: Tragatsch p113
---
D&C - De Stefani & Conti
Manufactured in the Chienti valley near Tolentino from 1923 to 1926, when Conti bought out his partner and changed the name to Conti.
Their first efforts produced a motor bicycle powered by a Faini engine which was raced with success by Conti, leading to an arrangement with Faini to distribute their machines. 1926 saw the introduction of Della Ferrera engines, and these powered the first Conti motorcycles after the partnership disolved.
Source: motoclubstoricoconti.it
---
F
Favari
Manufactured in Treviso in the 1920s using Train engines. An advertisement reads:
"Favari-Train - Filli Favari - Fuori Por'a Manzoni, Treviso."

---
Fit
1950-1954. Built 123c and 14cc lightweights using their own frames and JLO engines.
Source: Tragatsch p 135
---
G
GAOMA
The firm produced a 65cc scooter named Daino in 1951 with bodywork by Magni of Milan. Later models had 75cc engines, and they remained in production until 1954.
See also Bertoni of Lodi
Source: motoclubstoricoconti.it
---
Gianca
Based in Monza, the firm produced only one model, the Nibbio 100 designed by Scarpa[1]. The first machines were presented at the Milan Show in 1947, and used similar concepts to those later employed by Innocenti's Lambretta. The Italian scooter concept was strongly contended at the time by others including Piaggio and Isothermos, and the Gianca concern ceased production the following year, and then sold their ideas in 1949 to San Cristoforo who built a version of the Nibbio.
Notes. 1. Gianfranco Scarpa, who designed the Furetto, inspiration for Rivolta's legendary Iso Furetto.
2. The Nibbio is sometimes touted as Italy's first scooter. Whilst it was probably the first scooter produced in the Lombardy region, before that there was was the Volugrafo, used by airborne forces during the war. Scooters were available in Italy in the early 1920s.
Source: it.wikipedia
---
GM
Giuseppe Marzotto was a moto-cross competitor before entering speedway, becoming Italian Champion in 1975-1978 & 1983.
The GM500 OHC 4-valve engine first appeared in 1979, entered production in 1980, and achieved worldwide attention in 1983 when Egon Muller won the World Championship, with Erik Gunderson taking the title the following year, again with a GM.
By the turn of the century the Marzotto-designed powerplants were the one to beat, and appeared in long-track, short-track and ice-racing. In 2015 Tai Woffinden won the World Championship using a GM.
Borile fitted a modified and detuned GM engine to their B500 Cafè Racer in the late 1990s.
Sources: national-speedway-museum.co.uk, cycleworld.com, The GM Story
---
Guia
Manufactured by Officine Ettore Buralli, Vanam, Milano, 1950-1954
Built lightweights with two-stroke engines of 98, 123 and 147 cc. A Turismo model was available with a pressed metal frame, and a Sport with tubular frame.
Sources: wikipedia.nl, Tragatsch p153.
---
H
Harlette
According to Wikipedia NL the Harlette was built as a 123cc and 173cc two-stroke at the Puch factory in Austria for Harley-Davidson importers in France, Italy and Belgium and were produced from 1925 to 1928, and that in France they were also sold as Harlette-Géco because they were sold to Gerkinet & Co. in Jeumont.
However, Bretti Brothers differ somewhat, telling us that MAS produced the Harlette as a fourstroke in 1930. Further information here: MAS Harlette
Sources: wikipedia.nl, Bretti Brothers, Tragatsch p155.
---
I
ICEMI
1926-1928, Milano
The firm built motorcycles using their own engines along 175 to 500 cc units from Blackburne and JAP. Production volume was low.
Source: storiadimilano.it
---
J
Jada
The Jada 500 GP was built by Jack Findlay and Daniele Fontana using a Suzuki TR500 engine and first raced in 1972. A water-cooled version appeared in 1973. Previously Findlay and Fontana had worked together at Cardani
Jada is an acronym derived from Jack and Daniele.
Findlay's racing career is the stuff of legend and includes 15 finishes at the Isle of Man TT.
Jack was quite the gentleman, and after his retirement from road racing he became Grand Prix technical director for the FIM, a wise choice given his multilingual skills and considerable knowledge of the field. He settled in France and married Dominique, widow of Georges Monneret (a French motorcycle dealer notable for having ridden his Vespa from France to England before there was a tunnel).
Articles on the Jada:
motorcycleheritagefmi.it
ozebook.com
---
Junior
Manufactured by Edoardo Mascagni, 1924-1935
Son of Italian opera composer Pietro Mascagni, Edoardo built motorcycles using his own frames which housed JAP SV and OHV engines of 173 to 499 cc, Blackburne 248 and 348cc OHV engines, and also built his own two-stroke engines of 174 and 346cc. These were quite possibly JAP Aza engines built under licence.
He died in the Abyssinian war in 1935.
Source: Tragatsch p181
---
L
L'Alba
Manufactured by Giorgio Valeri Alba 1924-1926, these were lightweight motorcycles with German OHV 198cc engines.
Source: motoclubstoricoconti.it
---
Ladetto
The Ladetto brothers traded under the Ladetto marque from 1923 to 1927 at Via Giacosa N° 19, Turino. They sold components to Alato among others, and possibly built their own motorcycles.
Joined by Blatto, the firm's name became Ladetto & Blatto, reverting to the original name when he left in 1930. The company ceased production in 1932.
Sources: Tragatsch p72, amicidellemotobicisottocanna.blogspot.com
---
LGM
The company built GP racers including 50cc machines.
LGM was raced in GP events by S. Zattoni and Ezio Mischiatti in 1978, Massimo de Lorenzi in 1984, and Éric Saul in 1986.
---
M
Maer
Manufactured in Italy c1977~1983
In 1980 they produced a 125mx in two versions, air-cooled and liquid-cooled. Other models included a 250 Hiro and a 380cc MX500.
Claudio Bissaro was a dealer for Maer 1978-80.
The marque is somehow related to Verona, perhaps from the same area.
FB group: https://www.facebook.com/Italcross-Registro-Storico-Moto-Maer-Verona-640680879338192/
---
Mazzilli
Manufactured by Giorgio Mazzili 1970-1975
Off-road machines of 49cc to 248cc were built, models included the RSC 125 using a Sachs engine and in 1976 the LHS125 enduro.
Prior to producing machines for general sale, in 1956 Giorgio Mazzilli of Milan built a batch of five off-road machines using an Aldbert 175cc 4 stroke engine. Mazzilli rode this motorcycle in many off-road racing competitions and also at the Valli Bergamasche.
Sources: wikipedia.nl, Moto di Lombardia
---
MB
Meccanica Benassi, founded in 1953, built mopeds, light motorcycles and road racers from the 1950s to the 1970s. Models include a 1958 125cc two-stroke with rear suspension. Examples of their road racing machine are featured in the Poggi Collection
The company remains actively involved in light agricultural equipment, cultivators and motor mowers. See www.benassi.it
16-Jan-2020
PGTRANS at POCZTA.FM
MB Bologna
Hello, I have a NISA moped, Moto BM Bologna manufacturer, I am looking for technical information for this vehicle, I have vin number: BMIN * 08023, I do not know how to set the year of production, please help.
ROBERT GRUSZCZYNSKI
Polska

MB-Moped-Poland.jpg posted to
---
Meldi
Manufactured by Officine Meccaniche Giuseppe Meldi, Torino, 1921-1953
Limited production of racing motorcycles using 248, 348 and 498cc engines from JAP and Rudge Python.
The firm produced sidecars, and also built twelve cyclecars using Della Ferrara and other engines. Production of these ended in 1933.
In conjunction with Antonio Baudo the firm produced BM motorcycles between 1928 and 1931. These are not to be confused with Moto BM of Bologna.
Sources: wikipedia.nl, wikipedia.de, et al.
---
Merli
Manufactured by Medardo Merli Motocicli, Parma, 1929-1931
Built lightweights with 173cc Train two-stoke engines.
Source: wikipedia.nl, Tragatsch p209.
---
Monterosa
1954-1958
Manufactured 49cc lightweight motorcycles using Itom engines.
Source: wikipedia.nl, Tragatsch
---
Moto Arnaldi
Arnaldi built some 30 quality motorcycles in Cascina, Pisa during the 1930s. These were also sold in Liguria. Early machines had British engines including JAP, and then when the embargo on English goods was enforced he used German and Italian engines.
A known survivor, possibly the first one built, has a JAP 170cc OHV engine with exposed coil-type valve springs.
Moto Arnaldi Gallery
Source: Renato Paganini
---
Motoplast
Manufactured by Virginio Stanga in the 1970s and perhaps early 80s, these were frame and bodywork kits which transformed a variety of machines into high-performance roadsters.
Stanga was a competition rider who competed in the 1979/80 Tourist Trophy, 1975/76 Le Mans, and the 1978 Bol D'or, among others.
---
N
Nello
Manufactured 1977 in Bologna.
It is possible the marque was also known as NF and was built 1972-1977.
Source: wikipedia.nl, et al.
NB. Few references to such a marque have been found. 2018.
---
NP
Nerio Pancaldi has been building specials as a hobby since the early 1960s. Typically he will convert a small Italian OHV engine to DOHC, some of which have desmodomic heads.
Several of these are on display at the Collezione Moto Poggi.
---
O
OMC
Mopeds built in Budrio, near Bologna.
Source: wikipedia.nl
---
P
Piarino
Folding scooterette with 50cc CR Motori Italia. Manufacturer unknown
Source: klaus-flechsig.de
---
R
Ribetti
Recorded as being the first motorcycle to exceed 10,000 rpm, only one example of the 1925 125cc machine survives and is displayed at the Bassella Museum in Spain.
---
S
Saglietti
Manufactured 1923 - 1924
Giovanni Saglietti, Turin. An established bicycle producer who sponsored a racing team of some 10 cyclists in the mid-1920s.
A surviving example is fitted with a VIS engine by Gazzi, and a photograph exists of Giovanni and his wife with motorised bicycles from around 1950, indicating that the firm may also have produced these.
Source: amicidellemotobicisottocanna.blogspot.com
---
SAM
Manufactured by Società Automobili e Motori, Via Boccaccio N. 9, Legnano, 1922-1928
Their first model was a three-wheeler named the S.A.M. Vaghi, powered by an 1100cc engine. Also available as a four-wheeler, the marque entered the field with to great aplomb, taking the first three places of the 1923 Milan Cyclecar GP. 1
The Vaghi was originally built in 1920 by Motovetturette Vaghi SA.
Subsequently they built only four-wheeled vehicles.
Notes: 1. autopassion18.com says they took 3rd, 4th and 5th.
Sources: Period literature, wikipedia.it
---
San Cristoforo
Based in Milan, the firm manufactured the Nibbio scooter built from 1949 to 1953 using a two-stroke engine of 98 cc in a tubular frame. They also built a 125cc Simonetta scooter under licence to Ravat.
N.B. The Nibbio was first built by Gianca of Monza in 1946, and predated the Lambretta. Other scooters were sold in Italy in the 1920s.
---
Snark
The Snark Moped company of Carteret, New Jersey marketed a series of mopeds built by Italvelo & Italtelai. Powered by Minarelli and Franco Morini engines, models included Snark Satellite (1978), Bianchi Satellite and Bianchi Snark, and there were also Benelli mopeds.
The Satellite models, built by Italtelai, were also sold by Arciero and Pacer under their own brands.
Source: myronsmopeds.com
---
Spaviero
1954-1955
The small company built motorcycles fitted with OHV 98cc parallel twin engines.
Source: Tragatsch p276
---
Stella
1924-1927
Built by Max Türkheimer, these were fitted with 173cc Blackburne engines.
An Otav catalogue of 1907-08 mentions the Stella engine, implying that it was built by Türkheimer.
See also Astra
There was also a long-established French Stella marque.
Sources: wikipedia.nl, period advertising.
---
T
Thunder
1952-1954
Thunder Motori Srl, Reggio Emilia built motorcycles using parallel twin engines of 173cc.
Source: wikipedia.nl (NIT)
---
Totaco
Manufactured in the early 1950s, these were bicycle attachment engines.
They were also built under license in Denmark by BBE in Esbjerg, 1954.
Sometimes incorrectly spelled "Totako".
---
V
Vaghi
Ditta Ludovico Boltri di Mezzi, Ganna Cia. of Milan began producing Vaghi cyclecars in 1920, two of which were sold in England. The company name was changed to Motovetturette Vaghi SA, and was later sold to Società Automobili e Motori (SAM) who continued production of the SAM Vaghi.
The Vaghi tricycles were powered by V-twin engines of 970cc, and 564cc and 1099cc engines were also employed. It is possible that one of these was a flat twin.
Sources: wikipedia.it, wikipedia.de
---
Vertemati
via Brovada, 4, Triuggio (MI) Italy
1997~
The Vertemati brothers Alvaro and Guido built 500cc MX machines in conjunction with Bimota, and then until 2008 with Benelli. There has also been an association with VOR, who bought the rights to early project developments.
Vertemati Moto srl was established in the year 2000.
Sources: vertematiracing.it, facebook.com/vertematiracingteam/
---
Victory
1950-1955
Motocicli Giovanni Francesconi of Padua (Padova) built lightweight motorcycles powered by Villiers 98cc and 123cc engines.
Source: wikipedia.nl
---
VOR
1996~
VOR Motori, Ronco Briantino, Milan
Associated with the Vertemati brothers, the firm built large capacity motocross and enduro machines. The brand was acquired by Mondial.
Source: wikipedia.nl
---
Vyrus
Ascanio Rodorigo was a member of the Bimota race team, working with Massimo Tamburini on projects which included the Tesi. Rodorigo left Bimota to form his own company, and the Vyrus is the result. It is widely regarded as one of finest sports machines ever built.
Website: vyrus.it
---
If you have a query or information about these classic Italian machines, please
contact us