Victoria Type 115/155 Mopeds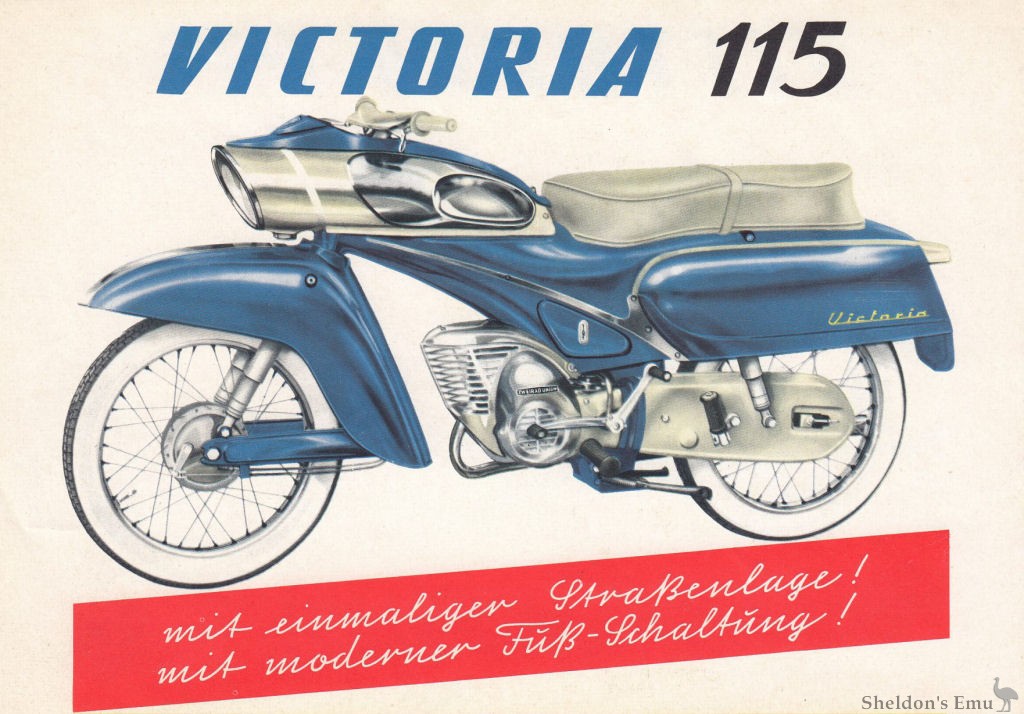 Known as the Blechbanana ("tin banana"), the Type 115 was built by Zweirad Union AG Nürnberg from 1961 to 1965, and was marketed by Victoria as the 115, by Express Werken AG as the Express 115, and also by DKW as the Hummel. With minor variations to the colour scheme and the seat, all three makes offered it as the Kavalier 115.
It was also offered as the Type 155 with minor differences - the 155 had a high beam headlight switch (115 low beam only), and the engine power was increased to 3.7 and then 4.2 h.p which allowed up to 70 or 75 km/h.
Some 29,000 of these mopeds were sold, of which the smallest proportion was the Kavalier, followed by the Express.
Technical Specifications
| Victoria Typ 115 | Data |
| --- | --- |
| Engine: | Single cylinder two-stroke |
| Displacement | 48 cc |
| Power : | 1.47 kW (2 PS) @ 4950/min |
| Bore × stroke: | 40 mm × 39 mm |
| Compression ratio: | 7.5:1 |
| Top speed: | 40 km/h |
| Cooling: | Air cooling by fan |
| Ignition: | Flywheel magneto generator 17 W |
| Clutch: | 3-plate clutch running in oil |
| Transmission: | 3-speed foot change, with kick starter |
| Frame: | Pressed metal frame |
| Wheels: | Spoked 16" wheels, chromed steel rims |
| Tires: | Whitewall tyres 20 × 2.75" |
| Lighting | 15 W |
| Fuel consumption | 1.6 litres per 100 km (1:25 petroil) |
| Fuel Tank: | Chromed fuel tank, 6.5 litres capacity |
| Seats: | Dual seat |
| Brakes: | Light alloy full-width brake hubs Ø 120 mm |
| Length: | 1900 mm |
| Height: | 1245 mm |
| Curb weight: | 74 kg |
| Maximum all-up weight: | 225 kg |
| Front suspension: | Earles-style |
| Rear suspension: | Swinging arm |
Sources: victoria-rad.de, de.wikipedia.com - Licence: CC BY 4.0
See also: 1961 Hummel Typ 115
If you have a query or information about Victoria motorcycles please contact us