TECHNICAL SPECIFICATIONS
---
AJS 18S
AJS 18S Specifications
Restoration Basics
All Technical data from the service guide AMC Heavy weight singles. Published by Bruce Main-Smith LTD
---
1953 AJS MODEL 18
MOTOR / GEARBOX / FRAME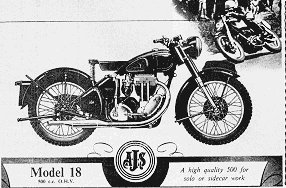 Bore, mm
82.5
Stroke, mm
93
Capacity, cc
498
Compression ratio
6.0
Valve Timing
All models use 0.016in tappet clearance
Inlet opens B.T.D.C.
32 degrees
Inlet closes A.B.D.C.
63 degrees
Exhaust opens B.B.D.C.
65 degrees
Exhaust closes A.T.D.C.
30 degrees
Ignition before T.D.C. full advance
1/2
Tappet clearance, engine cold
All models nil clearance
Carburetter, bore size
1 3/32
Main jet
180
Slide
29/4
Needle position
2
Needle jet
29.076
Needle
29
Cylinder size
3.250in tolerance +0.0005 / -0.0005
K.L.G. sparking plug
F80 iron head FE80 alloy head
Magneto contact gap
0.012in
Alternator gap
0.019 - 0.016
Gearbox lubricant
1 pint engine oil
Petrol tank capacity
24 pints
Petrol tank reserve
4 pints
Oil tank capacity
4 pints
Top of skirt piston diameter
3.2490in
Bottom of skirt piston diameter
3.2494in
Gudgeon pin size
7/8 -0.0010 \ -0.0013
Connecting rod length (centres)
6 3/8
Timing side shaft diameter
1.2275 \ 1.2300
Rocker axle bush
5/8: +0.00075 \-0.00050
Camshaft bush
1/2: +0.0005 \-0.0005
Rocker axle sleeve
High limit 0.6235: Low limit 0.6230
Camshaft axle
3/8: -0.00125 \ -0.00175
Small end bush
7/8: +0.00050 \ -0.00025
Flywheel end float

Flywheel diameter

0.025 max

7 3/4 x 1.156in

Balance factor
65%
Total rotating weight
843.3gm
Reciprocating weight
673.2gm
Balance weight
1lb. 4oz.8 1/4gm 1 flywheel
* All dimension are in inches unless otherwise stated
All Technical data from the service guide AMC Heavy weight singles. Published by Bruce Main-Smith LTD

| | |
| --- | --- |
| Exhaust pipe | Best length open 48in |
| Wheel base | 54in |
| Head angle | 63 1/4 degrees |
| Trail | 2 5/8 |
| Valve spring free length narrow | 3 1/8in |
| Valve spring free length wide | 2in |
| Valve lift | 5/16in |
| Valve seat angle | 45 degrees |
| Push rod overall length | 9 5/32 |
| Valve guide protrusion (inlet & exhaust) | 1/2in |
| Valve stem diameter inlet | 0.3730 high limit & 0.3720 low limit |
| Valve stem diameter exhaust | 0.3715 high limit & 0.3705 low limit |
| Crank pin diameter | 1.20375 high limit & 1.20350 low limit |
| Crankpin rollers | 0.250 x 0.0250 (30 off) |
| Connecting rod sleeve diameter | 1.70400 high limit & 1.70375 low limit |
| Timing side bush | 1.125 / 1.255 |
| Driving side bush | 1.0002 high limit & 0.9997 low limit |
Gearbox B52 Burman
| | | | | | |
| --- | --- | --- | --- | --- | --- |
| Engine sprocket | 1st | 2nd | 3rd | top | internal ratios |
| 15 teeth | 18.69 | 12.32 | 8.96 | 7.0 | |
| 16 teeth | 17.5 | 11.54 | 8.39 | 6.56 | 1st 2.67 |
| 17 teeth | 16.44 | 10.48 | 7.88 | 6.16 | 2nd 1.76 |
| *18 teeth | 15.57 | 10.26 | 7.47 | 5.83 | 3rd 1.28 |
| 19 teeth | 14.6 | 9.6 | 7.0 | 5.49 | top 1-1 |
| 20 teeth | 14.01 | 9.24 | 6.72 | 5.25 | |
| #21 teeth | 13.35 | 8.8 | 6.4 | 5.0 | |
* Standard 350cc / # standard 500cc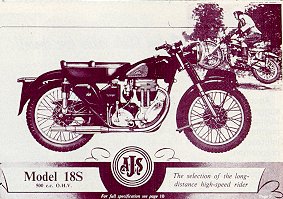 TYRES
| | |
| --- | --- |
| Front | 3.25 x 19 |
| Rear | 3.50 x 19 |
ELECTRICS
| | |
| --- | --- |
| Magneto | Lucas N1 chain driven |
| Dynamo | Lucas E3N |
| Regulator | Lucas cvc MCR2 |
| Horn | Lucas HF1234 |
| Battery | 6 Volt Lead acid |
| System | Positive to Earth |
ENGINE NUMBERS
AJS engine numbers are easy to work out. If your engine for example is stamped 53/18/89642
this means
It was made in 1953
It is a 497cc from a model 18
It is engine number 89642
FRAME NUMBERS
Frame numbers are more complicated, AMC started in 1949 with frame number 1, I presume and by 1952 had reached 99999. So they started again with an A prefix. The frames were made in batches and stored ready for cycle assembly. AJS and Matchless used the same frames and it is not uncommon for a 1953 model bike to have a frame made in 1952.
APPEARANCE
AJS bikes in 1952-53 had
BLACK-Frames, Forks, Hubs, Oil tank, Toolbox, Chaincase, Chainguard, Headlamp shell and other painted items.
CHROME-Exhaust, Handlebars, Controls, Pushrod tubes, Fork caps Fork oil seal holders, Petrol cap, Oil cap,Headlight rim and Wheel rims (export Model).
ARGENISED-Wheel rims (Domestic model). NB: Powder coating with a silver/grey matt finish has given a fairly realistic finish on the wheel rims, according to a post in the Jampot forums.
POLISHED ALUMINIUM-Lower fork legs and Brake back pads.
PETROL TANK-Black with lining in gold paint, Die cast AJS Badges and Moulded knee rubbers(domestic model). Or Chrome plated with wide black panels, Die cast AJS Badges and Moulded knee rubbers (export model)

For more information on this page visit Emu Archives
If you have a query or information about AJS motorcycles please contact us
---