www.bynumonline.com
---
Christian Bynum's Classic BMW Motorcycles: 1971 R60/5
---
Home
>
Motorcycles
>
BMW /5
> 1971 R60/5
---
Motorcycle Data Sheet

Model: 1971 BMW R60/5 (SWB)

Nickname: "Betti"

Engine: 599cc 2-valve boxer twin (40 HP)

Years of Production: 1970-1973

Number Produced: 22,721

Purchase Date: November 2002

Previous Location: Liberty, MO

Previous Owners: 3

Mileage at Purchase: 145,000

Mileage to Date: 147,000

Restoration Projection: $3,730

Restoration Costs to Date: $2,685

Restor-o-meter: 72%
Background
The /5 models are the next BMW Airheads to move from the "classic" category into the "vintage" category. I had already purchased the two /7s when I became interested in the possibility of owning one of these, and finding one for under a grand was a challenge. I also thought this one would be a good bike for my wife to learn to ride.
The handling of this shorter-wheelbase, smaller-displacement "little" bike is like none of my other (later) Airheads. One might not imagine that a two-inch-shorter swingarm, a minor wet weight reduction, and a very slight redistribution of chassis mass would make a related motorcycle seem so noticeably more nimble, but it
does
, while still being sufficiently forgiving and unintimidating to a newer rider. Like all Airheads, it has splendid road manners, both in the city and on the highway. With their classy, quirky, retro-chic touches, /5s are really fun to ride; if you have an opportunity to get your hands on one, I heartily recommend it.
Restoration
Although the motorcycle I found was a 1971, it was my firm intention from the start to restore it as a 1972 model, considered the quintessence of the /5 series because of its infamously stylish chrome-plated gas tank. The delay in receiving the bike gave me time to comb the Internet and find a kind-hearted local Airhead enthusiast who sold me a smaller 1972 4-1/2-gallon "toaster tank" and matching fenders with original paint in excellent condition, off a /5 with less than 30,000 miles, obviating the need for a costly paint job for the bike's existing bodywork. I also hunted down the missing engine badges from the crankcase.
Rekeying the Wixom saddlebags was dirt cheap, about $10.00 at my local locksmith; unlike Krausers, the have only one latch per bag and are fixed to the carrier using clips accessible from the interior when unlocked. Mike Kruse, shop manager of Russ Foy's Custom Classic Paint Works in Lynnwood, WA, quoted me a very fair price to color-match and repaint the bags as part of my restoration project, without asking me to do the extensive disassembly myself. The teardrop bags themselves are mostly sound and should really look incredible once they have been full restored and mounted on the motorcycle (see example above). Yes, the bags have working brakelights! I even found a vendor,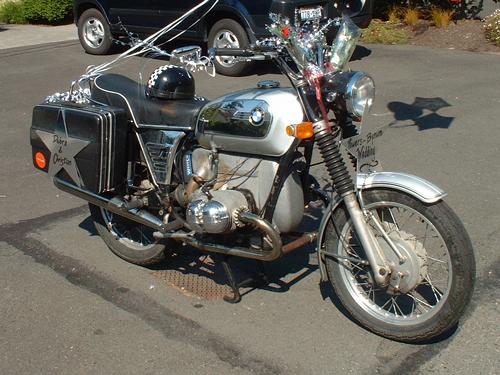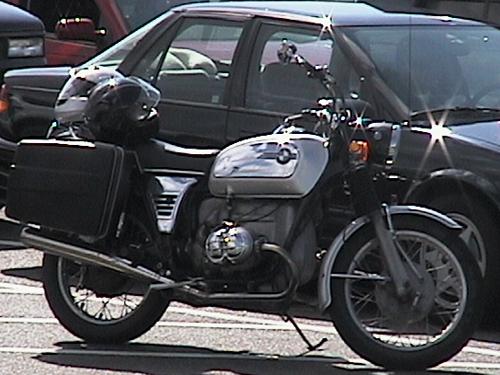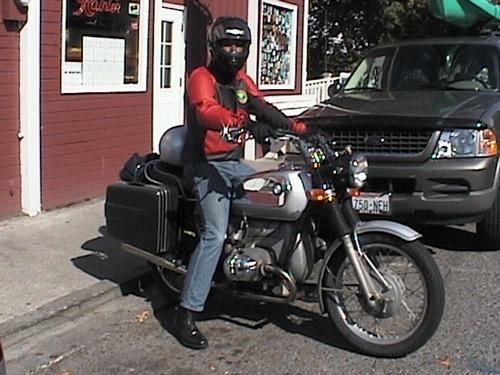 The motorcycle was the honeymoon getaway vehicle for my August 2003 wedding, so I finally got around to some key upgrades I had been planning. I completed the conversion to 1972 equipment by swapping out the original subframe for a freshly repainted one with mounting tabs for chrome battery covers. (I'm keeping the '71 turn signals, though; I adore the end-mounted reflectors.) Departing from stock, I installed chrome valve covers from the '90s R100R bike, which are the same retro round style as the original equipment, but brightly plated like the tank. I installed Hagon Classic shocks, originally purchased for my other /5, providing crisp (if not high-performance) suspension to match the rebuilt front fork, along with fairly sharp looks (full-length black and chrome shrouds). With little time or discretionary money left before the wedding, I swapped out the unpainted Wixom bags for a good set of Krausers (on R65 bag mounts), giving me something to use while I send the Wixoms out for restoration...
This R60/5 also needed some important "little" things, like new mirrors. As is common with /5s, my left-side mirror mount is stripped of its threads, so I installed Napoleon chrome bar-end models. It still needs a tune-up and some new top end seals and gaskets. I want to do some other upgrades as well, like low handlebars (provided my wife likes them) and the brighter headlamp internals from the R65, which matches the diameter of this older headlamp bucket. There is some slap in the timing chain, and given this bike's mileage, I'll opt for a complete refurbishment of double-rown chain with all its associated tensionsers, springs, and seals in the near future. I also have a 25-amp circuit breaker ready to install to add some electrical system protection to this early fuseless Airhead model.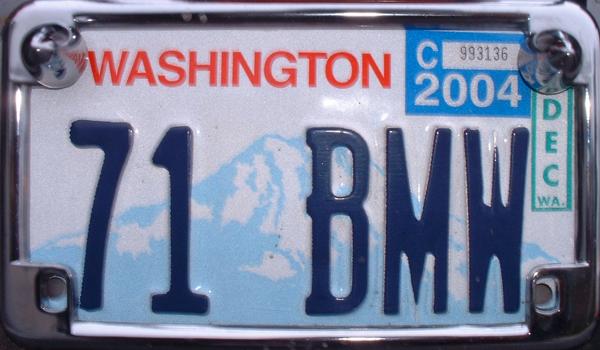 Maintenance
May 2003
Replaced clutch cable (146K)
Replaced dual bench seat (lift-off modification) (146K)
August 2003
Replaced clutch friction disc (146K)
Replaced clutch diaphragm spring with /7 model (146K)
Replaced flywheel bolts with /7 spec (146K)
Replaced fork seals (146K)
Installed 13-rib fork boots (146K)
Mounted replacement 1972 subframe and chrome battery covers (146K)
Replaced chrome rear turn signal mounting bar and tail light (146K)
Installed Hagon Classic rear shocks (146K)
Acknowledgments
Thanks to the following individuals for assisting in this restoration project: Barbara Bynum, John Falconer, Carl Fulkerson, Stephen Gaulin, Fred Inman, John Hopkins, Mike Kruse, Peter Locke, DL Powers, Bo Stewart, Mick Vallantine, and Jacqueline Young.