www.bynumonline.com
---
Christian Bynum's Classic BMW Motorcycles: 1978 R100/7
---
Home
>
Motorcycles
>
BMW /7
> 1978 R100/7
---
Motorcycle Data Sheet

Model: 1978 BMW R100/7

Nickname: "Kam" (Der Roter Kampfflieger AKA the Red Baron)

Engine: 980cc 2-valve boxer twin (60 HP)

Years of Production: 1977-1978

Number Produced: 12,056

Purchase Date: September 2002

Previous Location: Seattle, WA

Previous Owners: 3

Mileage at Purchase: 68,000

Mileage to Date: 77,000

Restoration Projection: $4,805

Restoration Costs to Date: $3,145

Restor-o-meter: 66%
Background
This bike was my very first motorcycle, and it will probably always be one of my favorites. When I found it, it had been briefly in the hands of a local classic car dealer, who picked it up at auction for nothing and sold it for me for next to nothing. It suffered some minor maltreatment while it sat in his garage, including minor surface corrosion on the rear subframe and left-side muffler from leaking battery acid. However, with a tune-up and a new clutch friction disc from my local mechanic, Mick Vallantine at Vallantine Motor Works, it is a well mannered and strong-running bike. I am setting this motorcycle up for long-distance two-up highway touring with my wife; however, I count on the bike to do anything I wish -- from logging highway miles to hauling cargo around the city!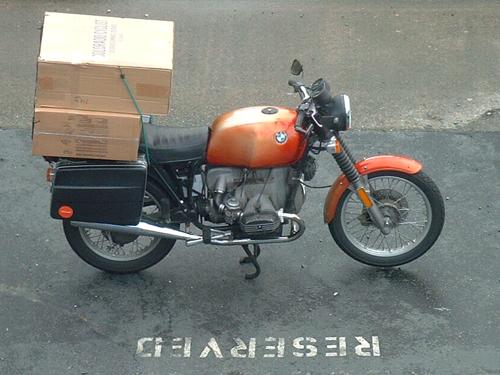 Restoration
While generally mechanically sound, cosmetically this bike was a mess when I got it. A good cleaning and some attention to the oil leaks and acid corrosion did a world of good.
This motorcycle is a top priority of mine to repaint in Special Edition
Metallic Red
(Glasurit #531) with gold pinstripes (see example below). I want to restore to something close to stock showroom condition, refit with the Special Edition model's mechanical upgrades: dual front disc brakes and cast alloy mag wheels.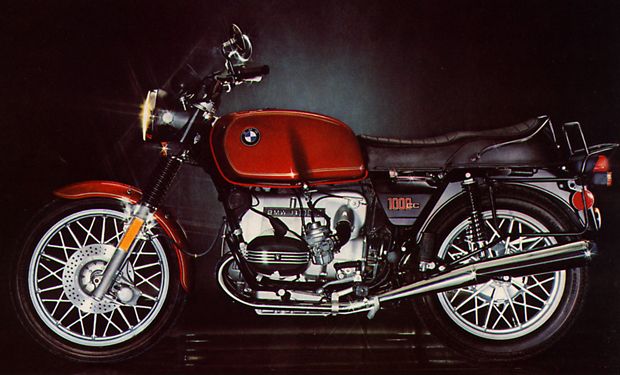 Better-condition Krauser saddlebags from my
R90/6
, a stock dual bench seat from my
R75/7
, a replacement chrome seat rail, and a new Bosch headlight lens were installed shortly after purchase. In February 2003, I installed a MAC Products Whispertone™ replica chrome exhaust system, with which I have been very pleased. These mufflers (part #105627) are appropriate for
/5
,
/6
,
/7
, and later twin-shock Airheads with standard 38mm headpipes from made 1970-84. Their exhaust note is very pleasing (only slightly louder than stock with a bit more throat) and the finish is gorgeous. It took a break-in ride of about 50 miles and a little additional tightening down to reduce the little bit of initial chuffing to negligible levels. They are free-breathing and deliver plenty of power. I found some nicely reconditioned OEM Boge shocks from a '79 RT with low miles to replace the original units that had been marred with surface rust and acid corrosion. New head covers purchased later that month pushed the "restorometer" over the 50% mark prior to the commencement of the bike's piecewise paint job, which started with the side covers. I also had new throttle cables installed (as the left-hand side was hanging up a bit).
About a month later while out for a Sunday morning ride, my throttle-side engine badge decided to fall off and was lost. Replacing an R100/7 engine badge turned out to be a bit of a fiasco; unlike those for many other Airhead models they were no longer available new from BMW dealers (including German dealers), the usual used parts sources came up empty, and even IBMWR want ads proved fruitless for months. I was finally able to procure a pair mounted to a freshly bead-blasted starter cover, and I retained my remaining original badge as a spare. I think it's good to have at least one spare badge for any bike you care about cosmetically. I recommend using 3M Super Weatherstrip adhesive to mount them to the starter cover; this "gorilla snot" is available in buff (part #80001) or black (part #80061) for mounting 1970-71 or 1972-78 badges, respectively.
One morning in May 2003 the choke lever broke off in my hand as I tried to start the bike; after a week or two of difficult cold starts, I replaced the entire choke assembly, and shortly thereafter I put on a new clutch cable to ensure smooth, light action. I also ordered a new reproduction dual bench seat from Germany and returned the borrowed original to my R75/7. Then, a month later, I felt strands give way in my front brake cable as I left the house for errands one morning; I was able to drive back home gently before it snapped entirely, and I cannibalized a cable from my 750, already laid up with a leaky master cylinder, until I could replace it with a new cable.
I determined in August 2003 that the steering head bearings and races would need eventual replacement; I adjusted the original bearings to best use for the remainder of their lifetime. I was able to find fork and brake parts for a dual-disc upgrade online, and I finally got a good deal on a pair of OEM "snowflake" mag wheels, giving me all the parts I will require for the special edition mechanical upgrades for this bike.
I went out on a limb and purchased a sale-priced 9-tooth Valeo starter motor for this bike, to replace the ailing original starter. The newer French unit is not rebuildable and not considered quite as roadworthy as the original NLA German component from Bosch, but it has better specs in terms of current draw and cranking power (a 70% increase), so I should be able to get some miles out of a brand new one. (So far, so good...)
In March 2004 I ran some some simple electrical tests on this bike in order to find any weak components in the charging system. The voltage regulator regulator, alternator, and diode board all seemed to be operating within specification, but the "spillable" OEM battery was not accepting a full charge. I replaced the battery with a sealed, maintenance-free Panasonic model, and my problems were essentially solved. I will still be overhauling the alternator and replacing the voltage regulator and/or diode board with modern, solid state electronic versions at some point in the near future.
I plan to get new Metzeler tires and mount the snowflake mags and dual-disc fork in late 2004; other projects permitting, I'll have the bodywork repainted over the winter in time for spring travel in 2005...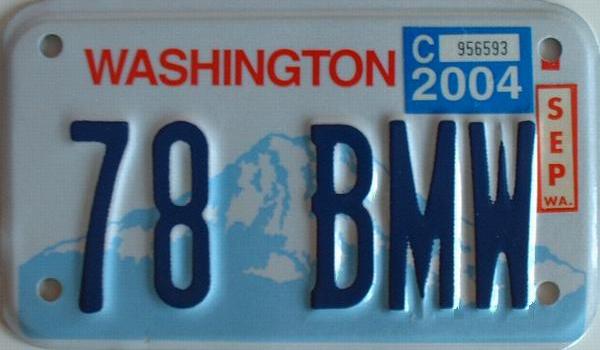 Maintenance
September 2002
Replaced battery (68K)
Level II inspection and service (68K)
Replaced clutch friction disc (68K)
October 2002
Replaced headlight lens and trim ring (69K)
Patched puncture in rear tire, replaced tube (69K)
February 2003
Replaced headers & mufflers with Mac Whispertone system (73K)
Replaced throttle cables (73K)
Rebalanced carbs (73K)
May 2003
Installed new dual bench seat (74K)
Replaced choke lever (74K)
Replaced clutch cable (74K)
June 2003
Replaced headlamp bulb (74K)
July 2003
Replaced front brake cable (74K)
August 2003
Replaced ignition switch (74K)
September 2003
Replaced headlight lens (74K)
October 2003
Replaced starter motor (74K)
Replaced starter relay (74K)
February 2004
Replaced headlamp bulb (75K)
March 2004
Replaced stock OEM battery with sealed battery (75K)
April 2004
Replaced starter relay (76K)
Acknowledgments
Thanks to the following individuals for assisting in this restoration project: Barbara Bynum, Walt Baer, Brendan Ferrer, Fred Inman, Mike Kruse, DL Powers, Larry Stonestreet, Mark Thompson, Mick Vallantine, and Ted Witting.