www.bynumonline.com
---
Christian Bynum's Classic BMW Motorcycles: Series /7 (1977-1979)
---
Home
>
Motorcycles
> BMW /7
---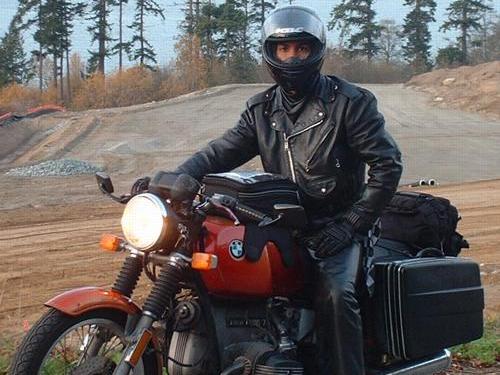 With the /7 series of the late 1970's came the advent of BMW's biggest bikes of the decade; an overbore of the 898cc R90 engine to 980cc created the company's first "literbike," which topped an increased-displacement lineup which included upsized 800cc and 650cc models as well. Electronic instrumentation and ignition, modern sports styling, and Krauser hard saddlebags all became standard on the these third-generation classic models. I own two running /7s, and I am rebuilding two more from scratch:
here
.
Series /7 Technical Notes
BMW /7 motorcycles have the beefiest stock frames of all the '70s Airheads; the bikes are readily identifiable by the addition of a lower crossbrace up front between the down tubes at the approximate level of the diode board beneath the front engine cover, and the head tube gussets are the largest and meatiest of the Spandau-built twin-shock machines. The long-wheelbase swingarms of the 1978 and later bikes also have a left-side mounting boss on the underside to attach a rear disc brake. The cylinder base sleeve outside diameter on the cylinders is 99mm, larger than that of the 1970-75 bikes, and pushrod tube diameter is also increased, from 15.8mm to a 17.8mm. These motorcycles, starting with their first year of production in 1977, use a 111-tooth flywheel (instead of the earlier 93-tooth) mated to a 9-tooth starter (instead of an 8-tooth). (The /7 and /6 flywheels and starters cannot be interchanged without machining of the bolt holes and or a crankshaft swap.) These frame improvements and engine milling changes (some begun in 1976) allowed for a liter-class top end (with higher compression pistons and big-valve heads as available options), and they make the /7s ideal platforms for high-horsepower classic Beemer cafe racer and track bike projects.