www.bynumonline.com
---
Christian Bynum's Classic BMW Motorcycles: 1963 R50/2
---
Home
>
Motorcycles
>
BMW /2
> 1963 R50/2
---
Motorcycle Data Sheet

Model: 1963 BMW R50/2 (conversion)

Nickname: "Wolf" (Der Weißer Wolf AKA the White Wolf)

Engine: 495cc 2-valve boxer twin converted to later 797cc (50 HP, low-compression)

Years of Production: 1960-1969

Number Produced: 19,036

Purchase Date: August 2003

Previous Location: Penngrove, CA

Previous Owners: Unknown

Mileage at Purchase: 0 (Rebuilt)

Mileage Since Engine Rebuild: 0

Restoration Projection: A lot...

Restoration Costs to Date: $5,575
Background
After obtaining some practice rebuilding some classic '70s Beemers up from a bare frame, this motorcycle, which was sold to me on eBay as a frame only, stripped and ready for repainting and restoration, was my first foray into "vintage" Beemers, built during or before 1969 at the original Münich factory. This bike had started its life as a 1963 R50/2, a classic middle-displacement tourer of its day. I am rebuilding it as a "/2 conversion" using the '60s chassis with a '70s engine, electrical system, wheels, and other parts. When I first saw this /2 twin-loop frame, I already had many spare Airhead parts from my '70s bikes left over from my other ongoing motorcycle restorations, including a complete 600cc engine and a good /5 front end; a conversion seemed like a great way to use some of these spares and get in on the vintage bike mojo with more practicality and without the hefty front-end investment or the long-term maintenance hassle. There is a significant subset of the classic/vintage BMW motorcycle community interesed in discussing and performing these conversion projects. (In November 2003 I embarked on a second /2 conversion project using a later, stronger frame, thereby keeping my sidecar dreams alive...)
Originally, I had sought out a /2 in the 1960-69 range as a conversion project for its strong frame, classic styling, cushy ride, and purpose-built standard sidecar lugs (on frames built between 1962 and 1967). I had wanted to make this bike haul a chair, a duty for which they are famous. However, I have since received some admonishments about putting a high-horsepower engine in a pre-1964 frame. The /2 frame was designed for three-wheeling, but not necessarily at modern highway speeds requiring maximum output from the classic boxer engine. While the frame itself is strong enough for sidecar duty, there are conflicting opinions as to how well the 1960-63 twin-loop-and-swingarm frames, which lack the extra strengthening gussets of their later counterparts, handle the vibration fatigue and torque stresses of engines that produce more than 40 HP. (Using a custom-designed swingarm that allows the use of a /5 or later final drive unit helps; these are among the priciest of the major components that get used in /2 conversion projects, but perhaps among the most worthwhile of expenditures that increase roadworthiness.) After bouncing queries off more learned motorcyclists, I finally settled on upgrading the stock 495cc R60/6 engine I had souced (with 40HP) with a slightly gutsier 797cc R80/7 top end with a lowered compression ratio, yeilding 25% more horsepower.
As the project evolved, I decided upon and began piecing together an Earles leading link fork for the front end, in place of the /5 telescopic fork I already had, a model essentially identical to the model fit to US-market /2s after 1967. I was willing to trade off some quickness in steering for the Earles' sublimely plush and compliant ride.
The riding comfort provided by a combination of sprung saddle and suspension impossible to fault was a revelation. With one possible exception, the R69 is the best-sprung machine in the rider's longish experience. Since the front end is made under Earles' license, part of the credit obviously belongs to Birmingham! Readily adjustable by means of a built-in tommy bar on each leg, the rear springing harmonized well with the front, giving superb road-holding under all conditions.

-- Motor Cycling, April 1956
Of course, once I bit the bullet to do this, a project originally designed to use my existing spare parts became suddenly and substantially less efficient -- and much more involved and expensive. I wish good, straight, complete Earles forks grew on trees and/or could be had for a song, but my experience sourcing the parts for a complete working unit has been fraught with setbacks and highly budget-intensive.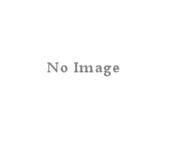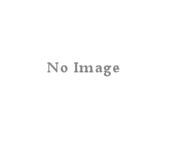 Above left: Jeffrey Roddick's R60/2 in Dover White with Earles front end
Above right: (Clockwise from top) Used /2 swingarm, fenders, fork, crash bars, and centerstand
It seemed I was off to a good start when I got one Earles upper/lower set as part of a $100 parts lot from an enthusiast in Bellingham, WA, but I later determined that the fork parts were tweaked and would cost me an additional $150 to have straightened. The second Earles fork set sourced (bought on eBay) was described as straight in its auction listing but actually wasn't, and I was fortunate I got it for fairly cheap that the scrupulous seller refunded me 50% of my purchase price to use toward the cost of straightening it.
Even with straight forks, the real kick in the pants on the Earles front end -- which I failed to research adequately before plunging headlong into assembling one -- is the cost of assembling the suspension units. I scoured the Internet for a restorable swingarm front end with all of its own unique bits and pieces that were incompatible with the parts from the later telescopic fork. I could also no longer use my /5 front wheel, brakes, or fender; I sourced /2 versions of the brake backing plate and front fender (at additional expense), and looked into modifying an extra /5 rear wheel (the same 18" diameter as the /2 wheel) to fit the Earles fork setup. In addition, pretty much everything on the Earles comes "a la carte"; With upper and lower covers, eyelets, springs, shock cartridges, and silent bushings all sourced and purchased separately, the costs really add up, and one could very well find two good used or rebuilt Airhead telescopic forks -- plus adapters to mount them on a /2 frame -- for less than the cost of a single operational leading link fork.
Well, now I know the ins and outs of the Earles fork. "Low front-end investment" (no pun intended) has pretty much been my mantra since I have begun to learn the ropes of motorcycling and motorcycle restoration. I have purchased entire running motorcycles for less than what one bloody Earles is going to cost me. The mounting costs of putting an Earles fork, however cushy, on a bike that was intended as a solo ride rather than a sidecar hauler, convinced me to revisit the logic of a leading link front end for this project, and I went settled a telescopic fork, taking solace in the hope that the orphaned Earles components I have will be useful when I start building up my '65 conversion sidecar outfit. Maybe at some point in the future, I'll fit an Earles fork to the solo conversion bike, but for now, I'll appreciate the quick steering, cost effectiveness, and disc-brake compatability of an Airhead telescopic front end. (Even that choice requires some engineering adjustments to accommodate the brake master cylinder and later-style throttle.)
When complete, I am confident that this bike will make a sporty, stylish city and highway mount with a lot of poise on the road...
Restoration
This motorcycle is essentially just lying in boxes in my storage unit and on the shelves in my home office. Here are the major components I have been able to source to date, including copious spares already on hand from my other projects:
Frame
4.5-gallon gas tank with built-in keyed toolbox and alloy gas cap
Upgraded 495cc R60/6 engine with new camshaft and 797cc R80/7 top end
/5 four-speed transmission with kickstart and complete clutch/flywheel assembly
Dyna III electronic ignition system
Magura Europa low handlebars and mounts
/6 single-disc fork with /5 headlight mounting ears and /7 front fender
/2 centerstand
Lester 7-spoke mag wheels (disc front, drum rear) with axles
Metzeler Enduro 4 tires
Custom conversion swingarm
/2 Boge rear shocks with springs, caps, covers, and collars
37/11 Airhead final drive
Complete /2 wiring harness
/5 chassis electrics
Thunderchild diode board
Solid-state electronic voltage regulator
/6 switchgear
R65 levers w/ handlebar brake master cylinder
Reproduction bar-end turn signals
Coffee can tail light
/2 headlight bucket and new repro speedometer
Original Schorsch Meier narrow dual bench seat with new reproduction mounts
Hinged rear fender with stays
OEM sport mufflers
In December 2003 I had new tapered roller bearings and races installed in the frame's steering head and on the tele-fork's triple tree at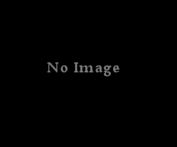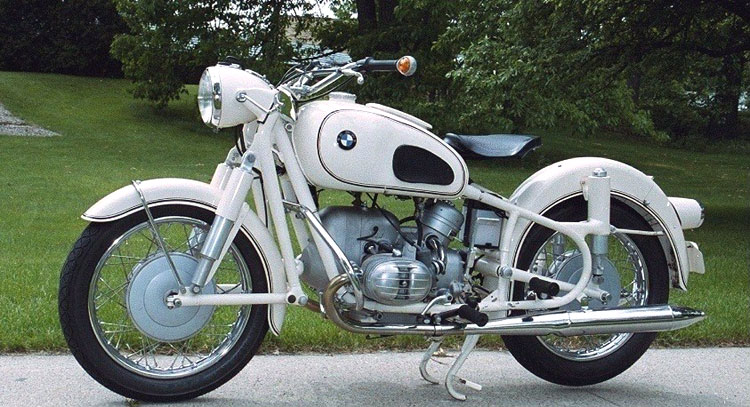 Above right: Steering head bearings and telescopic fork adapters for /2
Above left: Jeff Deans's R60/2 in Dover White
BMW's Münich-built boxer twins had matching painted frames, tanks, and fenders. Although the vast majority of /2 bikes were the traditional black color with white pinstripes, for my conversion project I decided on restoring the motorcycle's frame and sheetmetal in something close to the factory's stellar optional paint color, Dover White (see photo above right).
Charlie Moore at Tanks Only in Seattle was able to match this color for the tank and fenders. The conversion swingarm, fork ears, centerstand fenders, and other bits will be likewise stripped and painted/powdercoated during the spring of 2004 to match the frame. The combined result should be fairly close to the original factory livery.
Reconstruction Chronology
September 2003
Performed touch-up sanding of beadblasted frame
Powdercoated frame
Had gas tank lined and painted with hand pinstriping
Stripped/bead-blasted fork components and headlight bucket
December 2003
Chased threads on frame and sanded powdercoat for electrical ground
Installed new steering head bearings and races
Installed front fork and centerstand
January 2004
Mounted tires and tubes on wheels
Installed front wheel
April 2004
Mounted repainted fuel tank
Had fenders and remaining bodywork painted with hand pinstriping
Acknowledgments
Thanks to the following individuals for assisting in this restoration project: Allan Atherton, Duane Ausherman, Barry Bialik, Howard Bialik, Karin Bishop, Ryan Blank, Barbara Bynum, Brock Downey, Barry Dwyer, Virgil Elliott, Brendan Ferrer, Fred Inman, David Makin, Nathan Mende, Charlie Moore, DL Powers, Jeff Roddick, Chuck Sherman, Tom Sill, Bo Stewart, Robert Valdez, Mick Vallantine, Craig "Vech" Vechorik, Elaine Vechorik, and Ted Witting.
---