www.bynumonline.com
---
Christian Bynum's Classic BMW Motorcycles: 1977 R75/7
---
Home
>
Motorcycles
>
BMW /7
> 1977 R75/7
---
Motorcycle Data Sheet

Model: 1977 BMW R75/7

Nickname: "Rabi" (Der Kleiner Rabe AKA Little Raven)

Engine: 745cc 2-valve boxer twin (50 HP)

Year of Production: 1977

Number Produced: 6,264 (1,500 for US)

Purchase Date: October 2002

Previous Location: Walnut Creek, CA

Previous Owners: 2

Mileage at Purchase: 100,000

Mileage to Date: 104,000

Restoration Projection: $2,875

Restoration Costs to Date: $1,350

Restor-o-meter: 47%
Background
Buying this bike right after obtaining my freshly minted full motorcycle license endorsement allowed me to take my first truly epic motorcycle ride. I flew one-way to the airport in Oakland and met the seller at the airport, where I conducted the test ride and purchase on the spot. It was like buying a motorcycle from your favorite uncle. The next morning I left the Bay Area and travelled 850 miles north to Seattle over the next day and a half, starting with a sunrise ride across the Golden Gate and Bay Bridges! This motorcycle was purchased as my "fun bike" and reliable daily ride, but its role has been revised over time, and owing to the small numbers produced during its one-year production run, it has become increasingly valued by me as I continue to refurbish it according to original factory specifications.
Restoration
At purchase, this bike needed only the most modest tune-up and some new alternator brushes from my local mechanic, Mick Vallantine at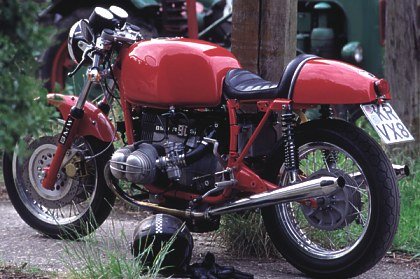 I learned another moderately expensive and extremely frustrating lesson in classic motorcycle restoration with this bike. I originally wanted to restore it as an era-appropriate "cafe racer" (see example above left), with lost of nonstock modifications, like low bars, a bikini fairing, rearset foot controls, a racing seat, and custom bodywork. As it turns out, doing so was much more trouble and expense that I had ever imagined. I tried some of the more basic cafe-style modifications (see photo above right), but my leads for custom bodywork were largely worthless, owing either to incompatabilities or wild expense. (When I went back to exploring the
cafe racer concept
for a later project, I had better luck...)
I also experimented with different handlebars on this bike. In December 2002 tried a Magura Europa bar (with a lower rise than the similar S bar) on this bike in place of the original high US bars, but I had problems with control placement and cable length. I managed to snap the handlebar clamp on the left-side controls while performing the bar by overtorquing the fixing bolt, and I had to replace it with a spare. If you are ever swapping handlebars, don't make the same mistake. Take the time to use a torque wrench and do it right. Also remember that replacement control cables of appropriate length are a hidden cost of this operation, as well as a source of no end of fine-tuning challenges once the new bars are in place.
After further handlebar experimentation (including a zero-rise drag bar) during this cafe conversion phase, I tried clubman handlebars in lieu of going the S-style low bars and bikini fairing. The clubman handling was great, especially in the curves, but the extreme reach was particularly fatiguing to the wrists, even for jaunts around town, so I ordered a pair of aluminum barbacks from Bob's BMW, which should let me moderate the agressive position of the bars by angling the inner bullhorn sections down and the outer grip sections back a bit for some relief. Eventually, I revisited my earlier options and found a way to mount the controls on the low Europa bars to my satisfaction, using appropriate-length cables.
After much research, I also gave up on a fuel tank swap. I liked the expensive older large-capacity tanks (e.g., Heinrich, Hoske) on these bikes, but they are hard to find at reasonable prices, and the Italian-styled Monza-type race replicas and similar tanks lose some of the distinctive BMW lines (although WBO racing does make a couple of beautiful polished aluminum racing tanks as options to the rare and expensive era-appropriate large-capacity Heinrich and Hein-Gericke models you often see on these conversion projects). Other considered and/or attempted cafe racer modifications on this bike included rearset foot controls (from San Jose BMW), a 2-into-1 exhaust system, a Gilera-style bump-stop 3/4 racing seat (which I loved), and a nifty Acerbis plastic Modular Enduro fender with custom-wired lights.
After months of telltale weeping on the top of the crankcase beneath the tank, the front disc branke master cylinder's condition had grown progressively worse, and the braking action quite mushy. Renewing the brake fluid staved off the problem for a week or two, but the brake quickly faded away to nothing again, and cursory inspection suggested that the master cylinder needed a rebuild. I elected to replace the whole unit with a lower mileage used MC known to be in good condition, which I found online for less than the price of a rebuild kit from the dealer. I retained the old unit to renew for a future project.
Currently, the diode board is probably in need of replacement; I will install a solid state Thunderchild model if I can pick one up at a discount on eBay.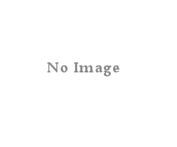 Maintenance
October 2002
Level I inspection and service (101K)
Renewed alternator brushes (101K)
May 2003
Shortened rear turn signal mounting bar to accommodate Krauser saddlebags (103K)
Installed chrome Krauser saddlebag mounts for Krauser Saddlebags (103K)
Installed Krauser rear luggage rack (103K)
Installed rear alloy-body turn signals (103K)
Installed repacment (used) shock absorbers (104K)
Replaced turn signal flasher relay (104K)
Replaced fuses (104K)
June 2003
Bled and renewed front disc brake fluid (104K)
July 2003
Replaced front disc brake master cylinder (104K)
Replaced front brake cable (104K)
Replaced headlamp reflector and lens with proper stock units (104K)
January 2004
Replaced headlamp bulb (104K)
Replaced spark plugs and wires (104K)
February 2004
Installed front alloy-body turn signals (104K)
Rewired front turn signals to repair chafed wires (104K)
Rewired rear turn signals and subframe harness to resolve intermittent short circuit (104K)
Replaced front fender and installed stainess steel front end hardware (104K)
Acknowledgments
Thanks to the following individuals for assisting in this restoration project: Barbara Bynum, Thomas Epley, Fred Inman, Mike Kruse, DL Powers, Bo Stewart, Mick Vallantine, and Peter Warren.
---