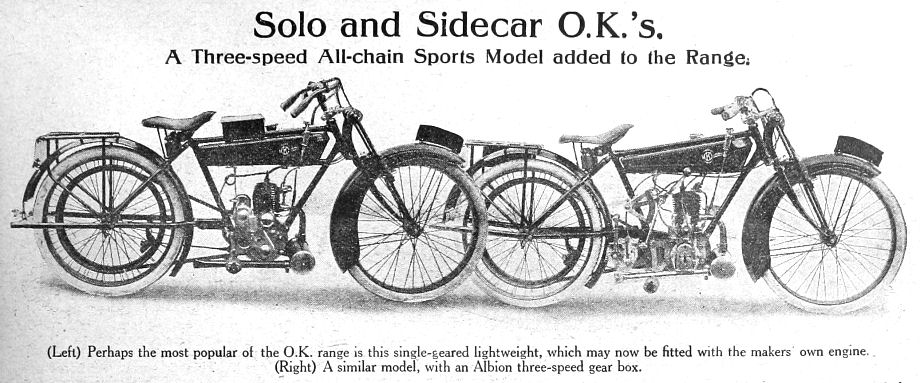 (Left) Perhaps the most popular of the O.K. range is this single-geared lightweight, which may now be fitted with the makers own engine. (Right) A similar model, with an Albion three-speed gear box.
Solo and Sidecar O.K.'s
A Three-speed All-chain Sports Model added to the Range
THE makers of the O.K. Junior machines (Humphries and Dawes, Ltd.) must rank among the pioneers of the lightweight sidecar movement; and as one of the little O.K. outfits gained special mention in the judges' report of the Six Days Trials, considerable interest centres in the details of the 1922 edition of this model.
An O.K. engine, which has a bore and stroke of 70x76 mm. (292 c.c), only will be fitted to the sidecar outfit, and, with an Albion three-speed gear box with clutch and kick-starter, it makes an economical, handy, and capable little passenger machine. It sells complete at £96 12s. An identical model without the sidecar is priced at £71 8s.; while an entirely new departure for next year will be a three-speed all-chain drive sports machine, also with an O.K. engine, which is listed at £69 6s.
The extremely popular £45 3s. single-geared O.K. has not been altered to any appreciable extent, although an O.K. or Villiers engine is optional. Fitted with an Albion two-speed box and final belt drive, the price is £60 18s., or with three-speed clutch and kick-starter, £65 2s.
All the models are fitted with the well-known and most efficient O.K. front fork, which allows great freedom of movement to the wheel. It will be remembered that last year the springs were strengthened by the addition of another leaf. This has proved most satisfactory.
Excellent finish and a pleasing appearance are undeniable features of the O.K. range.
The Motor Cycle, October 27th, 1921. p515