Can-Am Motorcycle History
Where did CanAm go?
Where did CanAm's come from,
and where did they go?
By Michael Rydman
| | | |
| --- | --- | --- |
| | | |
| From here | To here | To here |
| | | |

CanAm was a trademark of Bombardier Limited. Bombardier is a monster sized corporation located in Valcourt Canada. Bombardier did, and still does, manufacture many products. Among these are Sea-Doo watercraft, Ski-Doo snowmobiles, industrial equipment, clothing, and numerous transportation and recreation related products. Their manufacturing plants are known to host the cutting edge of technology when it comes to mass production.
In 1973 Bombardier introduced the CanAm motorcycle line. At first glance, the motorcycle looked "cheap" to those who were used to European machines. It didn't have that rough and agressive appearance. Furthermore, it used oil injection and rotary valve induction which were considered to be engineering fads of the past by "serious" racers. But despite it's uncharacteristic features, the TnT became an instant success.
Bombardier knew that the quality and reliability of the CanAm was in itself, not enough to launch a successful sales campaign. Their performance needed to be demonstrated to the buying public. Shortly after the CanAm was introduced, Bombardier assembled an all-star motocross team to compete in the US Nationals - Gary Jones, Marty Tripes, and Jim Ellis. This "dream team" captured National motocross plates 1, 2, and 3 in 1974 and provided Bombardier with enough bragging rights to last almost 14 years (in reality, Marty Tripes switched from Husqvarna to CanAm very late in the season, so one could argue that Bombardier bought the #2 plate). CanAm even captured the hearts of road racers by setting 2 speed records at Bonneville -- 136.5mph and 128.5mph by Bob Barker on 125cc machines.
Throughout most of their existence, CanAm attempted to keep a high profile with riders such as Gary Semics, John Martin, Mike Runyard, Rich Eierstedt, Buck Murphy, Jim Holley, Tony DiStefano, Jeff Smith, Geoff Ballard, and Billy Uhl. However, their involvement in National motocross competition was scarce by the early 1980's, and their factory racing efforts focused primarily on cross country and National enduros (support for Martin and Ballard continued). Why they gradually withdrew from National motocross after starting off so well is a mystery, and may be a major contributing factor to their eventual demise.
In lieu of the traditional high profile National racing team that factories generally rely on for promotion, Bombardier offered a rider support program to demonstrate CanAm performance at local levels (late 70's through early 80's). It was a factory/dealer collaborative that provided worthy local riders a chance to purchase a CanAm for a very low price. The rider support program included a complete clothing package along with a substantial parts allowance which was credited to the dealer's account on a monthly basis. As a former dealer, I participated in the probram with rider Jerome Heiberger (#1 CMC, AMA Blue Plate #8, in 1980). Jerome's stellar performance earned us 2 factory support bikes from CanAm and his nickname "The Orange Crush" by Cycle News. But it didn't really seem to improve sales for my dealership. Although the rider support program was a noble idea, I doubt that it met Bombardier's expectations with regard to its effect on marketing.
One of Bombardier's most significant assets was former World MX Champion Jeff Smith. Jeff truly cared about making good motorcycles and pushed Bombardier hard in that direction. Although CanAm had made a grand entrance into the motocross and enduro scene, they became somewhat complacent with regard to improvements in design that might interrupt the momentum of mass production. The late 70's and early 80's were not a time to resist change if you were a manufacturer of high performance off-road motorcycles. But despite Smith's protests Bombardier refused to follow suit with the competition. Jeff recently told me he felt that CanAm was usually 12 months behind in technology. Personally, I would call that remark "optimistic". But nonetheless, the faithful following of diehard CanAm fans continued to buy and race them. CanAm lovers were a faithful lot, and resisted the intimidation of single shock wonders with disc brakes and water cooled engines.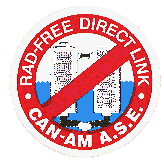 By 1982 Bombardier was starting to understand what Smith was talking about. They began to suffer the consequences of their resistence to technological advancement. Bombardier executives concluded that the solution was simply to stop making motorcycles. But Smith argued against their decision and proposed "farming out" CanAm production to another company. Although they were hesitant, Bombardier executives realized that they might put themselves at risk of being sued by the dealers if they suddenly pulled the rug out, and they allowed Jeff to explore his idea.
Smith approached a number of manufactures (including Husqvarna) seeking a company that was willing to work with him. Most weren't. But he was persistent and eventually contacted Armstrong/CCM in the U.K.. Smith liked their enthusiasm and eagerness to make motorcycles the way he thought they should be made. Jeff negotiated a deal with CCM, and Bombardier licensed Armstrong to make motorcycles bearing the CanAm logo. Production of the CanAm was reinstated in 1983 with the introduction of the completely redesigned 1984 ASE series. Armstrong kept up their end of the bargin and built high quality motorcycles for Bombardier. In addition, CCM added Trials and production Road Racing machines to the line-up. But even though the Armstrong/CCM/CanAm's were GREAT motorcycles, they too appeared to remain slightly behind in technology.
Despite the efforts of Jeff Smith and Armstrong/CCM, production of CanAm motorcycles only survived another 4 years. I've read the little that's been printed about CanAm's demise, and even talked to Jeff Smith himself. After putting the pieces together, my own assessment of the situation is that the pendulum swung too far in the other direction. Bombardier had the capacity to mass produce large numbers of motorcycles, but because of the company's immense size, and the established stability of their other product lines, they couldn't justify the cost of annual redesigning and retooling for a product that was simply a "drop in the bucket." Armstrong on the other hand, had the capacity to devote the necessary attention to design and quality, but only in numbers too small to be competitive with the Japanese. The 1987 ASE's were the last CanAm's produced. However, CCM continues to manufacture motorcycles with Rotax engines bearing the Armstrong/CCM label.
CCM--Rotax 350 ridden by the Welch ISDE team in Germany 1989.
(Ed Tobin photo)
---
If you have a query or information about Can-Am motorcycles please contact us