Jeff Smith and Can-Am Motorcycles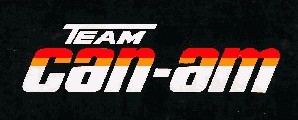 Jeff Smith - A guy who holds more titles than the public library
Jeff Smith was the "backbone" of CanAm motorcycles. He was a key figure in development, marketing, and the racing program. It was Jeff Smith who battled the Bombardier executives when they pushed to discontinue the motorcycle line in the early 80's. Jeff convinced them to allow him to negotiate a contract with with Armstrong/CCM to take over production until 1987.
A former two time World 500cc Motocross Champion (1964-65), Jeff held a variety of executive positions at Bombardier. When he wasn't behind the desk he was busy collecting medals for CanAm at ISDT events.
This rare photo shows Jeff testing a pre-production CanAm 125 MX at Masscouche motocross in Canada (circa 1972). This shot was contributed by Canadian press photographer, "Real Bosse."
This is an old CanAm press release photo of Jeff receiving the lifetime AMA membership award from Dave Despain (left). The original caption states that the award was given to Jeff in recognition of his numerous contributions to motorcycling over the past 25 years. I'm uncertain about the exact year this was taken, but I would guess it's around the mid 70's. Since then Jeff has been contributing to the growth of the American Historic Racing Association (AHRMA) -- now the largest vintage motorcycle racing association in the world.
James Smith (left), poses with Dad at AHRMA National MX, Casey IL, on May 1, 1999.
Photo by Rose Brown
Classic CanAm thanks James Smith for providing information for this section.
---
If you have a query or information about Can-Am motorcycles please contact us