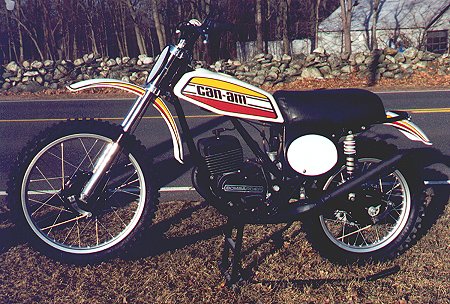 73/74 125 GP

Jim Ellis' 125 GP works bike. This bike was salvaged by Dick Strenkowski and Mike Burnham. It was ridden by Ellis in the 1973-74 season. Only 6 of the 125 GP's were made. As you can see, Dick did a great job restoring the bike. However, Dick told me that only about 85% of it's original components were used in the restoration.

Factory works components that were retained include a 4130 CM frame with no provision for an oil injection reservoir, sand cast timing cover (replicated), and modified triple clamps. The front wheel has a special front hub originally used on the "stadium" bikes. The gears and countershaft, as well as many other components, were drilled for weight saving prior to hardening. Dick also obtained a number of works cylinders, including an all aluminum cylinder that does not use a liner.
---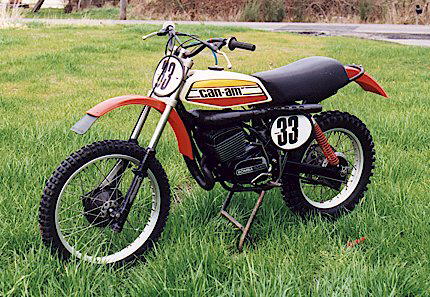 76/77 250 GP
The 1975/76 CanAm works bike that was ridden by Buck Murphy. The hi-pipe, canted shocks, and leading axle Marzocchi fork designs were eventually used on the 1977 production model MX-3 The forks on this machine appear to be at least 38mm units where the production models were 35mm. These photos were taken in 1998. This bike is still in great condition. (photos by Reese Dengler)
---
1980 250 Works
Jumping into the 80's. This is Jim Holley's 250 works bike, shown with 1 shock removed. This photo was taken in 1980 at Mammoth Mountain, California. Suspension at both ends is provided by Fox. With the exception of the engine, it looks like CanAm started from scratch in the design of this bike. You have to give CanAm credit for following through and using what they learned from racing in their production bikes. This motorcycle is almost identical to a 1982 Qualifier IV "Enduro-Crosser," which was the last model made by Bombardier before Armstrong took over production. If an MX model had been made in 1982, it would have probably been dubbed the MX-7.